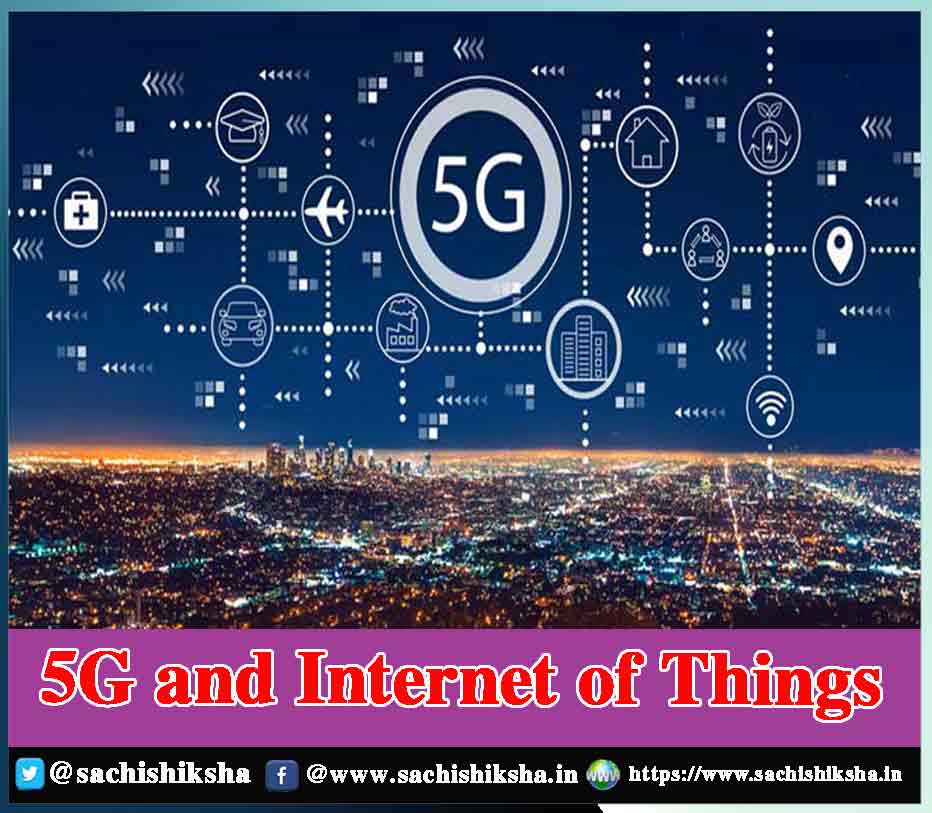 5G and Internet of Things
Recently on the 15th of August 2021, India not only celebrated the Independence Day but also marked 26 years of Internet in India.
In this digital era, internet has become a basic necessity for common people in India alongside roti, kapda and maakan.
It was in the year 1995 that India got access to the world of internetthough a much slower version of internet that we access in today's fast pace world. Gradually India moved to the faster versions of Internet with 3G network in the year 2008 and 4G data service in the year 2012 which is so far the fastest internet speed network in India and many other parts of the world. 4G mobile network provides with a maximum of 1GB per second.
And it's time for India to brace for 5G mobile network service, the fastest network in the world so far. India is expected to  launch the 5G networkanytime.
Well, if you think that internet has changed your life and the way you live, then think again as American billionaire businessman, Scott David Cook says "We are still in the first minute of the first day of internet revolution".
This means that internet is yet to transform our lives to newer heights in the years to come. Till a few years back, thinking about an AC that would be switched on even before you step into your home, a car being controlled and handled by an application in the mobile phones was beyond imagination. However, with the internet revolution advancing at a greater pace now everything from our homes to highways to cars to defence systems have turned smart with automation.
With the 5G network launching soon, the potential for technological growth is immeasurable. Moreover the 5G mobile network will play a vital role to the Internet of Things (IoT) providing a faster network to serve higher connectivity demands for the growing digital world.
There has been a lot of buzz about IoT and its impact on our lives in the recent years.
Let us first understand about what is IoT?
IoT
In brief, the Internet of Things is the idea of connecting devices to the internet and other connected devices. This massive network of connected things and people collect and share data to work in a given environment. Objects and appliances with enabled sensors are connected to an IoT platform that consolidates data from various devices and uses analytics to proceed valuable information with appliances built for specific needs. Automatic cars, fitness devices, smart microwaves, smart street lamps etc are few examples of Iot connected objects.
5G and IoT
The next generation cellular network 5G is expected to be a gamechanger for IoT moving ahead. Not just the speed of internet will be at a lightening pace, the increase in the number of devices that can be connected also will be substantially increased. As more number of devices can be connected, it will be instrumental in smart city and building solutions. Maximum number of sensors could be used in smart cities and buildings which is relatively limited right now.
Imagine the scenario where you have punched out of office and your car parked in the parking lot has been signalled to start and navigate a better route to home. While moving on the road of a smart city, there are thousands of cameras to direct people for traffic and inform people about places to park. The air conditioner installed at your home gets a message from your GPS tracker and has already switched on cooling your home even before you step in the house.
This is just a small example of how IoT and 5G network can together do to transform our lives.
Conclusion
The Internet of Things and 5G together is going to revolutionize our lives in the next few years with widespread connectivity. Our homes, cities, cars, offices, devices and appliances everything will get smarter with this 5G transformation. 5G empowered IoT will not only boost technological advancement but will also generate millions of jobs around the world. The job generation is expected to be a result of digitalization of transportation, manufacturing and other industries. Other sectors like traffic, health, security and many other smaller sectors will also benefit from this digital transformation.