Craft ideas and hobbies are not just important for kids but it is also essential for adults as well. Whereas it helps in growth and development of a child it also helps adults to relieve his work stress.
Art and craft habits help in personal, social and emotional development (PSE), communication, problem-solving, reasoning, knowledge and understanding of the world. Craft activities stimulate the brain connections which allows adults in making creative decisions for all the aspects of life.
It makes you happier and helps to avoid sadness, anxiety and depression. It generates "chemicals of happiness" and provides mental vitamins in a natural and creative way. Art and craft provides the window to express yourself, it allows you to choose your colours, patterns, shapes and sizes.
It gives everyone the freedom to express and show your taste, aesthetic sense, and the way you express your feelings.
Indulging in craft activities is a wonderful way to interact and spend quality time with your loved ones. It helps you to share some happy moments and create memories for a lifetime, you will always cherish these memories for a lifetime. It is an amazing way of sharing precious moments with your family and friends as there is nothing more satisfying than connecting with the people who have the same aesthetic and creative choices. You may also attend workshops and fairs with your closed ones, it will definitely provide a lot of positive and creative energy.
Here are a few craft work ideas that you might want to try in your free time.
DIY Stencil Faux Collars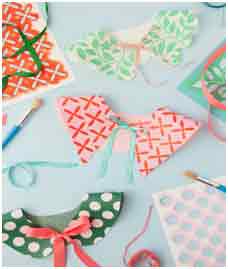 For making the DIY stencil collars you will require the following supplies.
Multi-surface acrylic paint
Stencil brushes
Stencils
Adhesive
Vinyl
Chalk
Scissors
Ribbons
Hot glue gun
Printable template
Steps
Select your stencil and apply stencil adhesive to the back, it will dry up in a few minutes. Please make sure to hold the stencil still at one place.
Place your stencil on the vinyl and smoothly press to adhere. Now, select your favourite paint and dab it with the help of a stencil brush. Distribute the paint evenly on the bristles.
Once the stencil is entirely covered with the paint, remove the stencil carefully. Paint the vinyl properly until you have achieved what you need for your template.
Now take a print out of the provided collar shaped template and place it all over the painted vinyl and draw a shape with the help of a chalk. Cut out the shape once you are sure about the design.
Cut two strings of ribbon with equal length and paste them at the backside on the lower side of the collar with the help of a hot glue gun.
Flip the collar over and tie both the ribbons so as to form a bow shape.
Repeat the process until you have as many collars as you want, you may try a different set of stencils and colours for different collars.
DIY Patterned Hair Clips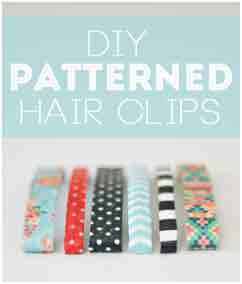 For making DIY patterned hair clips, you will require the below-mentioned supplies.
Fevicryl Mod podge glue or any other waterproof glue
Sponge brush
Hair clips (not bobby pins)
Pieces of patterned papers or leftover cloth strings
These hairpins are probably the easiest DIY projects and it will hardly take 2-3 minutes to make each barrette.
Steps
Measure your patterned paper or cloth piece as per the size of your clip.
Apply some mod podge on the top of your hair clip.
Put the paper or cloth piece on it and let it dry.
You may also add other decorative items like pearls, sequins, small shells on the top of your prepared hair clip and give it an extra twist.
DIY Canvas & Glue Art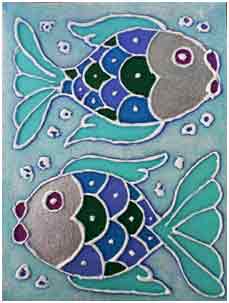 For making a customized canvas glue art you will require below-mentioned supplies.
Canvas
Washable glue
Spray paint/ fabric paint/ acrylic paint
Paintbrushes if you choose to opt for fabric or acrylic paint
Pencil
Steps
Firstly, you need to find a pattern that you like and then draw it on the canvas, you may also use a pencil for drawing the pattern to be on a safer side. Trace the pattern lightly with the help of a pencil.
You may also use dimensional fabric paint for the project. If you feel that your glue is settling flat on the surface then run the pattern again, once the first attempt is completely dried. Go over everything once again until you get the bumped-out pattern on your canvas.
The glue may take overnight to dry completely. Please note that you cannot colour the pattern if it is not completely dried up.
Once the glue is dried you may choose to spray paint or paint the patterns with the help of liquid colours and brush. Liquid colours like fabric/acrylic paint will give you a cleaner and detailed look on the canvas.