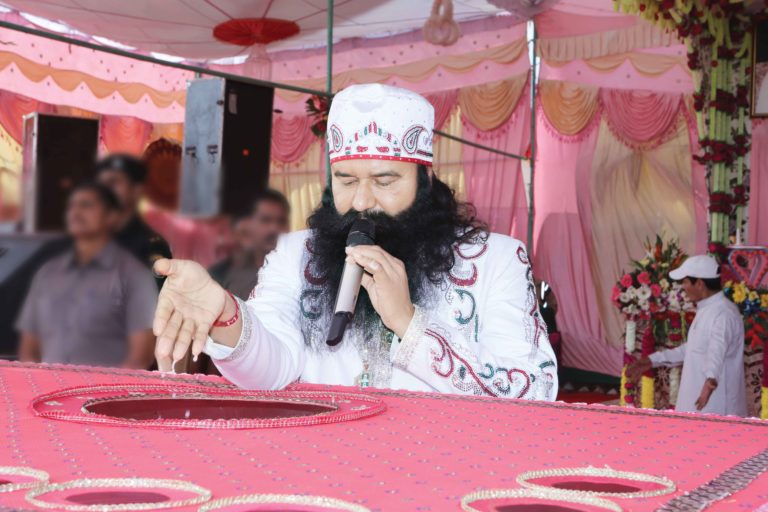 The 10th anniversary of 'Jaam-E-Insan Guru Ka' This is a Divine Drink
'Ruhani Jaam' or divine drink gives strength to the humanity.
It wakes up the sleeping humanity. It gives new life to the almost dead humanity. It gives eyesight to the blind persons. It makes dumb people impart knowledge. It gives birth to childless mother. It treats cancer and AIDS. Such is the 'Jaam-E-Insan'. It makes successful your failed projects. It strengthens your will power and confidence. It is full of qualities.
Drink it and live life happily. It has magical powers. It makes everybody a noble human being. For the namesake we all are human beings. We have got the name –human beings. But we do not have any quality worth calling a human. There are very few people who really show the qualities of a human being.
What is Humanity?
Describing the humanity, Revered Saint Dr. Gurmeet Ram Rahim Ji Insan has said helping somebody in distress is humanity.
Helping people in need is humanity. Sharing love and affection of a suffering person is humanity. This help can be in the form of physical help, mental help or through monetary help. This is true humanity. On the contrary making fun of people in distress, troubling helpless, sick and weak people, making use of people in trouble and misusing someone's vulnerability is sign of devilishness. Look into your oneself and decide where we stand.
Are we truly good human beings or are we the opposite? Do we have the qualities of a good human being? Whenever there is a reference to a human being and humanity, people get angry and retort 'If we are not human beings what else are we? Such people must judge for themselves what they are.
Do they possess the qualities of a good human being as described by the Revered Guru Ji? If they do not possess the qualities of a good human being as described by the Revered Guru Ji, they must tick their names off the good people's list and get enlisted in the people of evil qualities. Such people, according to the religious texts possess qualities of demons.
Do not feel bad at all. Acquire the qualities of good human beings and make a name for yourself. According to the Revered Guru Ji, a good person is one who helps others, who comes to the aid of the needy person, who speaks well of others, helps others, does not harm and insult others. A good person is a 'Karmayogi' and 'Gyanyogi' in a practical manner. Such a person is full of good qualities; he is a true human being.
Beginning of 'Jaam-E-Insan:
The Jaam-E-Insan has been started by the Revered Guru Ji for the good of people. He wants good of the entire society and all human beings. He wants everybody to remain happy and contended. He wishes to spread feeling of love and brotherhood among all. Revered Guru Ji has begun Jaam-E-Insan so that human beings do not differentiate with each other. He wants the entire world to be united. This was the sole purpose of the 'Ruhani Jaam'.
This was the reason why the Revered Guru Ji started the custom of Jaam-E-Insan (Ruhani Jaam). Only a true Saint can think of the good of all human beings. He is the incarnation of Allah, Ram, Waheguru, God and Rabb in this world. God has sent Him to this world to create unity and brotherhood and to make people one with God.
In other words such a saint is the representative of God and takes the form of a human being to lead the people to goodness and closer to God. Only the Perfect Spiritual Saint can grant such a benevolence. Keeping this in mind the Revered Guru JI launched the 'Jaam-E-Insan' this day on April 29, nine years ago in 2007. Understanding the importance of the great day, the Revered Guru Ji named it 'Jaam-E-Insan Guru Ka'.
This day is famous all over the world with this name only. This custom & ceremony of 'Insan' inaugurated by Rev. Saint Dr. MSG on April 29 is simply incomparable to anything else. 'Insan' is a new ideology created as a benital of humanity. Revered Guru Ji to Himself has added the word 'Insan' to His name there by signifying its importance. Thus, the concept of 'Insan' originated from 'Ruhani Jaam' or 'Jaam-E-Insan Guru Ka'.
Pledge for Humanity:
For becoming 'Insan' the person partaking the 'Ruhani Jaam' (divine nectar) takes a pledge that he will never retreat while serving humanity. Revered Guru Ji Himself takes and administers the pledge that he will not allow humanity to suffer or die at any cost. Her will follow the 47 rules framed for social welfare. He will walk on this path with confidence.
Crores of people have taken this pledge under the aegis of Rev. Saint Dr. MSG and so many others are joining themselves with the thread of humanity and work for the welfare of society.
Significance of the Day:
The 29th April which showed the path of humanity is very significant. It has two important events of significance. Exactly 68 years ago on the same day-April 29, founder and establisher of Dera Sacha Sauda Rev. Mastana Ji Maharaj laid the foundation of Dera Sacha Sauda. Sai Mastana Ji Maharaj had chosen a deserted and lonely place, 2 km away from Sirsa city, built Dera Sacha Sauda to create a paradise in wilderness. In this way April 29 1948 is the day when the Dera Sacha Sauda came into existence.
Secondly exactly nine years ago or on April 29, 2007, Revered Saint Dr. Gurmeet Ram Rahim Singh Ji Insan launched the 'Ruhani Jaam' to bless this world and create a new chapter in humanity. The fame of Dera Sacha Sauda has spread globally. Therefore April 29 is celebrated as the Spiritual Foundation Day (Ruhani Sthapana Divas) and 'Jaam-E-Insan Guru Ka'. Holy celebration is held to mark the significance of the day.
It is such a wonderful sight to see the people participating in large numbers. Celebrations of all religions together is held on this day. It is a great occasion and a lovely sight. Lakhs of devotees from all across the country and the world come to Dera Sacha Sauda to participate in the grand festival. The devotees come to share and cherish the joy and happiness blessed by the Spiritual Guide. People from across the world arrive with great expectation and thoroughly enjoy the occasion. They go back fully satisfied with a sense of fulfillment.
Everybody feels so happy, so fulfilled, so satisfied to have the vision of the Spiritual Guide. Come, lets us bathe in this shower of joy, happiness and blessings, let us get fully drenched. By launching the 'Ruhani Jaam', Revered Saint Dr. Gurmeet Ram Rahim Singh Ji Insan rejuvenated the humanity which was almost dead. By doing so the Revered Guru Ji has raised the honor of humanity.
Like it was said earlier, Dera Sacha Sauda is a confluence of all religions and therefore festivals of all the religions are celebrated on the same day. Various events and the entire atmosphere of the festivals attract and mesmerize all the people who are witness to it. Lakhs of people of all caste and creed and religions, including Hindus, Muslims, Sikhs and Christians arrive from across the world to celebrate the great festival of humanity.
All these people get the blessings of the Spiritual Guide and in this manner no one wants to leave this showering of blessings, love, humanity and affection. Come, let us all celebrate this occasion with great fervor and forget our differences of caste, creed, religion, faith. Let us just enjoy the lovely environment. Everyone feels indebted to the love and affection showered by the Spiritual Master..
They feel like dancing, singing, enjoying. All this is possible due to the great benevolence of the Revered Spiritual Master. Many many best wishes on this holy day of April 29 and the 69th 'Ruhani Sthapana Divas' and the 10th anniversary of the 'Jaam-E-Insan'! Many congratulations and best wishes! Congratulations! Congratulations!