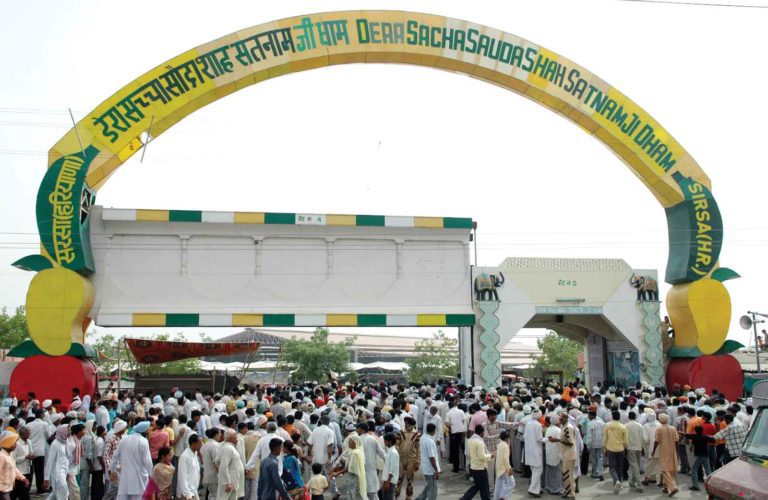 Sacha Sauda is A Synonymous with Ultimate Reality :
On the 69th Spiritual Foundation Day
Sacha Sauda is the name of truth and reality! Sacha Sauda is the name of the devotion and worship of Waheguru, Ram. It is such a devotion where one does not have to give anything. It is the Sacha Sauda which gives, it takes nothing. It does not take any donation or gift. There is no pretension and hypocrisy.
Revered Beparwah Mastana Ji Maharaj who founded Sacha Sauda instructed that :
"Apna Ram japna, apne Ram ki gandh kapna, paraya maal kabhi na takkna"
Apna Ram is the 'Jinda Ram' (Living Master). He is not a Ram who will not listen to your call. Instead He will respond to your call very fast. When you knock at His door (the Eternal Abode), He will open it. He will be there wherever you remember and recall Him, be it while sleeping, lying down, eating, doing your job or business, while running or sitting. More so, Rev. Mastana Ji has said that even if you remember Him while in toilet, He will give you divine happiness there also. A sufi saint has rightly said, 'Is there any easier way to reach Him? Is there a cheaper 'sauda' (business)? If you want to see the truth and reality, come to the Sacha Sauda. You will get all that which you never even imagined.'
The Establishment of Sacha Sauda, A Great Miracle:
Revered Beparwah Mastana Ji Maharaj belonged to Baluchistan, which is now a part of Pakistan. He was incarnated in this world for the benefit of human and all living beings. According to the divine law, Revered Baba Sawan Singh Ji Maharaj was so impressed by the selfless love & devotion to God that He started following Rev. Mastana Ji. He followed Him everywhere just as a calf follows the mother cow. He also bestowed Rev. Mastana Ji with the holy words all the while. "Mastana, I have given You God's Word (Ram-Naam), who will do all Your work. Mastana, go, I have given You My Divine Form.
Also Read:
I have given You the treaususe, which will never be at a loss." The words that Revered Baba Ji said about Dera are simply unparalleled in history. He said, "Go Mastana. I have made you the King of 'Bagad'. Go take care of 'Bagad'. Make a hut. Make the world recite God's word. Whoever is iritiated into God's by You will have one leg in this world and the other in the Eternal Abode. His soul will go directly to the Eternal Abode.
He will not have to fall in the vicious circle of life and death." For the benefit of all if us, for the benefit of this world and humanity. Revered Sai Ji also got His Spiritual Guide Bepwrwah Baba Sawan Ji Shah also bless 'Dhan Dhan Satguru Tera Hi Asra' along with other blessings".
Mastana Shah Your 'Dhan Dhan Satguru Tera Hi Asra' was accepted in both the worlds. It is no ordinary slogan. It has so much power that anyone who recited it anywhere with a pure heart came out even of certain death. Even impossible tasks became easy without anyone ever realizing it. There are hundreds of examples which prove this truth.
Foundation of Dera Sacha Sauda:
By virtue of the blessings of His Beleved Spiritual Guide, Revered Beparwah Ji built a small hut near Sirsa on April 29, 1948 and named it 'Sacha Sauda'. The truth is the name of God, Allah, Waheguru and obtaining salvation is return of the repetition of God's word is the true bargain or 'Sacha Sauda'. Sai Ji started the Sacha Sauda and its fragrance, the true worship of Ram-Naam spread far and wide. In this whole world wherever you go, on all continents, the name of Sacha Sauda is there, spreading the fragrance of truth and goodness far and wide.
It is so because it is the words of Beparwah Sai Mastana Ji Maharaj that, 'The whole World will salute Dera Sacha Sauda.' Be it the European countries or the Arabian world, devotees from far and wide, all corners of the world reach here on the occasion of the holy 'bhandara' and salute God's glory. The small plant of Sacha Sauda planted by Revered Bepwarwah Ji has grown to such a big banyan tree now that it has engulfed the entire world in its shadow. Be it of any religion, caste or creed, be it Hindu, Muslim, Sikh or Christian, whoever be it rich or poor, king or a beggar, it welcomes one and all.
The same love and welcome is there for people of all class, creed and religion. Revered Sai Ji created this Sacha Sauda, such a confluence of all religions, where people from different parts of the world can sit together and worship the God of their faith. As many as 68 years have past of the establishment of the Dera Scha Sauda.
The present Spiritual Master Revered Saint Dr. Gurmeet Ram Rahim Ji Insan (Dr. MSG) is now the head of the Dera Sacha Sauda. This day is celebrated as the Spiritual Foundation Day. A grand celebration is held to mark the occasion.
The confluence of spirituality and humanity, Dera Sacha Sauda is progressing by leaps and bounds day by day under the able guidance of Revered Guru Ji. On the 69th Spiritual Foundation Day of the Dera Sacha Sauda many many congratulations to all the devotees! Congratulations! Congratulations!