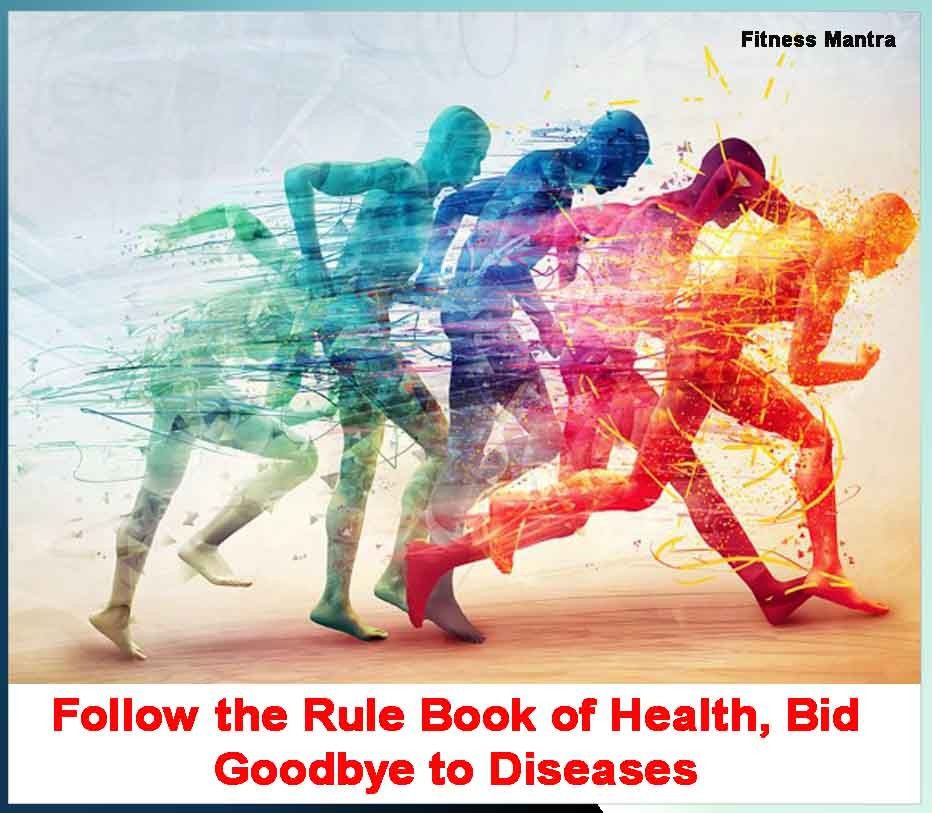 Follow the Rule Book of Health, Bid Goodbye to Diseases
Fitness Mantra
Our life style has become very slow as far as physical activities are concerned. Due to our over busy schedule, we tend to ignore physical activities. A little bit of exercise can help you prevent your body a center of diseases.
The TV, computer, laptop and running around for work has become our life style. Little bit of speed is necessary to inhale fresh air. So, physical activities are equally necessary with other work schedule.
Let us have an eye on the rule book of health, try to adopt those health-rules and also act according to them. If you follow this, you will surely feel the difference.
We must keep in mind the following for our own good:
Physical Activities for a Healthy Person
For a healthy body, sixty minutes of physical activities arevery necessary. By doing this you will be saved from diabetes and heart ailments.
Sixty minutes of physical activity includes aerobics, office and household work and muscular exercise.
For the Children and Teenagers
For the children, physical activity of one hour or more will be beneficial. According to the Experts, the physical activity of the children should be in the form of playing.
The children, who have not started playing outdoor games, can start with 30 minutes physical activity. Slowly and gradually, body will become habitual of physical activities. You can then increase the playing time of the kid.
Extra ordinarily weak and underweight children may be asked to start with very little time. It will be best if they are allowed to do this under the guidance of any physical trainer. Twice or thrice a week, they should be asked to do jumping exercise to gain weight.
The Screen time (TV, Computer and games) should be strictly for two hours in whole day.
Pregnancy and Postnatal Period
The Pregnant Ladies should start exercise only after the advice of the doctor.
The pregnant ladies are advised to go for traditional exercise like house hold activities only.
The ladies who do aerobics and other exercise from the beginning (i.e. before pregnancy), they are advised to do light exercises during pregnancy. Remember that we are discussing about the ladies who are doing exercise from their childhood and not about the ladies who do not do exercises at all.
If you have flexibility, muscular and back problem then start picking light weight under the advice of the doctor.
In the first 16 weeks of pregnancy, do not do exercise related to back.
If the pregnant lady experiences some difficulty during the exercise, she should immediately stop doing the exercise. Go for the advice of the doctor and then start under the guidance of a professional yoga trainer.
Elder ladies in our families used to say, that we should do all the household work during pregnancy. Stress was given to clean the floor of the house.  It really helps in normal delivery.
For Senior Citizens
If you do not have the habit of exercise, start doing it under the advice and guidance of any expert.
Senior citizen should do aerobic exercise from 30 to 45 minutes. Take care so that the muscles and bones are not injured. In old age, extra care should be taken to save oneself from these uncalled problems.
Twice a week you can do exercise with some extra activity. You can pick little weight to make the muscles strong.
Senior citizens who do not have the habit of doing exercise, they are advised to increase the duration gradually. The heart patients also can do like this.
Do not over-exhaust yourself in the beginning. Start with light and little exercise and then gradually increase the time.
Patients with Non-Contiguous Diseases:
High Blood Pressure and Heart Problem
If you have not started the exercise till now and having these problems, you can consult a physician/cardiologist and start exercise under their guidance.
If Diabetic
Physical exercise for more than 60 minutes a day can prove helpful in controlling the blood sugar level. Some special Yogasanas are prescribed for the diabetic patients.
If your blood sugar level is low, do not exercise. It will be harmful.
In Obesity
Do general exercise or aerobics for 60 minutes daily. Thrice a week you can do laborious exercise also.
If you lose weight by doing exercise then you should make a habit of doing this exercise or activity regularly.
Obesity patients first start taking slight warm water with half lemon juice and a spoon of honey(diabetic should avoid honey) for few days. You can also take barley water thrice a day. Furthermore, boiled drumstickscan also prove in losing weight. Start doing exercise and aerobics after doing this for 15 days.
Advice for Physical Activities
| | | |
| --- | --- | --- |
| TYPES OF EXERCISE | HOW MANY TIMES | TIME LIMIT |
| Running, aerobics, jumping, rope climbing, swimming, dancing and cycling | At least thrice a week.  You can do it daily also | 60 minutes or more |
| For strong muscles – do some exercises in park etc. like climbing tree, running, picking weight and other physical activities | Thrice a week | Repeat 10 to 15 times |
| For strengthening of bones- running, rope climbing, basket ball, tennis and other games and physical activities | Thrice a week | Repeat 10 to 15 times |
We must realize that healthy body is the need of the hour. Nowadays it has become more important because today the expenditure on medical treatments is going up sharply.
One has to go for the alternate and traditional treatments to get energy, strength and keep healthy. Our ancient culture of Yoga, Meditation and Pranayam has now become the world's one of the most high earning business.
It has now become almost a fashion for the youngsters to for Yoga. Truly speaking, it has become mechanical and the peace and satisfaction which our saints and elders used to get out of Yoga and Pranayam is now lost.
There are many forms of Yoga like Modern Yoga, Power Yoga and what not? Instead of doing these in peaceful atmosphere, these things are taught in loud music. If we do yoga, pranayam and meditation, thoroughly, it is certain that most of the mental tension and physical ailments will automatically go out.