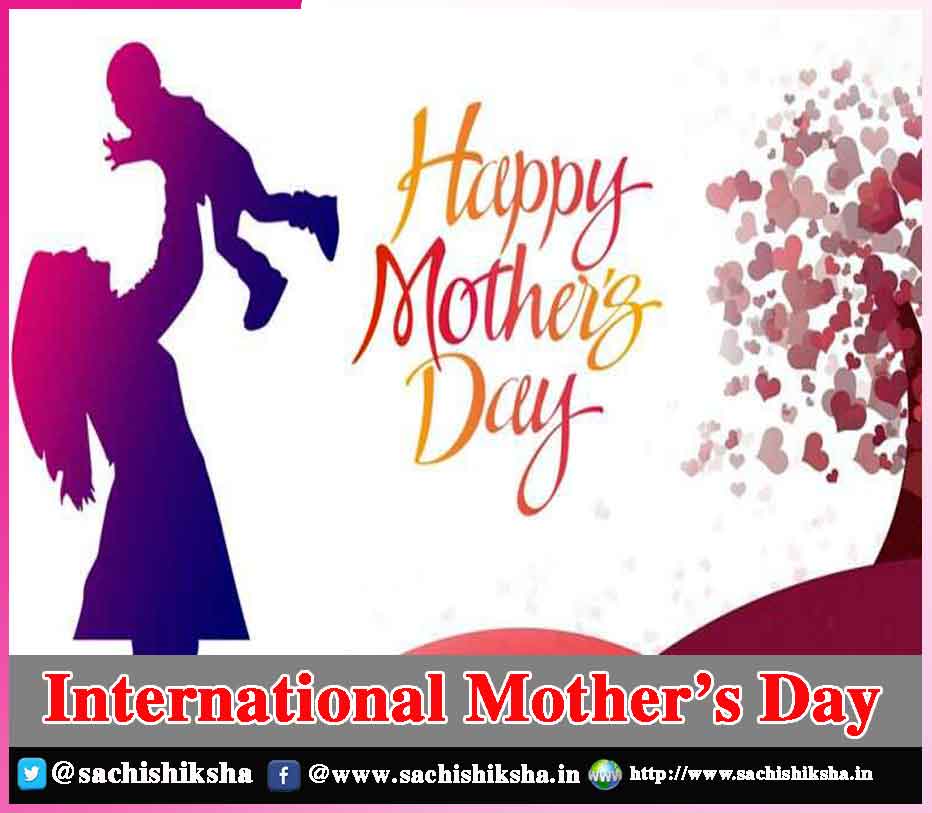 International Mother's Day
Celebrated around the world
as a day to honour the mother of the family or individual, as well as motherhood, maternal bonds and the influence of mothers in society, the International Mother's Day is an important occasion that falls on the second Sunday of May every year. It is celebrated on different days in many parts of the world, most commonly in the months of March or May.
Mothers deserve to be celebrated every day.
Not just in India but the world over, they do not often get their due. Their tireless contributions towards the family, the many sacrifices made by them are worthy of a mention and acknowledgement. Mother's Day, as such, comes as a reminder to think about mothers, and mother-like figures in our life, which inspires us every day, and make us want to be better people.
Also Read:
Mother's Day is celebrated across the world,
in more than 50 countries, to recognise the immeasurable contribution of mothers in building the lives of their children. Although a single day may not be enough for many people to thank their mothers, the occasion gives everyone an opportunity to do something special for the mothers around us.
Countries that celebrate it
on the second Sunday of May include Australia, Denmark, Finland, Italy, Switzerland, Turkey and Belgium. In Mexico and many parts of Latin America, Mother's Day is celebrated on 10 May of each year while in Thailand it is celebrated on 12 August, the birthday of its current Queen.
The modern Mother's Day has been assimilated into Indian culture as well and is celebrated every year on the second Sunday of May.Indians do not celebrate the occasion as a religious event. It is a celebration mostly restricted to urban areas where the occasion has been largely commercialized.
While some countries have a multi-century history of a day to celebrate Mother`s Day, they are not directly related to the numerous traditional celebrations of mothers and motherhood that have existed throughout the world over thousands of years, such as the Greek cult to 'Cybele', the mother deity 'Rhea' (the mother of Gods) or the Roman festival of 'Hilaria'.
In some countries, Mother's Day is still synonymous with these older traditions.However, modern reference of the day can be found in Mothering Sunday (to honour 'Mary', the mother of Christ), which was the fourth Sunday of Lent celebrated in the United Kingdom and some parts of Europe. This special day was religious in nature with people visiting their main church, also known as the mother church.
The English colonists who settled in America
discontinued the tradition of Mothering Sunday. The true American Mother's Day was first suggested in the United States by Julia Ward Howe, writer of the Battle Hymn of the Republic. She suggested that the day be dedicated to peace. Starting in 1872, she organized Mother's Day meetings in Boston every year.
However, some would argue that Mother's Day on the current date was almost accidentally set in motion by Mrs Juliet Calhoun Blakely. On Mrs Blakely's birthday on 11 May, 1877 (Sunday), her son – who was the local Church pastor – left the pulpit abruptly. Mrs Blakely then stepped to the pulpit and took over the rest of the service, calling for other mothers to join her.
Mrs Blakely's two sons
felt so moved by their mother's actions that they vowed to return to their hometown of Albion, Michigan, every year to mark their mother's birthday. In addition, the brothers urged others to honour their own mothers on the second Sunday of May.
In terms of the holiday gaining its national status, undoubtedly the main driver was a Philadelphia schoolteacher called Anna M. Jarvis. In 1907, Miss Anna, began a movement to set up a national Mother's Day in honour of her mother. Anna's mother, Mrs Anna M. Jarvis, had been instrumental in developing "Mothers Friendship Day" which was set up to assist in the healing process after the Civil War. Miss Jarvis wanted to set aside a day to honour all mothers, living and dead.
Miss Jarvis and her supporters
began to write to ministers, evangelists, businessmen and politicians in their crusade to establish such a day. The first Mother's Day observance was a church service on her mother's death, the second Sunday of May.The following year, Mother's Day was also celebrated in Miss Anna's own city of Philadelphia. By 1911, it had spread nationwide and was being celebrated in almost every state in the Union. In 1914, President Woodrow Wilson proclaimed the second Sunday in May as a national holiday in honour of mothers.
Over the years, Mother's Day became increasingly popular and the current traditions of card and gift-giving increased. It is said that the commercialization of the event angered Anna as she felt that the original sentiment of the day was being sacrificed at the expense of greed and profit.In some countries, there already existed a practice of honouring motherhood, and their celebrations then adopted several external characteristics from the American model of Mother's Day, such as giving carnations and other presents to one's mother.
So far as religious beliefs are concerned,
in certain traditional branches of Christianity, the holiday is strongly associated with revering Virgin Mary.In some Catholic, Lutheran and Anglican homes, families have a special shrine on their home altar devoted to the Blessed Virgin Mary. In Islam, there is no concept of Mother's Day. But the Quran teaches that children should give priority to loving their mother over their father.
In Hindu tradition,
Mother's Day is known as "Mata Teerth Aunshi", which translates into "Mother Pilgrimage Fortnight". Celebrated in countries with a Hindu population including India and Nepal, mothers are honoured with special delicacies. The day is observed on the new moon day in the month of 'Baisakh' (April/May). This celebration is based on the Hindu religion and it pre-dates the creation of the American-inspired celebration by at least a few centuries.
To Conclude,
Today, with a pandemic raging on, it is all the more important for one to hold mother's close, and tell her how much they mean to us. If you have someone who is like a mother to you, remind them of their importance, and do something special for them – like play them their favourite movie, cook them a meal, or simply pamper them – to mark the day.