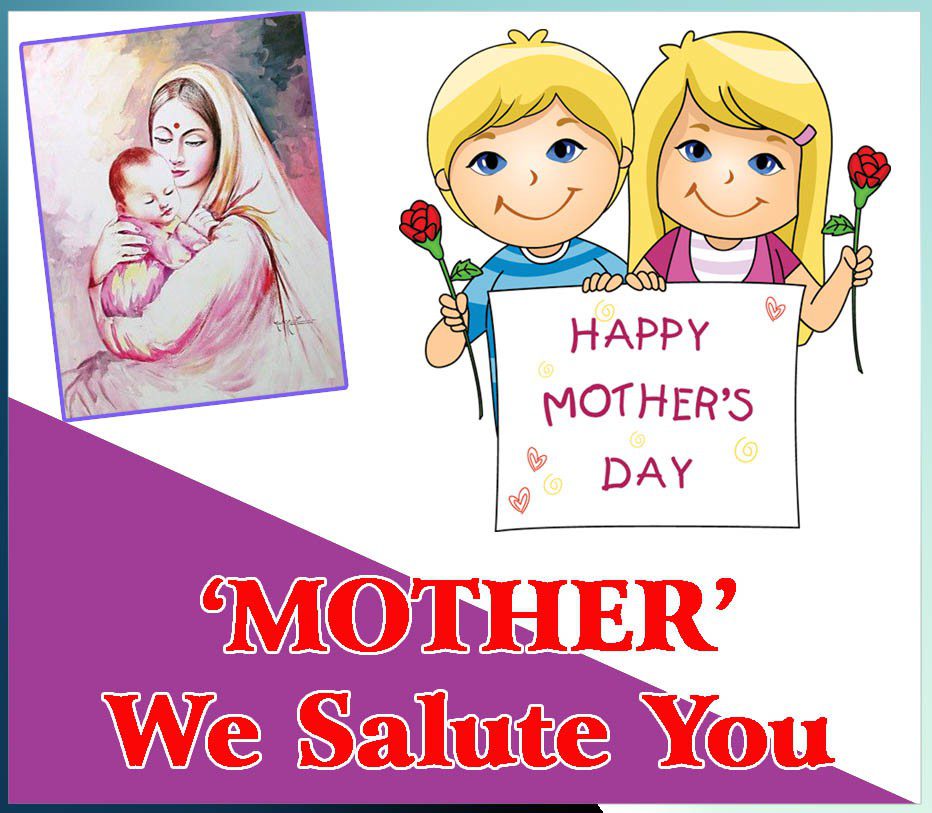 Saints have compared the Mother with Almighty. On the importance of Mother, Rev. Saint Dr. Gurmeet Ram Rahim Singh Ji Insan has explained " Think over it, you are sitting here, this is because of your Mother only." He said that He once went somewhere and met the teenagers in a hall. When discussed, the children started complaining that our Mother says this, and father says that, our parents always interrupt.
We kept listening them, they went on talking. At last we told "Kids, listen one thing and reply." We told them that you have a big stone of three to four kgs, tie it on your stomach, and go on walking for three days. Do not untie it at the time of sleeping, you go for passing urine, eating and bathing, do not untie this. Then the children replied that we cannot do this.
He asked "Why". The children replied that why we should pick a huge load with us? Then Dr. MSG replied that your Mother has picked your load for nine months. You feel and take to heart two things told by her and you cannot walk for three days picking this load.
Does she not have the right to tell you something, the one who has kept you in her stomach for full nine months? All the students started crying and told that O God, we swear, from now onwards we will sincerely listen to what our parents say.
What is Mother? Mother is only Mother, as cool as moon, as pure as Ganga. This is only Mother, who is as strong and stubborn as a mountain, as pure as snow. She is the sea of kindness, and sympathy; she is only the Mother.
Mother is the backbone of the family. How the shape of the body, its strength depends on the backbone, the financial, social, mental and family condition of a family depends on that mature lady "Mother".
If there would not have been the word "Mother" on earth, the words sympathy, motherhood, and sacrifice would have no meaning. Mother and the creator are complimentary to each other. Mother means "River of Affection".
The children which get blessings of their parents, always get the blessing of God, because their blessings is for the sake of show off, it is their inner elixir. Every year Mother's Day is celebrated in all the countries of the world on 2nd Sunday of May.
In Indian culture Mother enjoys the Supreme status. You can never pay off the debt of the Mother. "First thing Lord Rama used to do in the morning, was to touch the feet of his parents". Even today this Indian culture is prevalent in respected families. "Matr Devo Bhav" Means Mother is respected and worshipped equivalent to God.
In our religious books, Mother is called the creator, earth, cow, cereals, Goddess Mother, Sister, sister-in-law, Aaya (care – taker). But there is no substitute to Mother. No one can replace Mothers' love.
Hence there is no hesitation in saying that there is no substitute of Mother. In Vedas, Mother is explained in very beautiful words. "Mother, you are creator. You are Idol of love and affection. You are to be worshipped with devotion and love. You are patient and always to be worshipped." Mother is heavy than earth.
This was the reply of Yudishthar, when Yaksh asked who is heavier than earth. Really the love and affection and concern that Mother showers on the child is incomparable.
The loving and caring heart of Mother is wider than the Sea. Mother is called "Complete Pilgrimage". The blessings of all the pilgrimage rests in service to the Mother. "Sahastrant to Pitrmanta Gaurvendatarichyte" (Manu Smriti 2/145), means the status of Mother is thousand times more than father.
Once upon a time, one student was going to the religious lecture of the Revered Teacher. On the way he dreamt that you go back and serve your ailing Mother and this will do good to you. The student returned back from the way and he served her Mother well. With the blessings, he could get real glimpse of God and his life became successful.
It is also said that you do Puja and worship for lacs of times, and go to pilgrimage thousand times, but if you have hurt your Mother, all goes in vain. The pain and sufferings which the Mother bears at the time of giving birth to a child, the debt of that cannot be repaid even by giving service for hundred births. The Mother who gave us birth bearing countless pains and sufferings, never think of hurting her.
Don't think so, even for a second. When you took your first breath, Mother was with you, she is with you since birth and in between. She is creator, she creates and so she is also called creator. Mother is gist of Motherly affection. Mother is the unexplained, untold feeling of the sweetness, felt by a dumb. All Great men, warriors and donors have taken birth from the Mothers, and taken oath to serve the mankind.
The power and support behind them was the encouragement and culture of Mother. Salute to the Mother, whatever we write about her will be very less. Limitless can be written about her. In the modern age, though the things have changed, people have become a little bit modern, but it is not that the love and affection towards their Mother has minimized. Though it has now changed a little bit, due to the modern life style, their love and affection has also become a little bit modern.
That is the reason that on the occasion of Mother's day, children want to gift the Mothers with modern gifts. Let us tell you what modern gifts you can give to your Mother on the Mother's day.
Best Mother's Day Gifts
Locket or Bracelet
You can gift locket or bracelet on Mother's day. This is special locket and bracelet, where "Mom" word is written. You can also affix the picture of your Mother on the locket and gift her.
Creative Gift
If you have your Mothers photo with you, you can design different type of creative designs with it. You can also get printed your Mothers' and your photograph on T-shirt, mug or cup. You can also get printed the thoughts on it. For this you can select "I love you mumma" , or "you are the best mumma", to be printed, and demonstrate your love and affection towards your Mother.
If you want to gift the thought, you can get print the thought on the key chain, paper weight, on the rings or on the rice and gift her.
Cosmetics
Ladies like cosmetics. On Mothers' day you can gift nail paint, eye shadow, eye pen, tonner and moisturizer. If you are thinking of purchasing perfume, skin care products or cosmetics, you can purchase it from market and gift your Mother.
Accessories and Dresses
You can gift your Mother a bracelet, ear ring or ring. If at all your Mother is crazy about watches, then according to your budget, you can purchase a beautiful watch from the market and gift her.
Add with Social Media
Today is the time of social media. If your Mother is literate, you can explain her the importance of social media and add her to the social media. For this you can gift her an Android Mobile. Then create her Facebook and twitter account and tell her how to use it. With this you can give a special joy to your Mother.
Take Her For Dinner To Her Favorite Restaurant
There is no match to the food prepared by the Mother. But the Mother must also have a choice of a restaurant. So this Mother's day take her for lunch or dinner in a restaurant of her choice. Make her free from daily boring routine and spend some time with her. Order the food of her choice and make this a special day.
Health Check Up
You must be remembering that in the childhood when you used to fall sick, your Mother used to become doctor and nurse. For your health, she never cared for her own health.
On this Mother's day you take your Mother for a health check up, so that she can pour love and affection for all times to come. – Rohit Kumar
Follow us on Facebook, Twitter, Instagram, and YouTube to get more updates related to Sachi Shiksha – The Famous Spiritual Magazine in India. Also Read Our Hindi and Punjabi Editions.