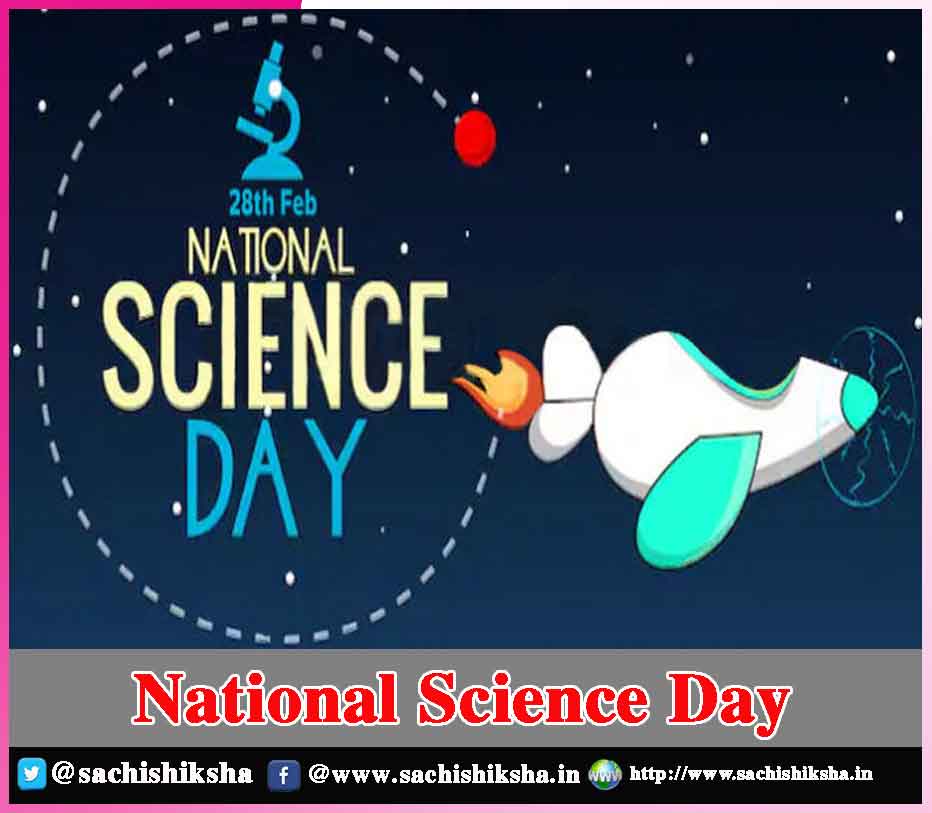 National Science Day
National Science Day (NSD) is celebrated in India on 28 February every year to mark the discovery of Raman Effect by eminent Indian physicist Sir Chandrasekhara Venkata Raman on this date in 1928.National Science Day is also known as the Rashtriya Vigyan Diwas.
Using a spectrograph that he developed, Raman and his student KS Krishnan discovered that when light traverses a transparent material, the deflected light changes its wavelength and frequency. This phenomenon, a hitherto unknown type of scattering of light, which they called "modified scattering" was subsequently termed the 'Raman Effect' or 'Raman Scattering'.
Also Read:
Born on 7 November, 1888,
in Tamil Nadu, Raman was exceptional in studies. He passed matriculation at 11 years of age. Two years later, he passed the intermediate-level exam and joined Presidency College in 1902. In 1904, Raman got his bachelor's degree, earning first rank and gold medal in Physics. Three years later, he completed a Masters' Degree.
His first research paper,
on diffraction of light, was published in 1906 while he was still a graduate student. He joined the Indian Finance Service in Calcutta as Assistant Accountant General at the age of 19. There he became acquainted with the Indian Association for the Cultivation of Science (IACS), the first research institute in India, which allowed him to do independent research and where he made his major contributions in acoustics and optics.
Raman Effect won him a Nobel Prize
in 1930. With this, he became the first Nobel Prize for India in the field of Science. He won the Knight Bachelor Award a year later and became a Fellow of the Royal Society thereafter. In 1932, Raman along with Suri Bhagavantam discovered quantum photon spin, further confirming light's quantum nature.
He was also the first person to study the harmonic nature of Mridangam and Tabla as he was interested in musical instruments' acoustics. Sir CV Raman received the highest civilian award, the Bharat Ratna, in 1954. He later smashed the medallion in protest against Prime Minister Jawahalal Nehru's policies on scientific research. He was awarded the Lenin Peace Prize in 1957.
CV Raman was appointed as the first Indian director of the Indian Institute of Science (IIS) in 1933. After India gained independence in 1947, Raman became the first National Professor of the country.In 1948, through studying the spectroscopic behaviour of crystals, he approached the fundamental problems of crystal dynamics in a new manner. He dealt with the structure and properties of diamond from 1944 to 1968, the structure and optical behaviour of numerous iridescent substances including labradorite, pearly feldspar, agate, quartz, opal and pearl in the early 1950s.
Among his other interests
were the optics of colloids and electrical & magnetic anisotrophy. His last interests in the 1960s were on biological properties such as the colours of flowers and the physiology of human vision.Throughout his life, Raman developed an extensive personal collection of stones, minerals and material with interesting light-scattering properties, which he obtained from his world travels and as gifts. He often carried a small, handheld spectroscope to study specimens. These, along with his spectrograph, are on display at IISc.
In 1986, the National Council for Science and Technology Communication (NCSTC) asked the Government of India to designate 28 February as National Science Day. With the government accepting the proposal, the first National Science Day was celebrated on 28 February, 1987. On the occasion, theme-based science communication activities are carried out all over the country.
Despite having booked a government service job in the finance department of colonial government, CV Raman quit the job after being appointed as the first Palit Professor of Physics at the University of Calcutta in 1917. While teaching at University of Calcutta, he was simultaneously conducting research at the Indian Association for the Cultivation of Science (IACS) in Calcutta.
National Council for Science & Technology Communication (NCSTC) of Department of Science & Technology (DST) is nodal agency to support catalyze and coordinate celebration of the NSD throughout the country, particularly in scientific institutions & research laboratories. NCSTC has supported various programs countrywide by supporting its State S&T Councils & Departments for organization of lectures, quizzes, open houses, etc.
Besides, several other government and private organizations also organize public speeches, radio, TV, science movies, science exhibitions based on themes and concepts, debates, quiz competitions, lectures, science model exhibitions and many more activities.
Events on this day remind the importance of science
inspiring people of all ages to work in the field of science. This day attracts many young minds and motivates them to take up science as their career. The celebrations of this day include showcasing the country's competence in the field of science.
The Department of Science & Technology
instituted the National Awards for Science Popularization in 1987 to stimulate, encourage and recognize outstanding efforts in the area of science and technology communication and popularization as well as inculcate scientific temper among masses.
These awards are presented every year
on National Science Day along with the SERB Women Excellence Award by the Science and Engineering Research Board (SERB), a statutory body of the Department of Science and Technology supporting basic research in frontier areas of science and engineering.
It provides grants to women scientists
below 40 years of age who have received recognition from any one or more of the National Academies such as Young Scientist Medal, Young Associateship and so on.
AWSAR award,
an initiative of Department of Science and Technology, Government of India to recognize the dissemination of Indian research in Science, Technology & Innovation being pursued by Ph.D Scholars and Post-Doctoral Fellows in popular science writing format, is also presented on the day.Union Minister of State (Independent Charge) Science & Technology; Minister of State (Independent Charge) Earth Sciences; MoS PMO, Personnel, Public Grievances, Pensions, Atomic Energy and Space, Dr Jitendra Singh launched the theme of National Science Day-2022 'Integrated Approach in S&T for Sustainable Future'.
He highlighted
that a four-fold integrated approach in S&T for Sustainable Future will help us come out of our culture of working in silos as suggested by the Prime Minister to play a leading role in the global arena.