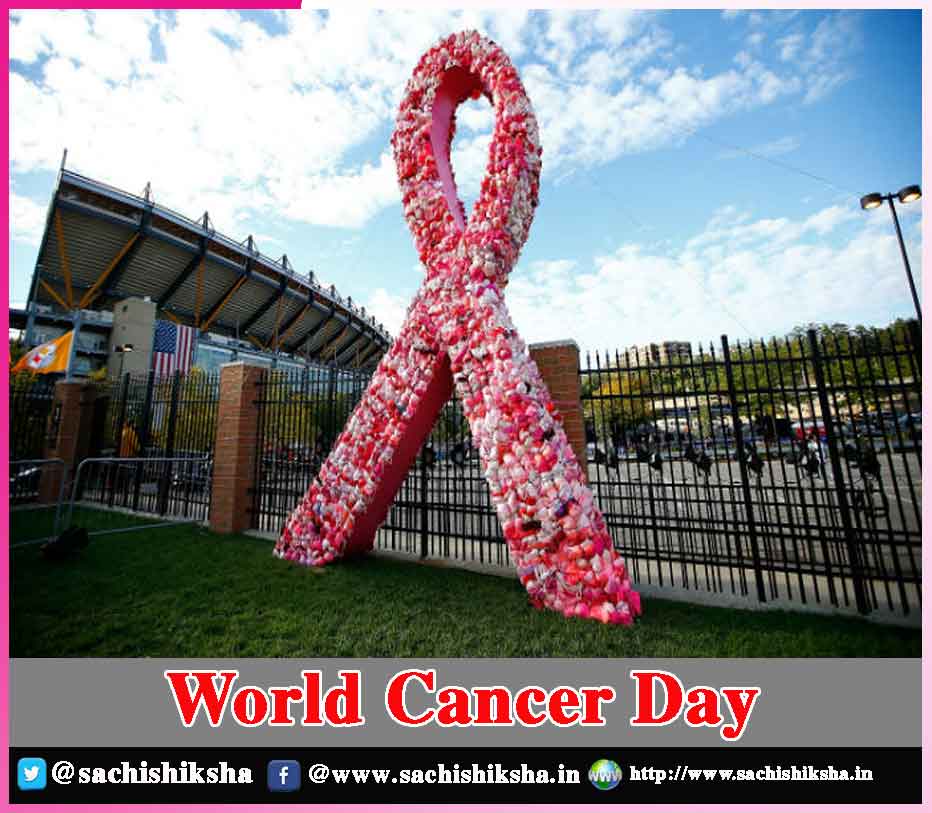 World Cancer Day
Cancer
is an abnormal growth of cells in any tissue or organ of the body, with these cells spreading to other parts of the body. Normal cell division is a highly regulated mechanism controlled by genes through growth regulatory pathways. Prolonged exposure to carcinogens damages the DNA and induces mutations in the growth regulatory genes leading to loss of control over normal cell division.
The World Cancer Day
was created at the World Cancer Summit on 4 February, 2000 in Paris by the then UNESCO Director General Koichiro Matsuura and French President Jacques Chirac. Known as the Charter of Paris Against Cancer, it promotes research, prevents cancer, improves patient services and includes an article establishing the anniversary of the document's official signing. It is a global uniting initiative led by the Union for International Cancer Control (UICC) celebrated by at least 100 countries around the world.
Also Read:
Cancer is the second leading cause of death
in the world. In 2021, an estimated 20 million people were diagnosed with cancer and 10 million died. A World Health Organization (WHO) survey found that cancer services are covered by a country's largest government health financing scheme in an estimated 37% of low and middle-income countries compared to at least 78% of high-income countries.This means that a cancer diagnosis has the potential to push families into poverty, particularly in lower-income countries, an effect that has been exacerbated during the COVID-19 pandemic. This is why the 2022-24 theme is 'Close the Care Gap'.
Increased efforts
to scale up high quality cancer programs at international, national and community levels have been severely disrupted during the COVID-19 pandemic. In a survey published in October 2021, more than half of countries indicated that cancer screening and treatment had been partially or completely disrupted during the pandemic.
More than 11 lakh new cases of cancer
are registered every year in India, whereas this figure is above 14 million worldwide. We are constantly exposed to a variety of cancer-causing agents, known as carcinogens, in the food we eat, in the water we drink, and in the air we breathe. Our single meal may contain a dozen of carcinogens in the form of residues of pesticides and insecticides.
Studies have shown
that the risk of cancer is multiplied in people, whose immune system is suppressed due to chronic stress, old age, debilitating disease and abuse of drugs such as analgesics, antibiotics, and corticosteroids. Moreover, life has become fast and competitive leading to chronic stress that further enhances the risk of cancer by suppressing the immune system of the body. The incidence of cancer is higher in persons affected by Human Papilloma Virus (HPV), HIV and other viral infections including Hepatitis B and Hepatitis C.
National Cancer Awareness Day
was first announced in September 2014 by then Union Health Minister Dr Harsh Vardhan, with November 7 chosen for the occasion to coincide with the birth anniversary of Nobel laureate Marie Curie, who was born on this date in 1867, and whose works led to the development of radiotherapy to treat cancer.
An important step in India's fight against this deadly disease
began in 1975, with the launch of National Cancer Control Programme (NCCP), which was rolled out to provide cancer treatment facilities in the nation. Ten years later, in 1984-85, the scheme's vision was revised to focus on early detection and prevention of cancer. Hence, on 7 November every year people are encouraged to visit hospitals, Central Government Health Scheme (CGHS) centres, and municipal clinics for free cancer screening. The day also sees circulation of booklets and leaflets to raise awareness among the masses regarding detection of early symptoms and prevention of cancer.
In India, the need for early detection of this disease
stems from the fact that a large number of cases are those in which it is detected in the patient when it is already at an advanced stage, thus reducing the chances of survival.
Based on the cancer registry data, it is estimated that there will be about 8 lakh new cancers cases in India every year. Cancer sites associated with tobacco form 35 to 50% of all cancers in men and about 17% of cancers in women.
The risk of developing cancer can be lowered through lifestyle changes. This makes awareness of risk factors and prevention extremely important. Some types of cancer (like cervical cancer) are largely preventable through vaccines available in the Indian market. Most people are unaware of such useful information that can save lives.
The results achieved by India in propagating WHO programs such as Tobacco Control, Palliative Care and Human Resource Development should be keenly appreciated so help other countries in their respective drives and also to get support from various agencies.
Cancer Awareness:
This is why the Indian government, along with a host of Non-government Organizations (NGOs), have been promoting ways to spread cancer awareness at work:
Fitness Challenge: Obesity and inactive lifestyle patterns needs to be broken to kill the risk of developing cancer.
Do Your Bit: Select campaign(s) at a local or global level and create awareness among the masses about cancer.
Host A Fundraiser: Extend financial help, start a fundraiser or sell products, donate in kind / cash etc.
Sponsor Cancer Screening: Depending on your pocket and passion, you can sponsor the cancer screening of family and friends.
Host Cancer Survivor(s): With cancer patients and survivors facing social stigma in India, you can help their cause by speaking about their journey and how they triumphed.
Invite An Oncologist and/or Nutritionist: Conduct a webinar on how the risk of developing cancer can be reduced. The nutritionist can help in creating weekly meal plans.
Picture Cards: You and your dear ones can make cards with positive messages for cancer patients to boost their morale.
Gift Hospital Bags: With cancer patients from lower income households unable to meet treatment expenses, gift them with hospital bags or hospital stay during surgery/chemotherapy.
Basic Amenities: You can sponsor blankets/clothes/socks (depending on local climate), mint to help with nausea, bottled water or packaged fruit juices, biscuits etc.
Volunteer: Whether individually or collectively, work with/for cancer patients. Take a craft/music class for child patients, start a smoking de-addiction campaign, create infomercials etc.