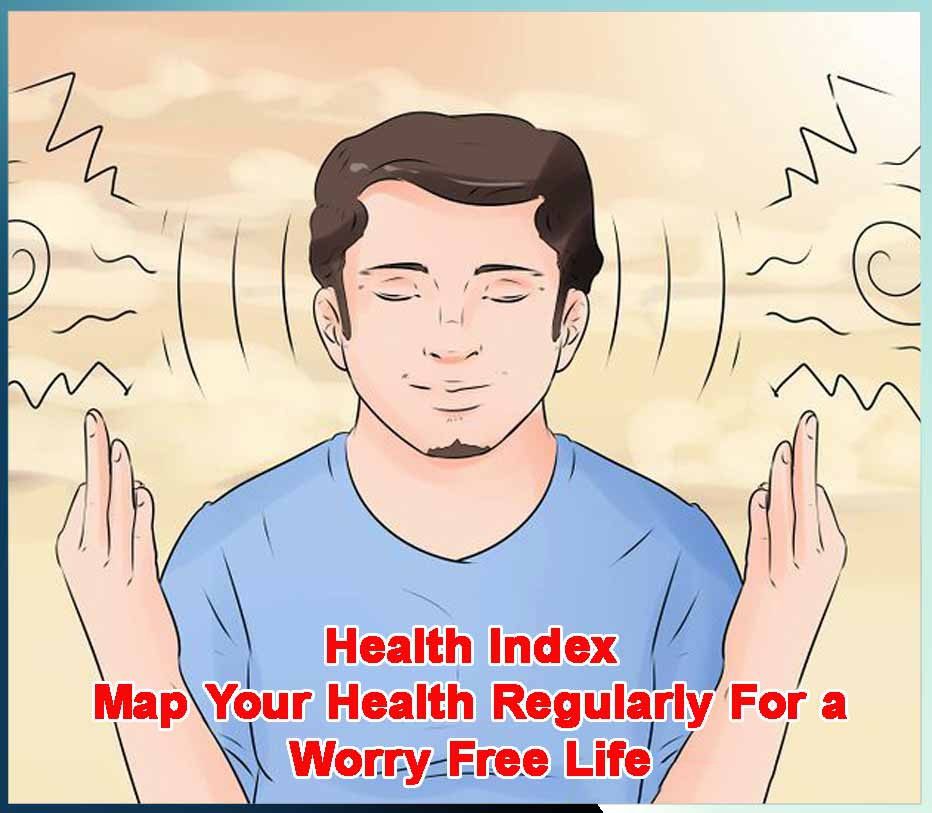 Map Your Health Regularly For a Worry Free Life
Health Index
Prepare a Health Mark-sheet for yourself. Every month review it and fill the marks in it. You yourself can judge your health graph. There are six scales for a healthy body. Irregularity in any one of them is the symptom of irregular health.
Judge yourself
Pulse Rate
Heart beat of the normal person is 72.  It can also beat from 60 to 80 times.  Put your fingers on your wrist and measure your heart beat.
Blood Pressure
The second scale of the health is blood pressure.  With the growing age blood pressure check up should be got done from time to time.  During check up two types of Blood Pressure Systolic and Di-systolic are measured.  Di-systolic  should be 80 and Systolic in between 120 – 140 is normal.  Very high or very low, both are dangerous.
Respiration
Irregular function of respiratory system also is an indication to ill health.  A healthy person inhales and exhales 10 to 14 times in a minute. You should also check that how many times you inhale and exhale in a minute.
Body Temperature
The normal body temperature of a person is 98.4 degree Fahrenheit. If the temperature goes up more than this, it is not good for health.  It indicates several diseases in store.  On the other hand, if the temperature is less than this, you may complain of fatigue or other related problems.
Controlled Body Weight
For good health, controlled body weight is very important.  What should be your proper weight, depends on your age, height and sex. These days the weight loss business is in its full swing.  Everyone wants to become slim and trim.  Sometime this passion brings you in severe problems.
Last Scale
Going for urinal more times for a set period, is also a reason for some diseases.  You may be diabetic or may have kidney related problems.  So it is better to consult an expert for this.
We have discussed about the health index of our body. Now we should also look into the necessary rules to be followed for this.
From the point of view of physical activities, our lifestyle has become very slow.  Due to busy schedule, we do not give proper care to our physical activities.  A little exercise can check your body from becoming a hospital. With TV, Computer and laptop, our physical activities have shrunk. To inhale a little fresh air, a little speed is also necessary.  For this you have to do some physical activity in any way possible
Necessary Physical Activities for a Healthy Man
A healthy man must do 60 minutes physical activity daily. It may be exercise, cycling, walking or any other physical activity.  This will minimize the danger of diabetes or cardiac problems.
In this 60 minutes physical labour you can include aerobics, office and domestic work and exercise related to muscles.
For Children and Teenagers
For children and teenagers one hour (and more than that) physical labour be beneficial. Experts say that the physical labour of the children should be through playing and sports.
The children, who have not started any sport or play, 30 minutes activity will be better. Slowly the body will be habitual of the activities.  Slowly and gradually the time can be extended.
Very thin and low weight children should start with a little period. If necessary, you can take the help of a trainer.  Twice or thrice a week the activities for gaining the weight (like hopping) should be done.
The screen time for the children should be limited to two hours only (For TV, Computer and games).
Exercise for the Conceiving Mothers and Post Delivery
The pregnant ladies should do any exercise with the advice of the doctor only.
Pregnant ladies may do the tradition exercises, the house hold works.
The ladies who are continuing exercises much before the pregnancy can continue with the exercises with the advice of the doctor. They can do physical activities. (Remember this is only for the ladies who are doing exercises much before their pregnancy and not for the ladies who do not do exercise at all )
For Elderly People
If you are not in the habit of any exercise, start it with the advice of a physician.
The elder people should start with 30 to 45 minutes walking. If doing light exercise take care of your bones and muscles.
Twice a week do so laborious exercise. For muscles exercise, pick light weight.
The persons who are not habitual of any exercise can stick only to walking in fresh air. If feel tired, in between the walking, can sit for some minutes.  Simple walking is a boon for the elder people.  You can be saved of the cardiac problems.
In the beginning do not try to do exercises. But gradually start light exercises and some physical work also.
The High Blood Pressure patients should start exercise only after the test of heart beat.
The diabetic patients can control their blood sugar by doing 60 minutes exercise.
If your sugar level is low, do not do exercises.
In Case of Obesity
Start with 60 minutes aerobics or exercise.
Twice a week you can do laborious exercise also.
And if you are reducing you can extend the time also.
The main aim of the exercise is to become fit and fine, and saying good bye to the so called uninvited diseases.
– NEERA WADHWA
Follow us on Facebook, Twitter, LinkedIn and Instagram, YouTube to get more updates related to Sachi Shiksha – The Famous Spiritual Magazine in India.