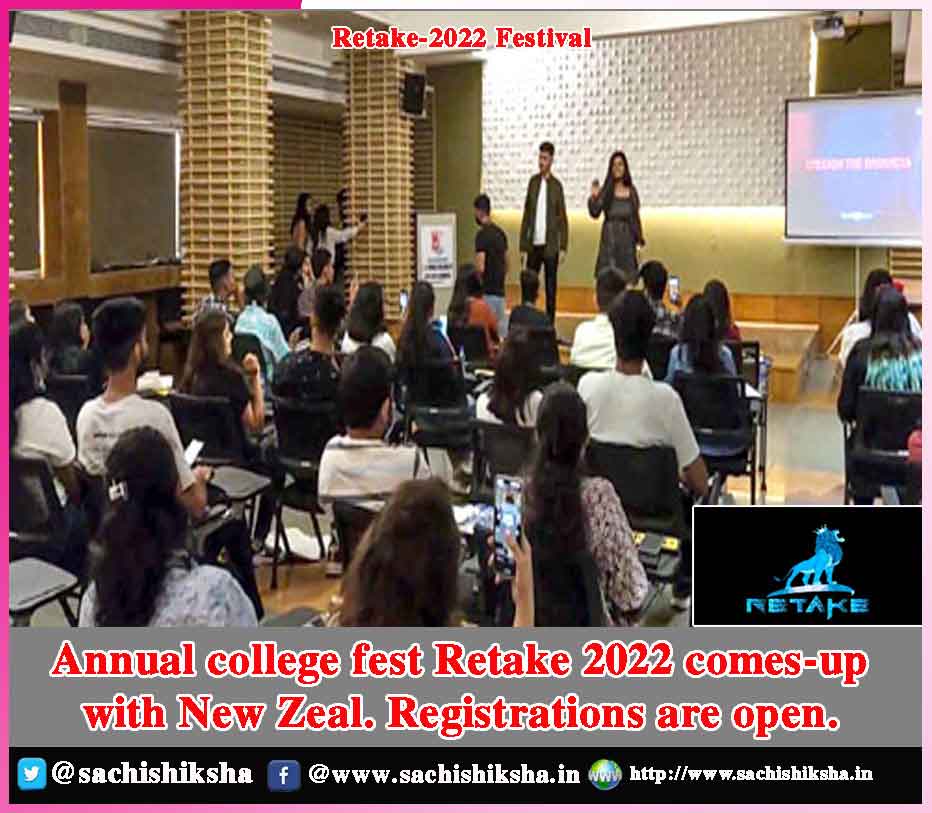 Annual college fest Retake 2022 comes-up with New Zeal. Registrations are open.
Retake is the annual national mass media festival organized by the BAMMC students of L.S.Raheja College of Arts and Commerce. Taking place since 2015, Retake has regularly been a podium for everyone to express themselves to the fullest while honing and developing their skills at the same time.
Team Retake informed us, that this festival is an event organized by our college where we invite other colleges to participate and compete for awards and accolades. A festival might have different events available to be participated in.
Some events that are a staple of festivals are dance, fashion, debate, and many more. It is completely up to the organizers to determine how many or which events there might be. In our festival, we invite regional as well as national mass media colleges to take part in Retake.
Also Read :-
Retake has quite an exciting origin story! The BAMMC (previously BMM) batch of 2015, after seeing other colleges organize their festivals they also demanded that even they should have their own festival. One month is all the time they took to bring the festival to life from scratch. The first-ever theme of Retake was based on the different trains that thunder down the railways of Mumbai, team further added.
A theme is the basis of any festival.
It is the foundation around which the festival is built. The events, decorations, designs, contingents, the entire feel of the festival is dependent upon the theme. Retake's theme for 2021 was "Virtual Grandstand" whereas a tribute to content creators of YouTube who entertain us to no limit, we based our entire festival upon these masters of amusement. Contingents were named after YouTubers entertainer.
Contingents are code names assigned to colleges so that no favoritism may take place in the duration of the festival. Colleges are supposed to be known only by their contingent names and not by their actual college name.
Our theme for Retake 2022 is "Maestro of Nemesis".
It is based on Bollywood characters who went from good to evil due to the circumstances that were imposed upon them. These characters broke apart due to the unjust pressure that came on them because of the unfair situations they were put in. You can follow Retake on Instagram: @Retake.2022. This is pertinent to inform that Sachi Shiksha is the Magazine Partner in this fest.