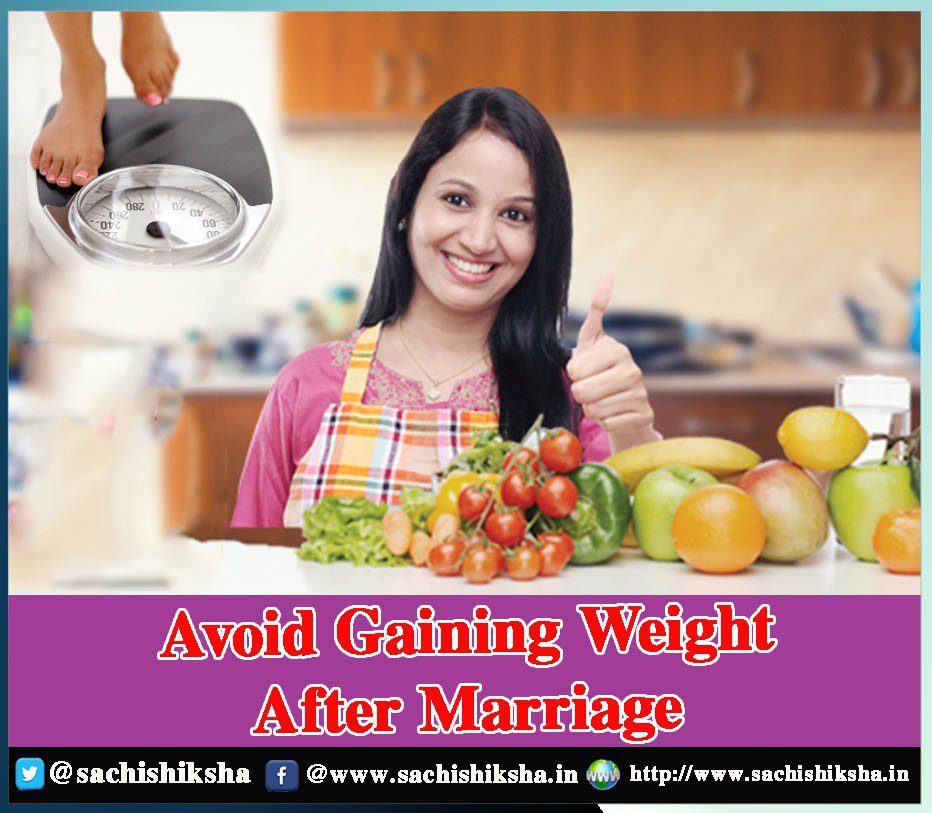 After marriage, there are some reasons which increase the weight of men and women.
According to a survey, after five years of marriage, 82 percent of the joints weigh five to ten kg more. Specially, the weight of women increases faster.
Let's know about the causes that cause in weight gain after marriage:
Change in Priorities
Before marriage, you cook something for your parents and sister & brother. Sometimes you do not take much care of the taste. After marriage, there is a need to cook for in-laws and husband. Good food makes good use of ghee-oil & spices. You eat the same food yourself too. It is natural to increase weight by eating this type of food regularly.
Hormonal Changes
Hormonal changes occur in the body before and after the marriage, and these changes help increase your weight.
Outside Eating
After marriage, you have to go to the relatives for dinner, which runs for several months. At the beginning of marriage, you have to take outside food during honeymoon and several other ceremonies & by eating unheeded food leads to abnormality in our body. After a few days of marriage, the amount of food to be eaten also increases in the restaurant and on occasions such as marriage and any party.
Eating More During Stress
Usually in the new environment, it is difficult for every woman to mold herself, especially when the bride is doing a job. Dual responsibilities are not less than a challenge. Tension begins to occur in this way, and sometimes women who start eating more in stress, increase their weight.
Change in Eating Habits
Differences in maternal and in-laws' food habits, use of spices, differences in cooking method etc., all these things also affect our digestive system. In some houses, you have to eat more oily food, which further leads to increase in weight.
Carelessness After Marriage
Girls often reduce their weight before marriage and keep themselves slim. If you are a little heavy then go on a walk,do exercise to make yourself thin. It is difficult to spare time for everyone after marriage because the responsibility of household work is also here. In this way, their mentality changes and their thinking becomes that they are married now, there is no need to do anything and if a little weight has increased, then what will happen, and so on, that's why the speed of weight gain begins to rise.
Pregnancy
After the marriage, it is natural to increase the weight of women during pregnancy, and then the extra care also helps to increase the weight. Most women do not lose weight even after delivery several times.
Incomplete Sleep
The timing of sleeping and waking after marriage changes. Sleep is not complete so this is also a cause to gain weight.
What to do for maintaining weight after marriage?
Avoid more eating during stress. Always be happy.
Take care about your personality and looks.
Do not eat more than hunger.
Eat at the time of your meal.
Join Yoga classes or gym with your husband so that you can spend more time together.
Do not promote outside food.
Eat nutritious & plain food at home.
Must have breakfast.
– Megha
Follow us on Facebook, Twitter, LinkedIn and Instagram, YouTube to get more updates related to Sachi Shiksha – The Famous Spiritual Magazine in India.