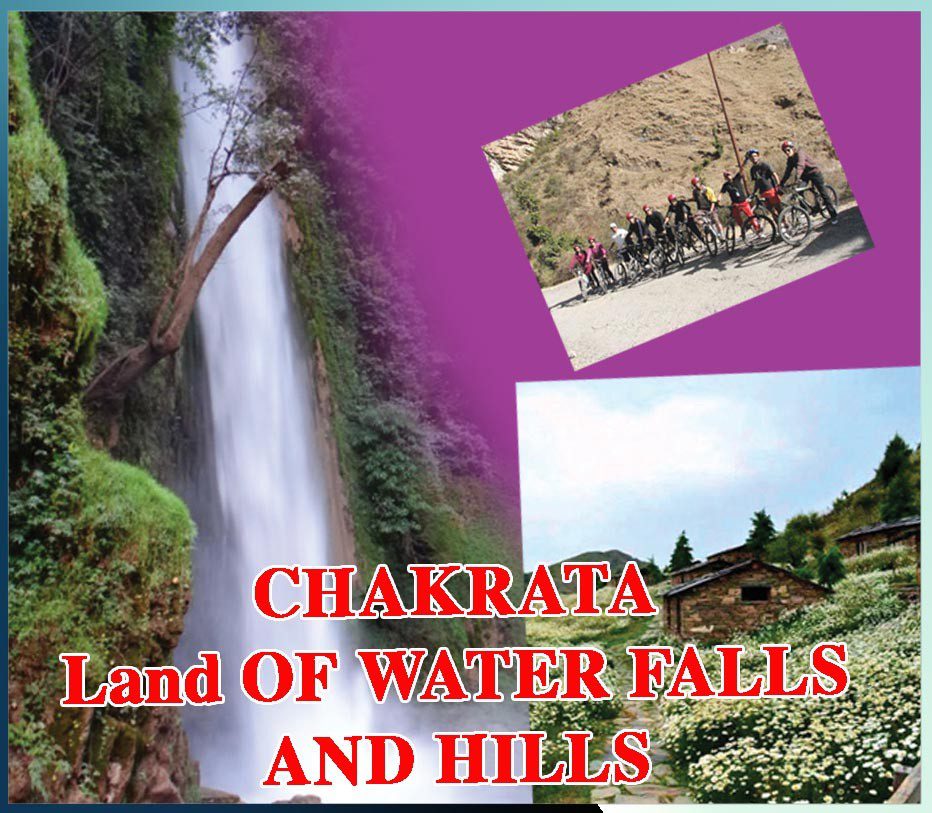 In the scorching heat of May and June when you are sweaty, if one of your acquaintances tells you that he is enjoying cool weather, you will be surprised. But believe me, there is a place on this earth, where you will feel relaxed in moment after reaching there and forget all worldly things.
The roads passing in the plains, and sometimes the clouds roaring in the mountains, will force you to wear warm clothes or sometimes you will be thrilled by getting wet in the showers of the rain. Then suddenly after getting surrounded in mist, you will remember a magician whose magic you must have experienced in your childhood.
Not only this, you will forget the AC, coolers and fans in the midst of sunshine and shade. You will come across so many surprising things, that you will not like to return back without knowing them. Let us go to such a beautiful place; the sweet memories of which will be implanted in your mind forever. Let us travel to Chakrata Hill Station.
On the God land of Uttrakhand, a few miles ahead of Mussorie, you must have heard the name of Chakrata which is situated in lap of mountains, even if you have not heard, it does not matter.
Today we take you to the attractive weather of this place. Approximately 7000 ft high from the sea level and 100 kms from Dehradun, when you see the pine and cedar trees and you feel yourself in the midst of the mountains, then you have reached Chakrata or Jaunsaar Babar area.
It is said that once in this Jaunsaar Babar area, there was Pandav tradition or polyandry custom (culture of marrying more than one husband) which went on changing from time to time. There are different views about this culture on which today the local people do not want to comment upon. Whatever the truth may be, but while on tour to this place, it is generally heard that at that time, agriculture and family life had its own importance.
People were not interested in dividing the land rather they wanted to keep it together. Every member of the family used to earn and give all the earning to the Head of the family and he used to take care of all the family members. So there was tradition of the marriage of only one male member in the family. So this is the story of ancient times.
Let us now march towards the most beautiful spot of this place "Tiger Fall" the name of which denotes many things. You can reach here in ten minutes by a vehicle. But it is not that enjoyable as it is like walking through the spiral roads of forest.
The chirping of the sparrows and the coolness below the bunch of trees make you feel like walking in another world. Fulfilling the need of the water in small fields, the reservoirs coming from up to down, and hearing the call of the cocks, remind you of your own village. Then meeting local resident Diwan Singh and Guddi of 4-5 years who says, "Let us visit our place", gives an outright proof of hospitality and brotherhood in the small hill stations.
Chaani
Chani is a house, huge part of which is made of wood and it looks very attractive. It is triangular in shape and the doors and windows are very small. On the top floor means on third floor the members of the family live. On 2nd floor they keep all their necessary belongings. On the ground floor, the pet animals like cows, buffaloes are tied.
At the time of snowfall, for getting relief people take shelter in CHANI. They also do farming while living here. Offering tea and a kind of chair (round), Diwan Singh of Indrauli say that his house is on the top side of this area. He further says that he has a very big house, but at the time of snowfall, we have to reside here only.
He says that residents of this area are afraid of summer and not winter. So they are scared of going into plains. While giving reply to the question of the roads closed due to snowfall and making arrangements of the necessities, he says that the people do not feel any problems because they make arrangements for this beforehand.
Folk Songs
When I was a little bit away from the Tiger Fall, I heard someone humming. I saw on the right side of the road, a farmer was busy in farming and singing also. When he saw me stopping there he understood that I am an outsider.
When I requested him to continue singing, he became very happy. He said that this is a very famous folk song. It is very popular in the Baisakhi Festival Fair. During introduction, that man Virender Joshi told that he is from Sujao. Then the song he sang really thrilled us.
Tiger Fall
With the completion of this song, we reached Tiger Fall where water was falling from a height of seventy feet. This was a very attractive view. As of the water falls, the noise of water could be heard. It really made us feel that a tiger is roaring. The water was altogether pure. It is said that taking bath in this water is remedy for various ailments.
Every person reaching here wants to see this scene to the full extent and want to shoot the scenes with their video cameras. There are some other tourists spots around in a few kilometers of area, which automatically attracts you, like Kanasar, Ram Taal Garden etc.
How to Reach Chakrata from Dehradun?
After reaching Dehradun you have two options to reach Chakrata. One is to go via Kempty Fall, Yamuna Bridge and Lakhwar and the second is to go via Kalsi from Dehradun. For both the options, first you have to go to Dehradun Bus Stand. WHEN TO GO: While making a plan to visit the attractive place Chakrata, you have to take the weather into consideration. It is possible that you can get into trouble due to heavy rainfall and chilled weather.
On one hand the roads are damaged due to heavy rain and on the other hand in case of snow fall in winter, the temperature goes down and this area becomes extremely cold. Besides this due to heavy rainfall and chilled weather, animals also rush towards the city or towns leaving behind the forests.
Best Time to Visit Chakrata
It is better that you plan your trip to Chakrata preferably during April to June and September to December.
Where to Stay in Chakrata?
There are so many cheap and economic Hotels in Chakrata for the tourists to visit in the midst of the green forests. For this you have to go to Main Market. It is a delight to watch the nature from the windows of hotel. The clouds running from one hill to other gives the feeling that they are playing hide and seek game.
Take Care of These Things
Do not go for excursion without taking the full information about the area otherwise you can get lost in the deep forests. The bus service here is closed very early in the evening. So it is advisable to reach the hotel in time.
Chakrata being the Army Training Centre, do not plan to roam here and there. Take photographs of only permitted area.
– SATYANARAYAN