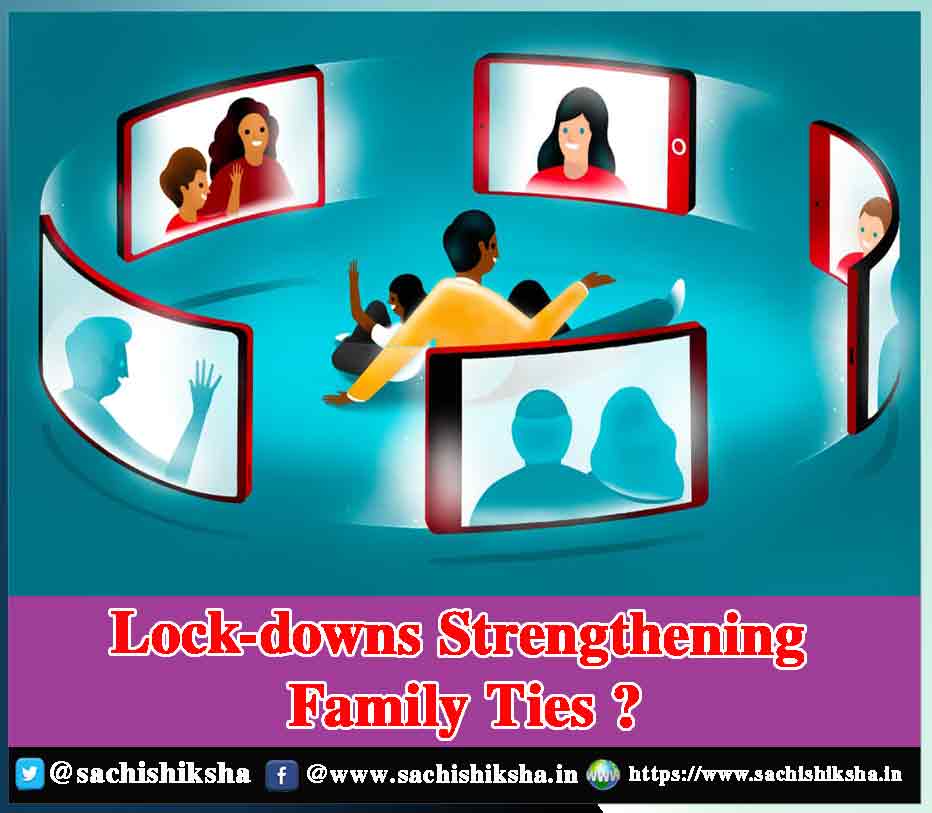 Lock-downs Strengthening Family Ties?
We must admit that the Pandemic gave us all ample space and opportunity to be with our loved ones during these stringent lock-downs.
It is a general view that people lost their close family member and in some cases, the inevitable layoffs too left many families shattered, but for a change, families re-learned to support each other like in the good old days and shoulder responsibilities.
In the times when mobiles had swiftly replaced dialogues within the family, lock-downs forced family members to avoid spending extended hours over mobiles and start a healthy discussion with humans sitting on the couch nearby.
It's been over a year since we have been living behind closed doors under the panic of  the Pandemic. Living during lock-downs has been a unique experience for every one of us. This one dark year has bright sides too. Some researches too support our words.
A research conducted by Guru Jambheshwar University of Science and Technology, Hisar, found that the lockdown has brought families closer.
The research found that 65.68% of women who took part in the research claimed that their family ties improved during the lock-downs, similarly, 34.32% of men also felt the same. The result also suggested that 59% of women and 30% of men developed an inclination towards creative work.

A few things that changed in the world around you during the pandemic are:
Family Brunches: 
Family members decided on getting up late in the morning skipping breakfast and encouraged to enjoy brunch together. These brunches not only brought family members together developing a better understanding with each other, on a lighter note, inspired a lot of men to try their hand at cooking and serve the family with some unique dishes over brunches and dinner.
Relationship Reflections: 
Couples who had been married for more than three decades and even more also discovered untouched personality traits and emotions of their better halves which they were unaware about each other so far.      
Return of Board Games: 
Most viral of the mobile games, PubG was replaced with board games like ludo, chess, snake and ladder, business and even carrom. Many enjoyed cards game with their families. While teenagers learned to play the traditional cards, they even taught UNO to some of the elder members of the family.
Movie Marathons: 
As the new-age viewers have excess to plenty of rich content on the OTT platforms, movie marathons and web series marathon became a thing of every household. The gripping content served on these outlets made the senior family members too binge-watch web series and even enjoy progressive cinema. However, the return of few classic TV shows too kept our Dada-Dadi, Nana-Nani and even sometimes Papa-Mummy glued to the television longer than ever before.
Evolution of DIY Culture: 
A large number of families utilized the time to clean their homes. However, the unwanted items discovered from these deep cleaning drives were either reused in their originality or were up-cycled by doing a bit of DIY here and there. Remember the carton box that was gathering dust in the garage? That has been now up-cycled to new storage in the storeroom.
Love for Books:
A lot of people returned to books. In the last few years, it was evident that an increasing number of readers were turning towards digital platforms only to quench their thirst for reading. However, spending extended hours over mobiles and computer screens proved to be a rather painful experience as staring at a bright screen irritated the eyes, forcing the readers to return to books avoiding reading on phones or tablets.
More Me-time:
Before these lock-downs, the fast pace of life was taking away the joy of being with the self. In a situation where one has nowhere to go, one can spend more time with one-self and may become self-aware. It is the time maybe for some introspection and gives a clear direction to your thoughts on a variety of topics. Spending time with own-self also helps in boosting your levels of confidence.
Extra Time with Elders:
 Lock-downs in a way helped the teens to be with their Dada-Dadi or Nani-Nani. The elders in return poured plenty of love and affection that was otherwise missing or overlooked in the life of teenagers. Spending more time with family allows you to develop a deeper understanding and thus minimizing arguments within the family.
You were less Offended:
When one understands one`s family better, one becomes more flexible and welcoming to the family members` thoughts which results in peace of mind thus you don't get offended that easily as you might have been in your pre-lockdown life. You became more forgiving and prioritized your relationships over your ego.
Pets Fell for Lockdown:
Pets are one of the most underrated members of any family. We take them to walk and play with them in our free time but the lock-downs made us sit in the house and the pets fell for the never-before situation. Pets got all the attention they ever wished for before the lock-downs. They too got the opportunity to develop a stronger bond with the entire family.