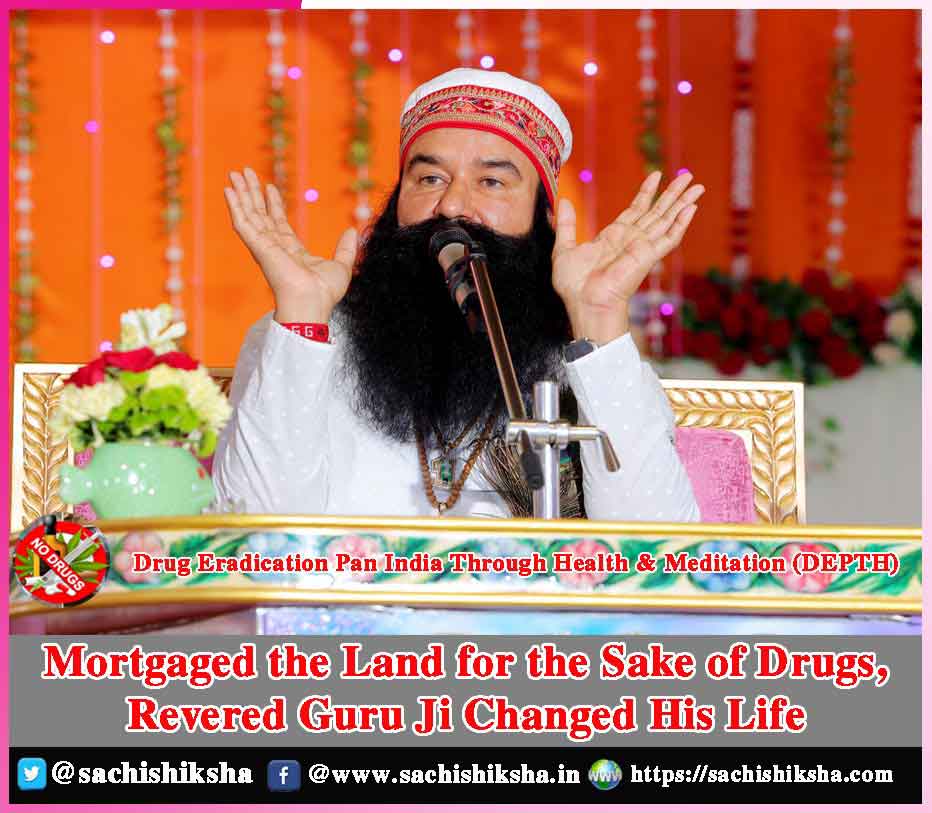 Mortgaged the Land for the Sake of Drugs, Revered Guru Ji Changed His Life
 Darshan Singh Sandhu, a resident of village Lakdawali, district Sirsa, shows how the online  spiritual congregation of the Revered Guru Ji is having a favorable impact on the society in the Gurukul program. Darshan Singh tells that I became a victim of drugs & evil habits in my youth.
Along with consuming raw liquor and poppy, he also used to do business of selling drugs. Apart from this, he would remain involved in a lot of wrong habits like betting and gambling. Due to these habits of mine, my wife Amarjit Kaur was also getting very upset. He had about six acres of land, but due to alcohol and other intoxication all the time, there was such financial crisis in the house that even the land had to be mortgaged. My wife was forced to work as a laborer in other's fields along with her small children. But Darshan Singh's wife Amarjeet Kaur did not give up patience.
She herself went to Dera Sacha Sauda and took Guru Mantra from Revered Guru Saint Dr. Gurmeet Ram Rahim Singh Ji Insan. As per holy words of the Revered Guru Ji, whenever Amarjit Kaur used to cook food at home, she would recite the God`s Words during that time. After a few days, a change was also felt in Darshan Singh's thoughts. Amarjeet Kaur sent her husband to attend the spiritual congregation, saying that if he felt positive, he could take the Guru Mantra. By the grace of the Revered Guru Ji,  Darshan Singh was initiated into the God`s Words and he determined to give up drugs in future.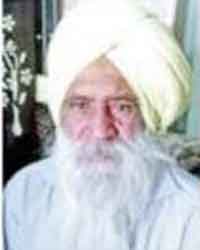 The same day after coming home, Darshan Singh threw the wine making equipment & material out of the house and giving up all the bad habits, he became a practised spiritual follower. It is worth mentioning that the whole village was surprised to see Darshan Singh leaving intoxication and bad habits and walking on the path of devotion.
The one whom people used to call as liquor contractor, now they started calling him by the respectful name of Darshan devotee. After joining Dera Sacha Sauda, his economic condition also improved rapidly.
Quit Drugs After Having Been Impressed by the Teachings of the Revered Guru Ji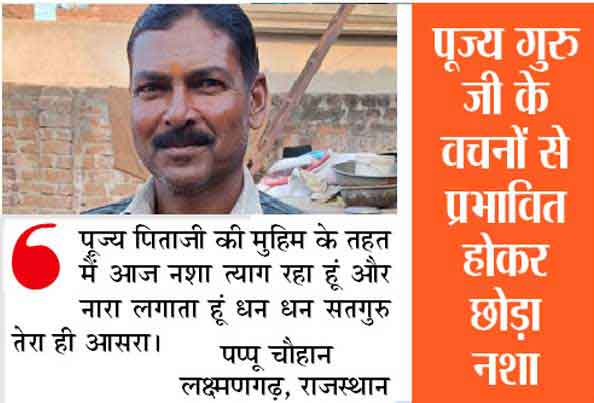 Under DEPTH Campaign of the Revered Guru Ji, today I am giving up drugs and I raise the holy slogan 'Dhan Dhan Satguru Tera Hi Asra. 'Pappu Chauhan – Laxmangarh (Rajasthan)