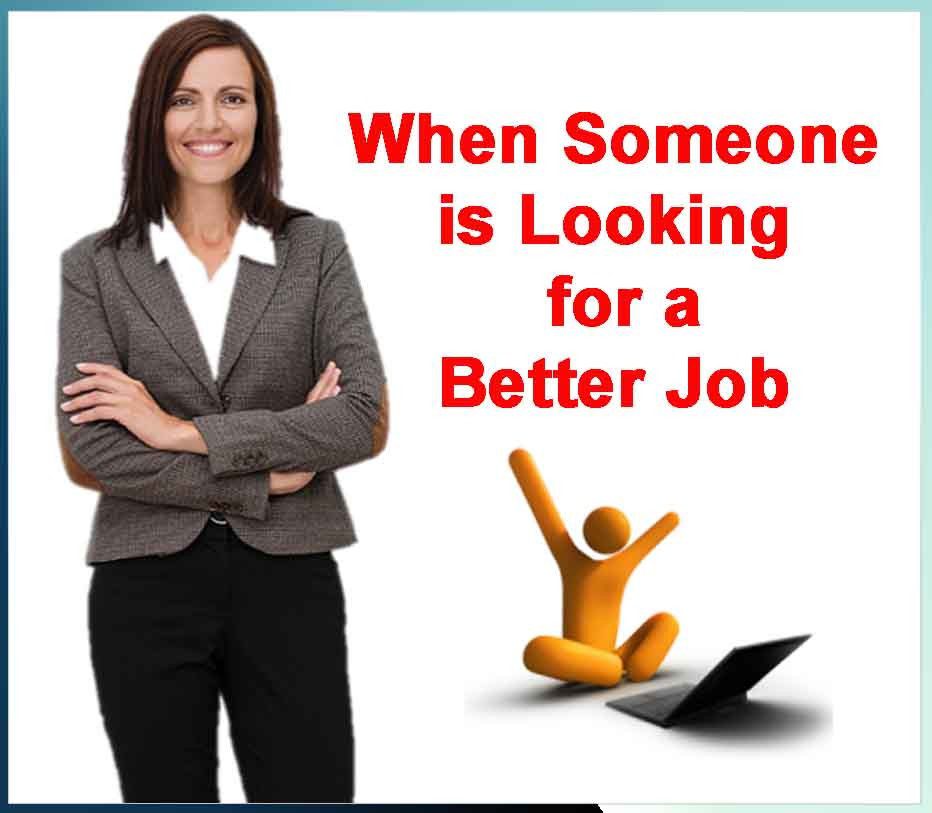 When Someone is Looking for a Better Job Nowadays, it is not easy to maintain a proper coordination between the office job and the house hold responsibilities. Not only this, there are a huge number of youngsters who are not happy with their jobs and most of them want to switch to another job. When Someone is Looking for a Better Job
When we look back a few decades, no tension of jobs was there. After schooling and college, all the students used to get the job in the same city. If need arose, they used to shift to nearby destinations. Sense of job security and permanency was always there. Life was so easy that even the life partners for the children were available in the same society and city. Now people switch over to other jobs so frequently that sometimes lack of consistency in the job is observed.
The switching over to other jobs sometimes broadened your caliber and experience. But switching more often, sometimes make you weary also. Let us know what the people having this approach should do. If you are searching for a better job, these tips will be very useful.
Contacts
To get other job, the most important and useful thing is "Networking". The contacts built during doing field work help a lot in changing the job. Your contacts tell you regarding the vacancies available in different companies. So even if you reach the highest peak, do not break links with the people. You should not rely on your mobile for this; you should also prepare a diary of your contacts.
Attend the Events
For getting new job, you have to attend different events organized by various institutes and charity organizations. You have to make the optimum use of these opportunities and in every meeting at least meet one person of your field. God knows, who will help you in getting better job?
Job Fairs
Every now and then, job fairs are also arranged by the colleges and the companies in different cities. Group of institutions sometimes have contacts with the corporate sector and they collectively organize fairs. Best deals can be settled and you can choose the job of your choice from there.
Take the Benefit of LinkedIn
Making an account on LinkedIn can help you in getting job of your choice. LinkedIn is a powerful medium of getting connected with right people. If you fill appropriate information in every section of the LinkedIn and use right key words in your search, it helps others to know better about you.
See Job Sites
The people searching for jobs must always keep an eye on Job Portals. In addition to this, you must update your CV from time to time. Besides this, you must also focus on emails related to jobs and the newspapers.
Jobs in Danger Due to Digitization
In the World Economic Forum organized in Davos, it was told that the Fourth Industrial Revolution motivated by Technology is in progress and due to this, in the coming decade lakhs of jobs will be affected. This revolution is possible in India with Digitization.
In India researches are being conducted. According to one research paper by Manpower group, due to digitization 20 to 30% jobs can get vanished. According to the report of Simply Learns State of India Technology Skills, professionals working in IT and IIT Based services are of the view that due to fast changing technology 60% people are in danger for their jobs. There are other tips also for looking over for better jobs.
Keep the following in mind while searching jobs or switching to a new employment.
Daily Newspaper
Every morning should be started with a newspaper and a cup of tea in hand after getting fresh and doing yoga and pranayam. First you go through the headings. Headings itself creates curiosity in your mind to read it in detail. Afterwards while going to office by bus, you can read the news and advertisement of your choice and importance in the way.
Strong Search
You can also look for jobs through your known persons in other organizations.
Contact Job Portals
There are many job portals that provide information regarding various jobs. They also act as the "bridge" or "connecting agent" between the employers and employment seekers.
Talk to Your Friends & Ex-colleagues
You must talk to your friends and ex-colleagues to know where the vacancies are.
Get In-touch with your former bosses/Seniors
Your former bosses or seniors in the organizations where you have worked together can be of great help in helping you get a job of your liking. May be your ex-bosses are in very good positions in some companies and they may offer you a job if you approach them.
Follow us on Facebook, Twitter, LinkedIn and Instagram, YouTube to get more updates related to Sachi Shiksha – The Famous Spiritual Magazine in India.