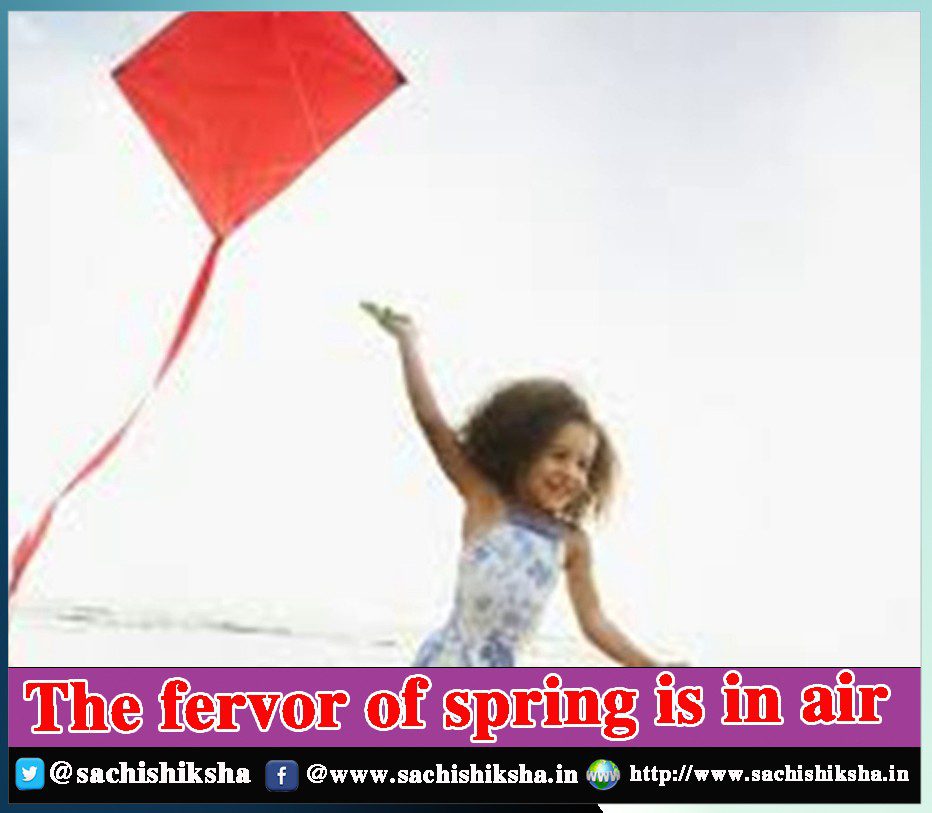 Neither cold, nor hot, nor pinching, nor scary; the breeze and winds of spring are only pleasant. This season is best in every sense, be it wearing new colours, eating, drinking, roaming or marriages.
Then why not you also get engrossed in this beautiful season and learn a new way of life.
Once again has knocked the beautiful season of spring. On one hand the yellow mustard flowers spread the colours, in parallel the chirping of birds makes this ambiance melodious and lovely. On the other hand, the fashion designers also launch their new collection. In Punjab and Haryana this season has special significance. This season is best to gain health benefits. In total, everywhere is a welcoming note for spring, then why should you remain untouched.
The Unique Colors of Nature
On the end note of chilled winter season, the spring season fills the nature with colours. The yellow tinch mustard flowers, along with chirping of birds bring lot of colour to the nature. On one hand we can notice the changes in the eating habits and nature of animals and human beings; on the other we feel the branches of plants loaded with flowers. The Palash flowers that give look of fireballs, the mango trees with buds, and the earth covered with greenery; and the pinkish cold, all are the characteristics of this season. This season has special significance in Hindu religion. In the month of Maagh, the festival 'Basant Panchmi' is celebrated. The beauty of this season makes it more beautiful.
The Dialogue of Flowers
Spring itself means natural beauty and the unique sight of yellow colour. This is the best season for flowers. This season has highest flowering. This time and process is known as springing of the nature. There are more than 50 types of flowers like mustard, hazare, khatti batti etc. that come during this season only. The reason is that day length turn bigger because of which they get more period of sun. This is beneficial for their growth. In the month of winter, plants have highest vegetation because of which they grow in low temperature. With spring they get numerous flowers, which makes the nature beautiful everywhere. In total of vegetation science, this has great importance. So come, let us decorate our home with flowers.
The Ocean of Flowers
If see standing in mid of the ever spreading mustard fields then it seems that nature has named this season to these flowers only. When travelling in train, the heart runs left and right to enjoy beautiful view of these flowers. Like mustard, the spring comes like this, when these small flowers take it all in their name. In sun pale yellow, standing with the concept of wavy yellow finch.
Spring with Buransh and Fyulle
In plains, where mustard gives extension to spring; at the same time, in Kumaun and Gadwal hilly areas, fyulle and Buransh give message of the knock of spring. With yellow colour, these flowers of fyulle with five wings are named as 'Basantduti', 'Messenger of Spring' by the local poets. Near Dehradun, this is known as 'Basanti'. In Punjab it is known as 'Bal basant'. In the month of 'Chaitra', these yellow flowers are done pot full and kept on the door steps of every house and this way all the houses turn almost into temples.
Some similar traditions are associated to Bruansh flowers. In Kumayun and Gadwal many songs are sung in name of Buransh Flowers. When spring arrives, the red shiny flowers of Buransh are kept in the baskets. With their tiny hands, the kids collect these flowers from all the houses, reciting 'Fool Dehi', means 'Give the flowers'. Whole of colonies get engrossed in this delightful sound. These flowers are kept on the entrance of homes. Then from there these are transferred to temples.
Palash, The Pride of Forests
In the spring season, if you happen to go towards the forests, then the palash flowers satisfy your eyes with their colourful aura. In forests the chief guest of spring are these flowers only. From far distance the forest looks as if it is on fire and burning. And hence in English, these flowers are known as 'Flame of the forest' and in Sanskrit the literal and interest version of it is 'Kinshuk'. 'Kin' means what and 'Shuk' means parrot. This means what a  parrot! In Hindi it is famous as Tesu and Dhaak. Rarely, people know that the war in between Sirajudaulla and Clive that took place in Palasi is actually an alias of Palash. At same point of time, there were huge number of palash trees here.
Learn The Art of Living
Every change in nature certainly brings some change in the lives of people. Spring also gives positive and optimistic messages to our lives. Whenever the nature changes its trend, then it gives a clear message that change is much needed. After the dry season the onset of spring is a message, an omen. There are many life management tips hidden in spring season. We only need to identify them.
In autumn the old and dry leaves shed out of the trees and the sprouting of new leaves is a message of positivity, energy, hope and faith. Spring season is a time for flowers to blossom, which gives us message to smile always.
The spring season is also known as the season of beautifying, which gives one a message to remain proper, in proper attire and looks.
The colour of spring is 'Kesariya', which is the symbol of devotion and victory. This shares that let us give away our defects and win the weaknesses. In spring, the sun comes to northern hemisphere. This is a message that let us be shiny and glorious like sun. Spring is also known to be the king of seasons, because during this season the fertility means productivity increases as compared to other seasons.
Taking Care of Health
Dietician, Nelanjana Singh, states that during winters normally we take heavy food. And hence with the onset of spring, we should always give up the heavy eating practices. We must increase the intake of liquids from 10-15%. During winter, some people avoid curd, but it can easily be taken during this season.
One should make papaya, guava, banana, sapota etc. fruits, and radish, carrot, sugar beet, peas and other green leafy vegetables, part of their diet. Since with the change in season, the threat of diseases increase, hence we should avoid taking oily, spicy things. Take more of Amla and oranges.
By Neelam Shukla
Follow us on Facebook, Twitter, LinkedIn and Instagram, YouTube to get more updates related to Sachi Shiksha Spiritual Magazine.