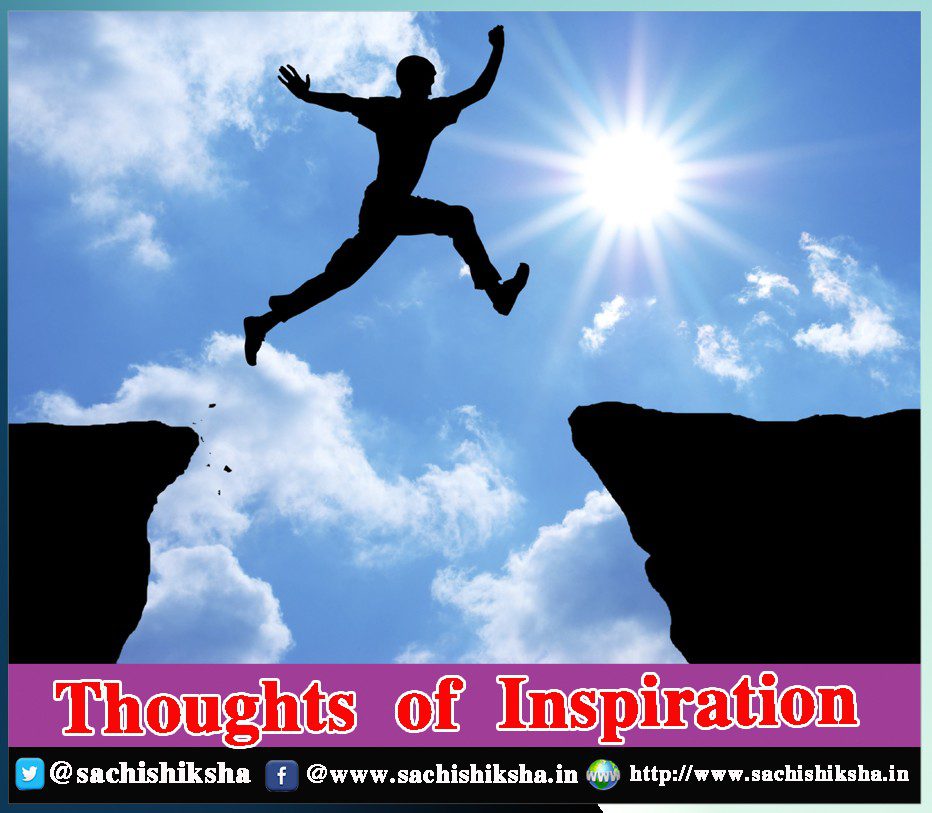 Thoughts of Inspiration
Thoughts are the conceptions and sentiments produced by imaginations occurring in mind.
Thinking involves many aspects of consideration, contemplation, introspection (self assessment), conceptions, impression and meditation.
When we undergo thinking, things change with time and possibilities become realities. The noble thoughts and inspirations are everlastings sources of strength, stability and peace.
Inspiration is the action influencing and awakening the power of intellect and emotions.
Lot of many thoughts can be source of inspiration, considering other people accomplish great things and others overcome adversities, inspirational quotes from good quality literature and great people or spiritual guide. Even the sheer beauty of nature can remind us just how lucky we are to be alive.
Inspirations Promote Noble Tasks Which May Bring Perspiration
As per spiritual concept, the inspiration is the divine impulsive power or encouragement believed to qualify a person to receive and communicate sacred revelation.
The word inspiration has been derived from Latin language "Inspiratus" which means 'stimulation or incitement or arousal of the mind feelings etc., to special or unusual activity or creativity'. According to Martin Luther King,' Inspirational is a person or thing that motivates mentally or emotionally'. Another aspect of inspiration involves the act drawing air into lungs.
Positive Thinking
Being positive or negative are the habits and thoughts that strongly affect our actions and life style. Positive thinking signifies talking, believing, imaginary scheme and visualizing what we want to achieve. It means considering in your mind, the things you want, as an elegant fact. The positive attitude awakens energy, initiatives, inner strength and motivations. Positive thoughts are not enough but must be supplemented with positive sentiments and positive actions.
Train your mind to think in terms 'It is possible and it can be done'. Better thinking uploads your life with great delight to bestow satisfaction, complacency, ease, sufficiency, pleasure, alleviation, ecstasy, serenity and divine bliss.
Do not concentrate on "B+" as blood group or grade in a particular subject, treat it as favorite quote of 'be positive'. The willpower to work acquires a status of climax if mind is stable, the objectives are noble (for social benefits), the perception is positive, mood is pleasant and selfish desires are least.
Thoughts for Success
Success knows your purpose in life, growing to acquire your maximum potentials and sowing seeds that benefit others. You must develop strong winning spirit, take the defeat as a challenge, investigate the causes of failures and learn from the qualities of winners so as to improve upon personal status.
 Swami Vivekanand Ji has inspired people with a version, necessary for success, 'Take up one idea, make that idea your life and live on that idea. Let the brain, nerves and every part of your body be full of that idea and just leave every other idea alone.' Great minds discuss ideas, average minds discuss events and small minds discuss people. First of all the implementation of ideas through good imagination provide the major assets to achieve success in life.
The concept of creativity is essential to take it as granted through righteous efforts. The success may involve walking from failure to another failure but without loss of enthusiasm. The starting point of all achievements is proper desire. You may only succeed if desire true success.
Real opportunity for success lies in the dedication of a person and not only in the job. You may only fail if you do not mind failure. A physically weak person can overpower a tough opponent through strong willpower and proper planning.
There are situations when the persons have to seek the co-operation of others, one may work as a member or leader of the team but should not criticize or condemn each other. Like a captain, one should pay equal attention, status and regards to each member.
Thoughts for Time Management
Time is a strong natural entity, capable to affect the events and thus regulate the very fate of a person. Think and complete the task you can achieve within the time available.
Control fatigue, stress, strain, dehydration etc. However, positive thinking, planning and proper motivation can be helpful to some extent in managing time according to the situations.
When the task is resolved in systematic manner, it creates confidence and develops winning spirit. Feel healthier, more energetic and in better mood. Is not your Time is precious, once gone, gone forever. Devote your time and energy to positive people with positive thoughts; you might just do yourself a huge favor.
Thoughts for Innovation
Innovation is the mental and physical concept of mew ideas, devices or methods which bring better solution to meet the new requirements, indistinct or existing needs for the social community.
It can be accomplished through very fruitful products, processes, technologies, services or business models which become easily available to the general masses. The concept of creativity is essential through righteous steps.
Identify your knowledge, skill and experience. Innovation distinguishes the skilled persons (leaders) and the followers.
The function of leadership is to produce more leaders and not more followers. Therefore, do not allow the fear of losing be greater than the excitement of winning.
Try to analyze the problems and shortcomings so as to find righteous solutions. Introspect to revive and activate the latent qualities.
Think to be special that you can do something unique which others cannot. Strong courage, great zeal and devotion for task promote self confidence. Then the achievement of success in any field brightens our enthusiasm and motivates to take up innovative concepts.
Keep away from people who try to belittle your ambitions. Less resourceful people may do that, but really great people make you feel that you, too, can become great. One must develop strong determination to achieve number one position in the field of choice.
Thoughts for Contentment
Contentment is a noble quality in a person with a feeling of mental and emotional state of internal satisfaction. One should acquire the prominent humane quality to earn through honest means and self toil. Contentment motivates to work hard for success, progress and prosperity.
Try to submit your desires under the mighty hands of God. Cast off all your anxieties on Him because He cares for you.
According to Saint Kabir, the contented person feels truly rich and gets relief from tension.  Such persons develop positive temperaments, innate pleasure with possible possessions instead of concentrating on extreme materialistic desires,  be thankful to God for what you have and you will end up having more.
Thoughts for Humanity
Time is very crucial during the life span of each individual. Every person should devote certain moments for social service of human welfare, yoga and meditation. The inspiration should involve inhaling of excellent aims and objectives for future;
exhaling anger, lust, attachment, much desires, ego and wicked thoughts; retain the present virtuous principles of positive habits, strong character and amiable behavior.
 These true aspects can improve upon health, social status and will power to perform virtuous deeds.
The person becomes capable to achieve divine blessings and salvation. Our life span is limited but we can make it beneficial, beyond limits, for human race through selfless voluntary service.
All the creatures and the phenomena are essentially divine. One can lead a purposeful and happy existence when one understands the meaning and message of life. The person who thinks deeply can explore for himself what can make his living delightful.
Thoughts for Spiritual Elevation
We are shaped by our thoughts and we try to become what we think. There are blessings hidden in the folds of knowledge gained by our personal observation. We get delightful results of peace and prosperity when we replace negative thoughts with positive ones. Our mission in life is not merely to survive but to flourish with passion, compassion, humor and grateful style.
If we acquire self confidence and work with full dedication, we achieve unique victory and divine bliss.
The flowers which bloom even in adversity are the most beautiful of all. The splendid thoughts are the foundations of inner joy and cheers.
The joy inside provides the delight outside and everywhere. The best motivation is provided through our spiritual master.
Concentrate on regular prayers and method of meditation, so as to gain the spiritual will power and divine bliss. God is the sole creator, operator, caretaker, navigator, savior and all benevolent supernatural power.
Our Reverence & Gratitude to The Spiritual Guide Motivates Us for Firm Belief in God
He only can transform our darkness, bitterness and blunders to elegant light, sweetness and passion. Optimistic attitude, positive objectives, constructive and innovative steps bestowed through His benevolence can help us to acquire the eternal and perpetual blessings.
Meditation brings all the four types of progress—physical body, mental thoughts, moral values and spiritual concept. It helps to regulate blood pressure, reduce stress, control fat loss, better bone density and improve immune system, desirable memory and reduced inflammation.
The concept of distinguished inspirations suggest about best qualities of contentment, forgiveness, honesty, truthfulness, universal brotherhood, regards for different religions and thanks giving.
These values differ among persons belonging to various categories; with time and situations. But even then efforts must be made to acquire these virtuous principles.
By Dr. Triloki Nath Chugh Insan, Dera Sacha Sauda, Sirsa.
Follow us on Facebook, Twitter, LinkedIn and Instagram, YouTube to get more updates related to Sachi Shiksha Spiritual Magazine.