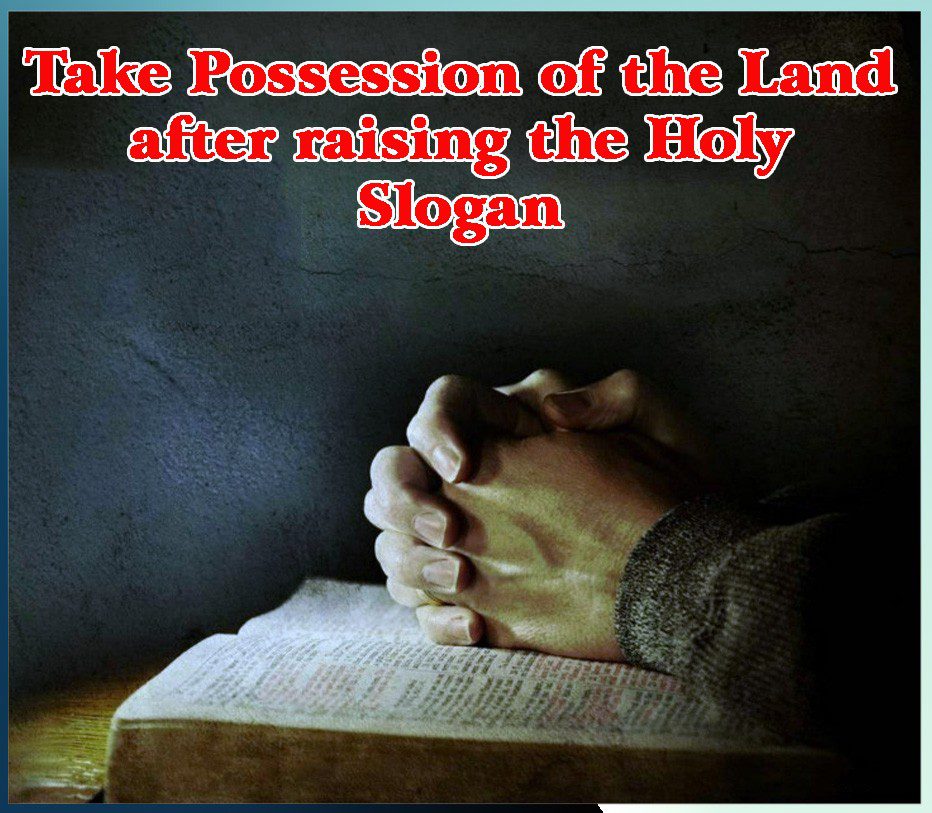 Take Possession of the Land after raising the Holy Slogan
Experiences of the Devotees
Revered Shah Mastana Ji 's blessings
Devotee Charandas Insan, son of Shri Ganga Singh, village Dhandi district Fazilka (Punjab) has related the amazing experiences of the blessings of Rev. Mastana Ji which took place sometime ago. He has thus written about the experience.
The event desribed is of the year 1957.
That day Revered Shah Mastana ji held a religious discourse at Malot Mandi. After the end of the religious discourse the Shahanshah ji was giving `God's Words' to the seekers.
He also told the devotees that the God's Words have to be recited.
That day there were seven people, including me who took the God's Words. According to the holy words of the Revered Sai ji I started reciting the God's Words from that day onwards. I spent most of the time in reciting the God's Words.
The habit of reciting the God's Words was such that I even forgot to eat. I just used to drink water. But I was doing the regular activities at home, but even while doing so I continued reciting the God's Words. Revered Sai ji showered His blessings on me.
I started having divine visions of Rev. Beparwah Mastana ji . I could see Rev. Mastana ji during my prayers also. I prayed to the spiritual Master to always keep me close to His holy feet .
One day during the religious discourse Rev. Sai ji told me, never leave the spiritual Centre of the the Spiritual Master. I also promised instantly, even if the world turns upside down, even if everything else changes in the world, even if I have to lie without food and cloth I will never leave the spiritual centre.
It is mentioned in the holy books that those people on whom the Saints shower Their blessings are sometimes tested so as to find out how genuine they are. There was strong opposition in my family when I told them I had accepted Rev. Shah Mastana Ji Maharaj of Dera Sacha Sauda as my Spiritual Guide. My father, my mother , brothers and sisters, all of them opposed my decision strongly . They not only boycotted me , but also started saying all sorts of things to me to change my mind. I did not care for their rebuke.
My father even told me that only if I leave my Spiritual Guide Rev. Mastana ji will I get a share in the family land otherwise I will be deprived of it. With the blessings of the Spiritual Guide , I did not care for the threat. I told myself that I will not leave the company of the Spiritual Master whatever happens. The one who has given me birth will also care for satiating my hunger. Never mind. I will do some work, even that of a labour.
As long as my hands and feet are there safely I will be able to make a living by doing some work. I need not worry. Why should I be afraid of anything in this world? There is nothing to fear. For 8-9 years my family neither gave me in nor any share of the family income.
I kept doing the work of a labourer. But afterwards they gave me my share of the land. The above mentioned incident took place in 1978. After the death of my father, my brothers shared the property among all of us. I was given land in Arniwala. But because of some reason (property dispute etc.), I sold the land of my share.
I asked my younger brother Harnam Singh to get me some land in Dandi kadim. My younger brother was also the Numberdar of the village at that time. He showed me a piece of land which I liked very much.
I made an agreement with the land owner to buy the land at Rs 4000 per acre. I got the registry of the land done as well as the mutation of the land in my name. But the problem was that the said land had already been in illegal possession by some other landlord. My brother did not tell me about this fact when I bought the land.
Perhaps my brother also did not know about this illegal possession or else he might have told me about it and I would have been more careful. That landland was a very powerful man and had muscle power as well. Even the police was afraid of him and did not dare to cross his path. I went to the spot to take possession of the land.
I even showed him the legal documents of the plot, but the landlord did not listen to me. He warned me to stay away from the plot. He threatened me that I did not know how powerful he was and what harm he could do to me. He warned me to keep away from the land or be ready to face the consequences if I ever put my feet on the land in question.
I was terribly afraid. I thought I had lost money as well as the land and would never be able to possess it. I was in great trouble. I told my brother that if he knew the history of the land why did you ask me to purchase it? My younger brother told that he did not know that the landlord will not leave the possession of the land.
I was in a terrible problem. I did not know what to do. In that hour of stress and pain, I started reciting God's Words. I thought, only the Spiritual Guide could solve my problem. Only He could show me the way and lead me out of the problem. I prayed to Revered Shah Mastana Ji Maharaj and second Spiritual Master Rev. Shah Satnam Singh Ji Maharaj, I am an illiterate person who has been caught in such trouble that I don't know how to get out. Please do something to help me. Please help me in getting the out of this problem.
Please solve my case. Revered Sai Mastana blessed with the divine vision in the form of the Revered Param Pita ji and told me, `
`Beta with the slogan (Dhan- Dhan Satguru Tera Hi aasra) go to your land and don't go near the farm house of that man.
Following the words of the Spiritual Guide , I walked past one and half acre away from the Farm house of that man raising the holy slogan `Dhan-Dhan Satrugu Tera Hi Asra' . I then stood in the shadow of a 'keekar' tree in my plot. As long as I stood there I kept reciting `Dhan Dhan Satguru Tera Hi Asra'. I was also terribly afraid that if that man saw me standing in the plot I did n't know what would he do to me.
But because of the blessing of the Spiritual Guide , no untoward event happened. After this, I went to the farm house of my brother Harnam, which was 4-5 acres away. The next day that same landlord who had threatend me, came to me with folded hands and said very politely that please take possession of your land. He even tried to touch my feet.
I stopped him from touching my feet, saying that he was elder to me and should not behave in this manner. I told him that I was like a child to him. He then hugged me with affection and respect and love and went away requesting me again to take possession of my land. I was amazed at this sudden change of heart of that man.
I thanked God and reciting the slogan again took possession of my land. Some days later the same man met me again on my way. I was afraid that he may threaten me or harm me. But the man talked to me in a very polite manner.
He asked me who were all those men who had come to him that day with me? All those people were armed and carried swords and guns and sticks with them . I could not believe my ears what was he saying. I was perplexed.
I could not stop the tears welling in my eyes then. My Spiritual Guide, Sai Mastana ji Maharaj had done all this favour to me.
I pray to the third divine incarnation of my Rev Shah Mastana ji Maharaj, Revered Saint Dr. Gurmeet Ram Rahim Singh ji Insan that I remain forever connected to His holy feet.
Follow us on Facebook, Twitter, Google+, LinkedIn and Instagram, YouTube to get more updates related to sachi shiksha Spiritual Magazine, articles.