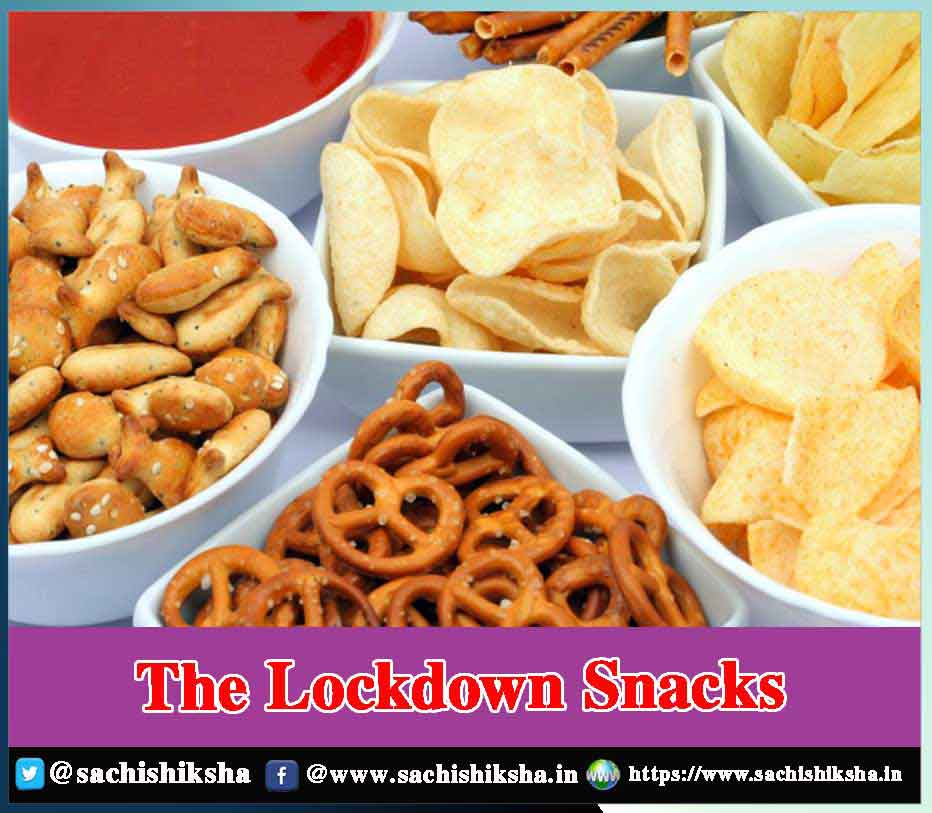 With Lockdown imposed and working from home option has changed not only our dress code of comfy sweatpants but also our food cravings. Master Chefs are sprouting at every nook and corner. Some hidden talents are coming out of the closets and some are honing their skills further.
Food pictures are flooding the internet and social media accounts. This new fever which has gripped everybody is contagious, the aroma of which is sweeping people of all ages alike. Be it the 'dalgona coffee' or the latest trend – 'pancake cereals', people are just going berserk over food. Munching while working or binge watching or practically lazing around has never felt more satisfying. Now going to the fridge and just ogling at its contents every 15 minutes has become quite normal. But now to contain those hunger pangs let's try some easy-peasy snacking options.
One of the most missed snacks is surely going to be the Mexican delight – Nachos with various kinds of dips. These corn tortilla chips are not something readily available at the provision stores near our houses. But better than just imagining their crunchy textures let's fix a huge bowl of this tasty snack.
Method:
For preparing the chips 1 cup maize flour and ½ cup wheat flour is required along with ¼ spoon turmeric and crushed pepper, salt as per taste and 2 table spoons oil is also required. Add water to form a dough and let it rest for a few minutes. Roll the dough gently and cut out triangular nachos from it, pricking it by fork at the end.
Deep fry it in medium flame till it becomes crisp and golden brown. In case maize flour is not available then with a slight Indian touch you can still make Nachos. The leftover chapattis of the previous day can be deep fried in triangular shapes and sprinkled with spices and herbs to make an easy substitute for these nachos.
For the dressing salsa is widely used. To start with add 2 bowls of chopped tomatoes to ¼ bowls of finely chopped onions. Adding 1 tablespoon each of oregano, chilli flakes, sugar and 2 tablespoons of chopped coriander leaves to the mixture. Sprinkle some cumin seeds,salt according to taste and 1/4 tablespoon of green chilli. Mix the mixture properly mashing it by the back of a spoon.
Now for the cheese dip, add 5 slices of cheese to 1/2 cup of milk and salt to taste. Boil it to form the dip. Cool it well before use for best taste. Spread the prepared Nachos over a plate and add dollops of salsa and cheese dip to relish your prepared snack.
Our go-to snacking option maggi is also beginning to lose its sheen. To present this quick fix noodles in new way we can make maggi bombs. Add 2 table spoons of corn flour or rice flour to 2 bricks of boiled maggi noodles. Then add chopped capsicum, tomatoes, carrots, onions or any other veggie which is readily available.
Add maggi masala, salt according to taste, chilli flakes and oregano to this mix. One can even pop some cheese in the centre while making small balls of this mixture. Fry these in medium flame until golden brown. Serve while still hot.
Keeping our health in check is also important or else gorging over snacks can make us dull and sleepy. Fox nuts or makhana is a light option loaded with magnesium, potassium and protein which can be snacked upon. Makhana when roasted with olive oil, salt and pepper can be eaten as an evening tea-time snack.
Another wholesome snack is roasted chickpeas. Heat 2 tablespoons of olive oil in a pan and add 1 tablespoon of cumin seeds, 1 teaspoon of garlic powder, ½ teaspoon of chilli powder, salt according to taste , 1 finely chopped green chilli,1/2 tomato and onion finely diced, coriander leaves and 2 bowls of chickpeas rinsed off thoroughly. Tossing the contents add a few drops of lemon in it at the end when the chickpeas are crisp and brown.
Bread may not be easily available as bakeries are closed. So we can try the other option of biscuit crackers-a simple yet sumptuous twist to the normal sandwich. Take Monaco biscuits or any salted biscuit and toast them slightly with a little butter. On one of the biscuits add a layer of any chutney or sauce.
Layer it with some veggies such as tomatoes, capsicum and onions chopped finely. Add chunks of cheese and cover this with another biscuit. Your mini sandwich is ready in a jiffy, waiting to be popped in your month in one go.
Therefore, each house will have innumerable tales of taste served with love and care. Explore these tales and get mesmerised with the magic of home-cooking. Now that you have the time and appetite, put on your aprons and start cooking your favourite snacks. So What are you eating today?
Sanskrati Mehta
Follow us on Facebook, Twitter, LinkedIn Instagram, and YouTube to get more updates related to Sachi Shiksha – The Famous Spiritual Magazine in India. you Reading any Also Read Our Hindi and Punjabi Editions.