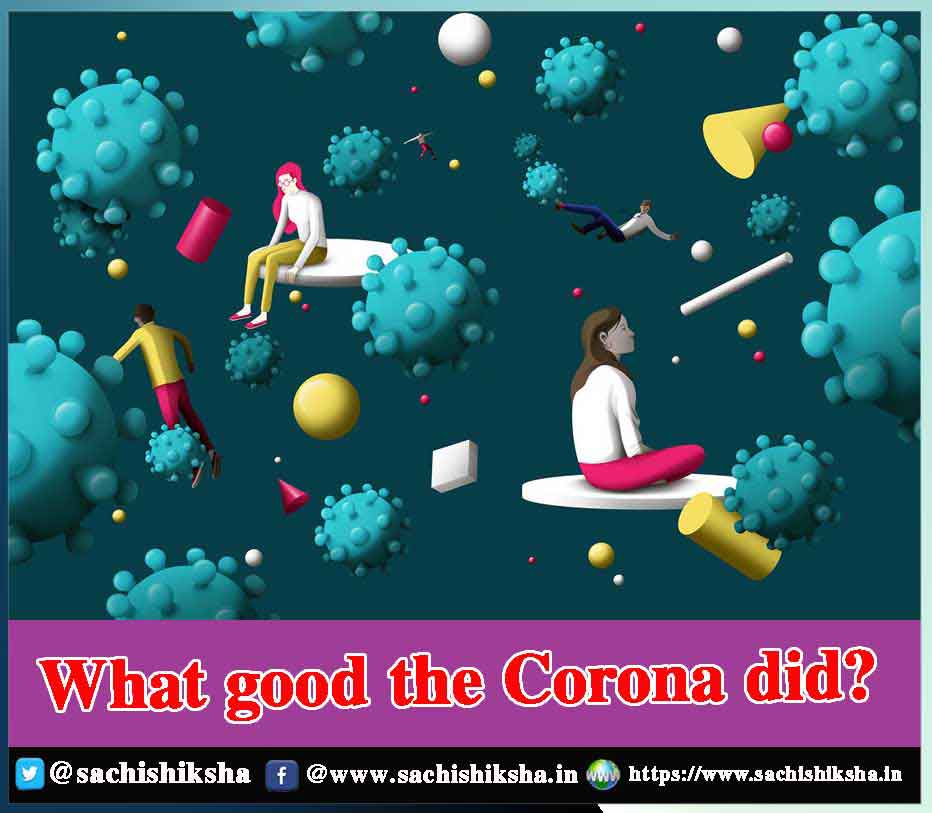 Once when Akbar had gone for a hunting expedition he had shot an arrow at his own foot mistakenly. Furious with himself he had questioned Birbal for the same.
Birbal, being the wise man he simply said "Everything happens for good".
Akbar getting more livid hearing this statement imprisoned Birbal immediately. Next day, when Akbar alone ventured in the forest was caught by a gang of tribal people who became adamant on offering him as a sacrifice to their Goddess.
Just before chopping his head off they noticed his wound and decided against sacrificing as they could not offer an imperfect body to their Goddess. Akbar was saved that day and now truly appreciated the meaning behind those golden words,releasing Birbal on reaching his palace again.
The gist of the story is that there are always two sides of a coin. Every negative thing has a hidden positive outcome one way or the other. In the present time of the crisis generated by Covid-19 when the whole world is on its knees, struggling each day with increasing cases good is unfathomable. Locked up in our homes each passing day is getting more difficult.
Just by moving the curtains and looking outside the window will probably answer all questions. The air is cleaner, the sun feels less hot due to no pollution and you can actually see the sparrow chirping again happily, once believed to be endangered.
Strolling on the terrace I could hear the peacocks, one luxury you couldn't afford in a city like ours. Gazing at the stars and moon is not so challenging anymore as you can easily see them.
Maybe you miss the sounds of the city but this is the nature's call which one had forgotten in the usual hustle and bustle of our lives. This is more soothing, more relaxing than those blaring horns. Imagine getting up one day and seeing pristine snow capped peaks from your window or spotting dolphins in the holy Ganges at the Kolkata shore.
For so many years we have been exploiting nature to satisfy our need and greed. In our quest of superiority we overlooked a greater power and force than us. Now a virus barely seen by the naked eye has shown us our right place and once again reminded us that who is the most powerful?
And not just nature we had taken for granted,it was our homes too. Our homes now depict a different picture. Like strangers we were running towards the unknown when our known were being ignored. Maybe it is the time that relations took a front seat. Parents are living their childhood through their children, seeing them play, grow or just take their first steps.
With limited resources people are trying to be content with whatever they have, sharing with others has become the new natural(though practicing social distancing) trend. Teenagers grappling with issues are openly discussing with their parents cum friends. Our elders are once again getting used to seeing the homes filled with people.
People are no longer confined to their rooms but are centre of attractions requested to recount numerous forgotten tales of the family. Friends from our childhood, school or colleges are getting random messages for a video call or a group chat and reliving those cherished memories again has never been more enjoyable.
Cleaning, washing and cooking chores have made us realize that these everyday tasks require a huge amount of effort.
Those dusty photographs are visited once again, plants are taken care of and maybe that book lying on your shelf since ages has now been read. That recipe which you have always wanted to try is now being served to your family, maybe the taste is not too bad but now you have time to fix it up.
Not only our messy wardrobes but also are tangled lives are getting sorted, one day at a time.Though there is less of money but more of laughter and happiness and at the end of day that`s what matters the most.
Not overlooking the fact that this Corona has caused huge trouble for the underprivileged, people are coming forward to extend a helping hand in possible way. By cooking a meal, giving away masks or safety gears or just providing water everyone has been contributing in his or her own way. This display of humanity has won millions of hearts.
Our hon'ble PM has been winning accolades for the way the epidemic has been handled. India has been the silver lining for the world in these troubled times, rescuing people from abroad or by dispatching Hydroxychloroquine in the needy countries.
Maybe this proves to be an opportunity for our developing nation.Oil the most essential commodity is being sold at less than a dollar per barrel. Maybe government would stock up on its reserves as such low prices can never be seen again. This would in turn be boost for our industries.
As after every night there is a sunrise, we are waiting for that first ray of hope when the world shall conquer this deadly virus. Though the loss and damage is irreparable but we still gope against that the humankind that stood against this disease collectively will bounce back stronger than ever before.
It is rightly said that we reap what we sow and we pray that the lessons we learnt and the life we are living during this phase-simple yet meaningful continues even after Covid-19 gets over. This will be what goodthe Corona did to us.
Follow us on Facebook, Twitter, LinkedIn Instagram, and YouTube to get more updates related to Sachi Shiksha – The Famous Spiritual Magazine in India. you Reading any Also Read Our Hindi and Punjabi Editions.