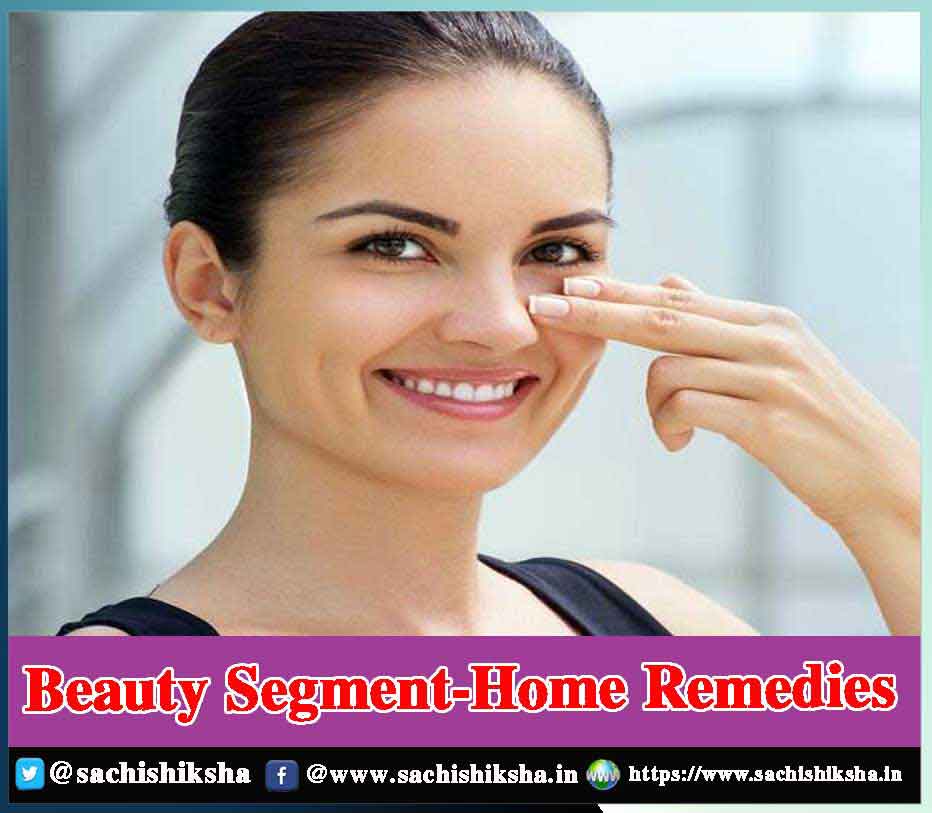 Due to the lockdown put in place to diminish the spread of Covid-19, a trip to your favourite salon and getting pampered is a distant dream.
After the lockdown ends rushing to get a facial will probably cost you a leg and an arm if appropriate care is not taken now.
Though you are protected from pollution, UV radiation and grime but wiling away the day is probably not a good idea. Now is the time to raid the kitchen and follow some granny tips. Moreover summer can make our face look very dull & itchy.
Also we sweat a lot and most often forget to drink ample amount of water. After all our skin also deserves a break from the chemicals we generally use disguised as fancy beauty products.
Also Read:
Some kitchen ingredients to your rescue
Orange Peels
The orange peels which we usually throw away are the most useful. When these are dried in the sun and crushed to form a crumbly powder, they can be used as a useful scrub. On mixing with curd and honey, the orange peel powder becomes a pack which can be applied on your skin. Leave it for 10-15 minutes and then wash it away to find a skin with fewer traces of acne and brighter appearance.
Mint Face Pack
The idea of a mint face pack can make you feel refreshed in the scorching heat. Just take handfuls of mint leaves and add cold and crisp cucumber pieces. Mix a few drops of water and churn it to obtain a semi solid paste. Dab it on the skin for a few minutes and gently rinse off with cold water.
It will not only remove the excess grease, soothing your skin but also keep acne at bay. Preferably water can be replaced with honey as well.
Multani Mitti
A quintessential home remedy since ages 'multani mitti' or fuller's earth is a potent healing clay with active ingredients which will make your skin radiant and appealing by getting rid of blemishes and scars. By mixing with an assortment of other ingredients it can be made suitable for different skin types.
It has lime, aluminium silicate and magnesium silicate with the ability of killing bacteria and cleansing the skin as a whole. For oily skin use multani mitti with turmeric, a spoonful of honey and curd to form a paste which can be applied to get desired results after rinsing off this paste. For dry skin, a face pack of milk, almonds and multani mitti will provide the much needed nourishment and hydration.
Aloe Vera Gel
Aloe Vera gel is a naturally occurring antioxidant that reverses the oxidative damage experienced by the skin. Aloe Vera gel rejuvenates the skin and hydrates it, keeping it looking fresh all the time. Aloe Vera gel when mixed with glycerine can do wonders for the skin if applied for 15 minutes as a face pack and then rinsed off with water.
Ripe Papaya
Ripe papaya which we usually avoid eating due to its soggy nature is an effective home remedy for under nourished skin. Papaya can be extremely good for the skin as it is a rich source of vitamin C and A. It contains a special enzyme called papain which fades dark spots and cures skin impurities. Rubbing it over the affected area can provide desired outcomes.
Almond Mask
An overnight face cleansing remedy is the almond mask. Soak 4 to 5 almonds in milk and let them rest for the night. In the morning peel the skin of these almonds and grind to make a paste of the two ingredients. Apply this on the face for the night and remove the dried pack in the morning. This can be used for a glowing face every alternate day.
Whole Wheat Flour
Whole wheat flour can be kneaded to form dough, but this is not for making bread. It is actually a simple way to get that soft and smooth skin. Scrubbing your face with this wet dough will open the blocked pores. Gram flour or besan is an exfoliating agent, when mixed with curd or rose-water and applying in circular motions will scrounge the dead cells and dirt.
If you have a problem of sweating a lot and tend to forget to sip water then mix sandalwood with rose water and apply weekly to get necessary hydration. Tomato juice or pulp added in honey will help in de-tanning.
Self care is not only limited to the face.
With frequent washing of hands becoming a part of our daily routine also require tender care. To moisturize dry hands an organic and preferably a white candle can be used. Melt the candle and mix spoonfuls of oil in it. Apply this solution to your hands and see the magic for yourself.
Even our eyes demand special attention as the screen time has increased with newer sources of entertainment in the form of web series at Netflix, Prime or Hot-star. A tablespoon of tomato juice and potato juice with a drop of lemon in it when applied under the eyes will replenish the sensitive skin.
Kitchen not only provides a solution to our ever increasing hunger pangs and our experimental antics but also a home replacement for salons and spa without any chemical reactions afterwards. At the end going back to our roots always seems like the perfect solution.
Vinita Raj
Follow us on Facebook, Twitter, LinkedIn Instagram, and YouTube to get more updates related to Sachi Shiksha – The Famous Spiritual Magazine in India. you Reading any Also Read Our Hindi and Punjabi Editions.