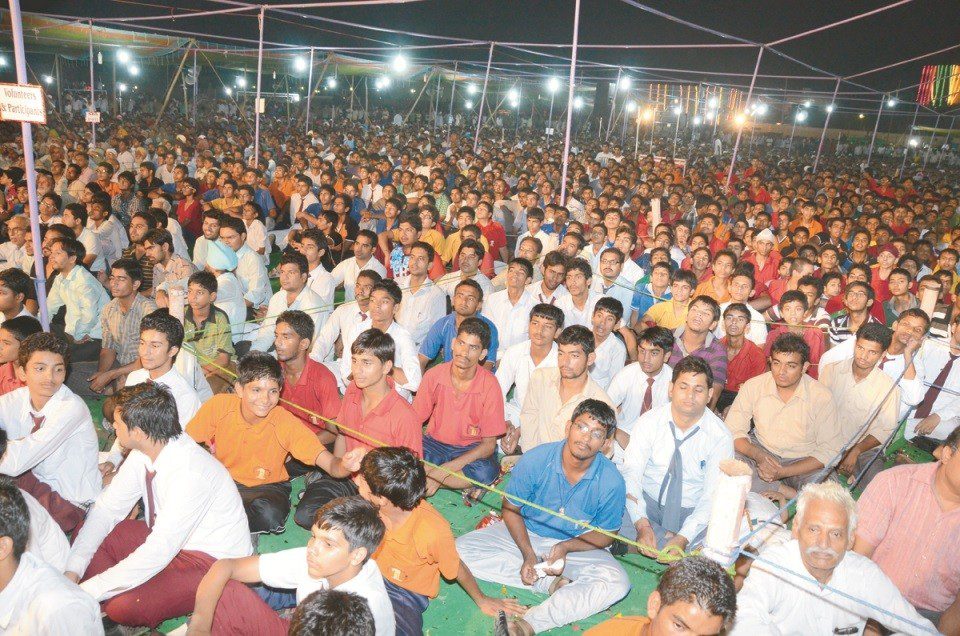 Teenage is the time when one could take the fire and brimstone path and mar ones future.
Increasingly, this age group is being associated with defiance, disrespect and tasting the tragic pleasures of sin. Teenagers, after all, are mini adults, with the rush of hormones and without the benefit of experience and hindsight. And in times when adults have lost their way in the maze of immorality and intoxicants, the teenagers cannot be expected to do, too well.
It's the environment that one learns from.
But, there is a different world within this world, quite unlike the one that one sees in 'Masala' movies. This is a world full of everyday deeds of heroism, of sacrifice and valour, of self control and purity. Above all, a world where people live, breathe and act with the sole purpose of Selfless Service unto others.
Surprised, aren't you?
Yes, there is a world where children have overtaken everyone in rendering social service. There is a world where children have risen to international heights in sporting excellence, there is a world where children have volunteered to sacrifice their time and money, and not just that, they have pledged to put their lives on the line to help humanity.
The teenage wing of the Shah Satnamji Green S Welfare Force wing was raised by His Holiness Saint Gurmeet Ram Rahim Singh Ji Insan on 10th January.
The children had been persistently demanding socio-humanitarian agency of their own. The adults might have thought that the youngsters would not find any time away from internet and video games, but they were proven wrong.
As Guruji announced that the legal process for adding the teenage wing had been completed and announced its name, it triggered and flurry of activity.
Says, Dr. Dilawar Insan, the Principal of Saint MSG Glorious International School, "My phone kept on buzzing with anxious parents calling me up for the forms.
The warden came running as the hostellers were threatening to skip their meals, if the forms were not provided." Nodding in agreement, Sheela Poonia of Shah Satnamji Girls School says that they were quite surprised to see the hordes queuing and clamouring for the forms.
If one asks the children, they exude wisdom much beyond their years.
Says thirteen year old Ananya, "Guruji has always inspired us for Selfless Service. And I know we can do a better job than anyone alse." His mother, Dr. Monika, a corneal transplant surgeon adds that ever since her husband, Dr Swapnil, a plastic surgeon, came back from the Uttrakhand Relief Mission, Ananya had been fired up with zeal to be a member of the next relief mission.
Suditya, a dreamy eyed kid, told his mother, that he could climb mountains and carry loads for the distressed, much better than his father as he loved climbing. His sister, Janki, who has been assisting her mother, a blood bank officer, wants to help out in the mobile hospital, Farishta. This unique hospital, designed by Guruji, was the most advanced health facility in Guptkashi during its sojourn following the tragedy.
The Shah Satnamji Institutions, inspired by Guruji, have been making major contributions and sending relief supplies following natural calamities.
It had started with the schools making a big contribution to the Prime Minister's relief fund over a decade ago. Subsequently, as Dera Sacha Sauda started sending huge relief contingents, particularly, the post cyclone relief in Orissa and the intervention following the massive earthquake in Gujrat, the schools pooled their resources to provide help.
After that, come what may, these children have been sending their own truckloads, be it Leh cloudburst, the Uttrakhand deluge or contributions to the Food and Cloth banks of Dera Sacha Sauda.
There is the legend of a young Dutch boy, who saved his country by plugging a leaking dyke with his finger. This legend is, in fact, based upon a work of fiction by an American novelist. But the achievements of the children of Dera Sacha Sauda are real.
Especially the girls have done the country proud by thrice winning the Asian Roller Skating Hockey gold and bringing back the World Cups in Throwball and Yoga, While the boys, too, have a few Asian medals.
Unlike the fictional heroes, 'Teenage Warriors' can easily be foreseen making strides in humanitarianism, that has no parallels in history. India's future rests upon tiny but determined shoulders.
Follow us on Facebook, Twitter, Google+, LinkedIn and Instagram, YouTube to get more updates related to sachi shiksha Spiritual Magazine, articles.