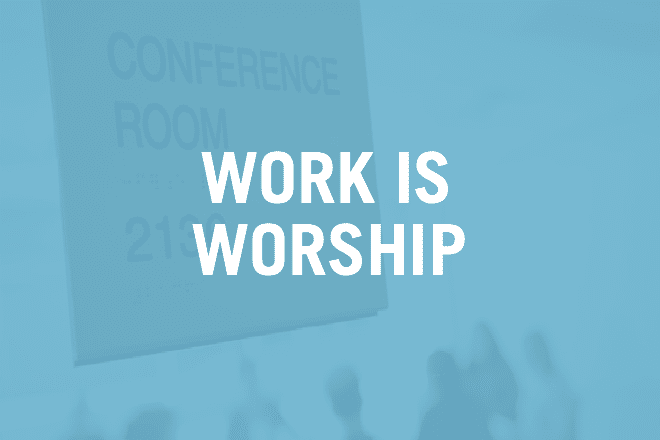 Work is worship, therefore, place of work is the sacred place which requires complete devotion and submission.
The worker may be a proprietor or helper, an officer or official, in-charge or sub-ordinate, advocate or magistrate, land lord or associates or servant and likewise.
Everyone has specific responsibility. A person not only spends time at the place of work but a lot of concentration and energy is required in contemplation and planning. With any advancement in the place of work, the persons engaged in service cherish happiness progress and prosperity.
Following few points are suggested for better output:
Start the day with prayers and meditation.
Every worker should take personal interest for its progress.
Pay regards to the seniors and due affection for juniors.
Always be positive because positive thoughts provide pleasure success and satisfaction. Negative aspects bring pain and losses which are harmful to the society.
Treat yourself lucky being engaged in work.
Maintain friendly atmosphere. Avoid leg-pulling.
Be amiable to visitors / customers.
Avoid office politics.
Be contented with income / salary but keep on trying for promotion.
Up-keep your physical and mental health.
Do-not postpone daily work. Develop strong time management.
Take feedback from seniors and boss.
Do-not hesitate to suggest better steps to seniors.
Provide guidance to juniors / sub-ordinates.
Avoid boredom of refreshment. Think to share meals or eatables with colleagues.
Develop good communication skill.
If you think of change of job / profession, always seek better prospects.
Try to avoid long journey during working period.
Do-not cheat the office, other officials, customers or subscribers.
Be fair in accounts and dealings.
Never indulge in theft, abusing or quarreling.
Be truthful and trust worthy.
Do-not get involved in criminal or judicial disputes. Try to seek amicable solutions with relatives, neighbors, partners, office members etc.
Secure your business place, fields, vehicles etc. through general insurance.
Develop good working skill and governess.
Sometimes, make collective program for refreshment from out source.
You can arrange visits to parks, historical monuments, museums, libraries and likewise places.
Sometimes, spare moments for sharing news, literature or jokes.
Improve your knowledge and skill in official work and related fields.
Try to find certain time for relaxation but do-not neglect your responsibilities.
Make short and long term planning regarding investment, management and income.
Do-not give chance to anyone for exploitation in your personal, religious or social values.
Avoid all types of pollution and maintain cleanliness.
Spare a few moments for prayers and meditation.
Do-not indulge in or encourage violence.
Avoid taking or giving debts. Become self supporting. Avoid loans from banks and private sectors.
Try to develop friendship with selected colleagues to share your problems with each other and stay free from tension.
Wisdom comes from knowledge, understanding and experience.
Try to excel not only in the quantum of production but also concentrate on the quality of product.
Spend less than your earnings. Save something for future prospects and social benefits.
Develop concept and attitude to do certain innovative and difficult tasks.
Avoid tax evasion (sales tax, VAT, income tax, wealth tax etc.).
Have good habits, strong character and amiable behavior.
Avoid hypocrisy, superstitions and ostentations.
Make necessary arrangements for basic amenities like safe drinking water, power supply and first aid equipments.
Do not be envious to other businessmen, farmers etc. Try to learn good qualities for improvement.
Develop faith in the sermons of your spiritual master. You must offer prayers before the closure of daily routine work
Think good, do good, be good and have good.
As the school or college is the second home for students, likewise, the place of work must be considered as second home for workers. Working place is source of income and the centre of deep involvement.
Dr. Triloki Nath Chugh Insan,
Co-ordinator,
Shah Satnam Ji Educational Institutions,
DSS, Sirsa (Haryana).
Follow us on Facebook, Twitter, Instagram, YouTube to get more updates related to Sachi Shiksha – The Famous Spiritual Magazine in India.