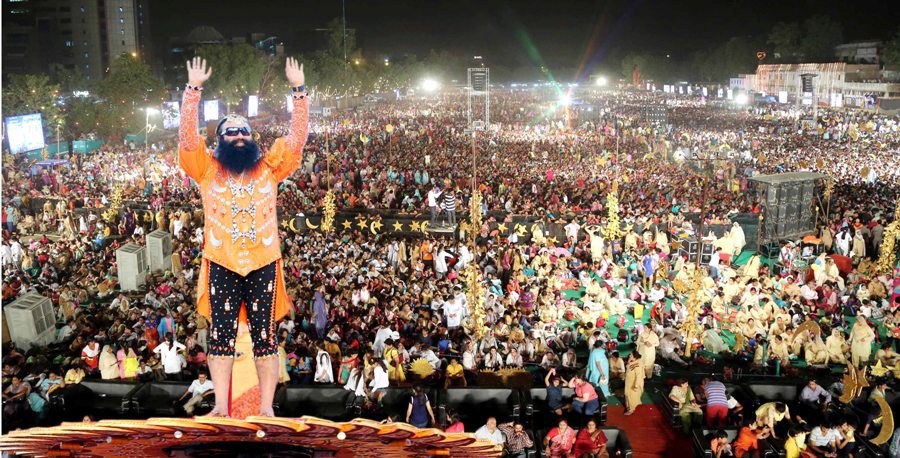 The 101st Wonder Kohinoor Diamond Jubilee, held at Ram Leela Ground on Sunday, left millions mesmerized and immersed in the love of the Divine Power.
A sea of people converged at the Ram Leela Ground to celebrate the name of God, and lose themselves in Divine music, creating a history of sorts. The melodies of Guruji, the thunderous applause of the spell bound audience seemed to have frozen time in its tracks. Over 50 million viewers, across the world, enjoyed a live telecast of the program, and learnt more about 101 programs of social welfare initiated by the Guruji.
For the sea of fans who thronged to Ram Leela Ground, blessings multiplied as not only Guruji blessed the attendees but also a piece of cake was distributed as Holy food. Speaking at the occasion Guruji praised the devotees saying that the people who have the spirit to clean entire Delhi in 16 hours had gathered to celebrate the name of God.
It seemed that the earth and the sky joined hands to dance to the melodious music and throbbing beats of Guruji's compositions. Held at the historic Ram Leela Ground, situated in the heart of Delhi, the 101st Wonder Kohinoor
Diamond Jubilee, left a memory to be cherished for a lifetime. The land of Indraprastha saw the people of Kurukshetra jiving to happy tunes of divine music, contrary to epic Mahabharta. Women, children, elderly, men, teenagers, all danced the evening away, clapping, twisting, dancing any way they knew, intoxicated by the love of God that flowed in the music.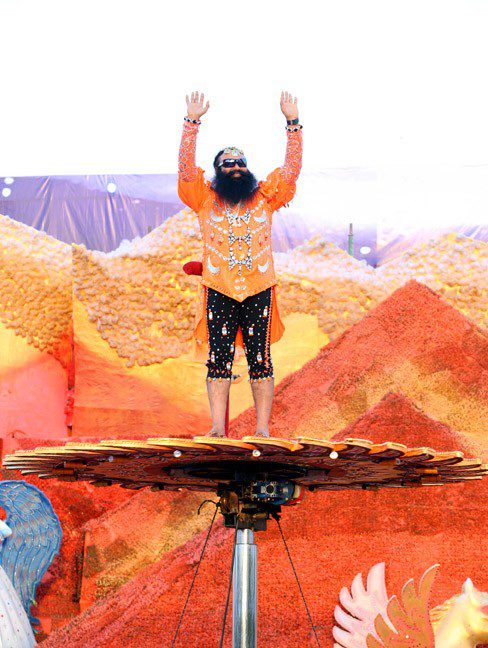 It seemed like a celebration of life, everyone expressing joy his own way. Some clapped, some hooted, others broke into a jig, waved handkerchiefs, or released balloons in the sky. Even the devotees and the audience had dressed up for the occassion. Some supported red and orange hair, others came with faces painted and many wore full body masks. Religions faded into oblivion, as Hindus, Sikhs, Muslims, Christians mingled with each other, dancing together in ecstacy.
Students of Shah Satnam Ji Educational institutes gave various beautiful dance performances even as students of Little Roses left everyone awestruck with their acts. Known across the country for their brilliant participation in the popular talent hunt programme, India's Got Talent, the students danced beautifully to Guruji's song, "Tu dil wich set ho gya, gum hoyian dhadkna'. Students of Butter Lion's, who wowed the country with their talent in Dance India Dance and India's Got Talent, mesmerised the audience with their acrobatic acts on Guruji's "Love Charger."
Be more humane in your life: Guru Ji
Giving a message of humanitarianism, Guru Gurmeet Ram Rahim Singh Ji, showed a way of life that leads to the path of peace and happiness and makes life worth living. Speaking on the occasion, he said one must donate blood, kidneys while living and pledge eyes and body for donation after death. Those who have this noble thought for others lead a happy life and have God's blessings.
Calling out youth to be supportive, Guruji asked youngsters to volunteer marrying the Pious godess's (women rescued from forced prostitution), so that they too could be rehabilitated in the mainstream. "The households where these girls have married are prospering and happy ones,"Guruji said. He said that it is important that the well off spare a thought for the economically disadvantaged.
" Help out a needy in his medical treatment, pay for the education of poor's children, help them in getting their kids married. When on the road, you see an accident, dont run away, but take the injured to the hospital. Be honest. Kurukshetra is one place which has shown an example of honesty when a poor woman returned a bag stuffed with lakhs of rupees to its rightful owner,"said Guruji.
Spiritual Melodies that left people intoxicated From the time Guruji came on the stage to the time He left, the audience, devotees clapped, hooted nonstop, and the venue reverberated with a thunderous applause. Guruji presented six of his own music compositions, which left the audience enthralled. Among these were: Celebration, dont take tension, dhoom macha le, naach tu gaa le, kar ke ram naam ka fashion.. Nasha chhoro ganda nasha chhoro, nasha pi lo, ram naam ka, dharti par jannat se naata jodo.. U donor with the grace of God.. Main dil kanhi dekhya, tu nyu bolya.. Mere rab yaara, tujhsa na koi pyara, meri dor hai tu, mera aalam hai tu sara.. Highway!
What a breathtaking set Under Guruji's direct guidance, in merely 50 minutes, a gigantic and breathtakingly beautiful backdrop measuring 92 feet x 40 feet, was a sight from another world. It had angels, moons, stars, golden trees and fowage and cascading waterfalls. The impact transported the onlookers to another world. The stage was like a diamond, 16 feet high. How the diamond stage, was firmly stationed was another mystery. Its narrow tip rested on the ground and the broad end, rose all the way up. Later, the engineers revealed to Saying Truth, that they had failed to come up with a suitable structure design since a top heavy stage would have been unstable.
In the end, Guruji had provided the entire structure and design for the magnificent stage. This was the 101st stage designed by Guruji.
Live Webcast While the event was webcast live, it was also telecast widely on Sadhna, Aastha, ETC, Zee Jagran, 4 Real News, Sarv Dharam Sangam etc.
Only Guruji can end the scourge of prostitution His Holiness is making powerful efforts to end the social evils. He can end prostitution completely. Guruji, through His concept of Devout Warriors and Pious goddesses, has rejuvenated humanity. All the efforts that are being made are extremely laudable and many thanks to Guruji for the initiatives of social welfare. Ernest Rwamucyo (Rwandan Ambassador)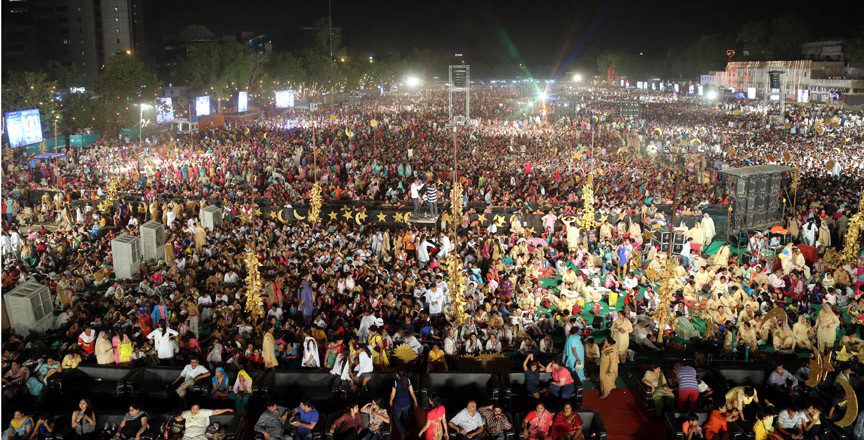 Thanks to Guruji I have heard and seen Guruji's program for the first time. I am truly impressed by the range of Guruji's humanitarian initiatives. Thank You, Guruji. Guinea Ambassador, Alexandre Cece Loua
A miracle of His Holiness Today, people take to drugs to dance. But this is indded a live miracle that these many people are immersed in a sea of ecstacy, dancing away. I am truly impressed by the entire range of humanitarianism endeavours being undertaken by Guruji. Especially, the work for tribal children, really touches me. Laudable ! Limba Ram (An Arjun awardee archer)
The protector of social values Many salutations to Revered Guruji, Apart from countering drug abuse and rehabilitating them, Guruji has also emerged as a protector of our traditional social mores and right values. Guruji's efforts for the restoration of our heritage have indeed made us dance with joy. Kishan Aggarwal (Businessman, Bikaner Sweets)
Boxer Vijender Singh Blessed Vijender, a star of the boxing world, who also attended the programme was blessed by Guruji for his success in international events. He said that parents of people who do the country proud are to be revered for bringing forth such off springs in the world, who have raised the country's esteem in the eyes of the world. Bronze medallist in the Olympics, Vijender Singh said that he had read, heard about Guruji and his welfare works and had been very impressed.
" I am amazed at the kind of work Dera Sacha Sauda is doing under Guruji's leadership. I wish that a training academy could be initiated at Sirsa where youngsters could be moulded and trained for international events. I feel blessed and humbled at Guruji's blessings, and am feeling very positive,"said Vijender.
Guruji blessed me with medals
Asian and commonwealth medallist, and Olympian boxer Jai Bhagwan credited Guruji for his success. At the Ram Leela ground concert, Jai Bhagwan shared that Guruji had motivated him to work very hard for medals and hinted that he would progress a lot more.
At that time, he was not even a member of the national squad. But believing Guruji, he got down to working hard and knew that Guruji's pious utterance would come true. Jia Bhagwan shared with the audience that it was only a result of Guruji's inspiration that he earned laurels internationaly and was able to participate in the Olympics.
Administration praises the arrangements Everyone praised the massive and thorough arrangements made for mammath influx of Guruji's fans. Everyone from the DC, IG, SP, SDM to the SHO were impressed at the arrangements. The heat was countered by kiosks that provided cold water for free to everyone. Bottled water was especially provided to ensure that supply was hygienic.
Food was organized efficiently for the over 300,000 strong crowd. There were 10,000 plus volunteers in the 3 kilometer radius of the venue to ensure that there were no traffic snarls and people could be guided properly to the venue.
Follow us on Facebook, Twitter, LinkedIn and Instagram, YouTube to get more updates related to Sachi Shiksha – The Famous Spiritual Magazine in India.