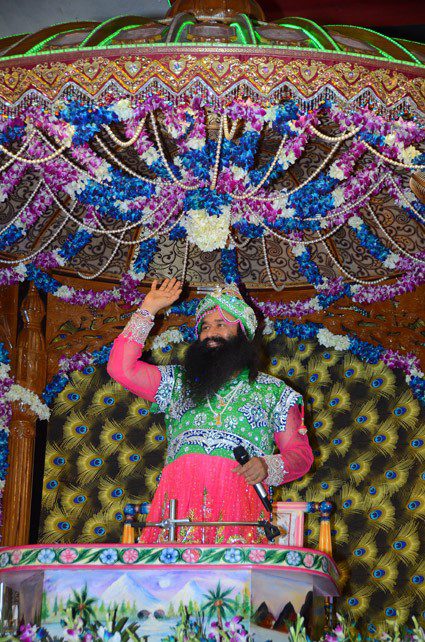 Dera Sacha Sauda Celebrates 66th Foundation Day
7th Anniversary of the Nectar of Humanitarianism
Dera Sacha Sauda celebrated its 66th Foundation Day along with 7th anniversary of the 'Nectar of Humanitarian' pledge, by holding a series of welfare camps that reiterated Dera's firm belief in selfless work for humanity, irrespective of caste or creed.
A sea of devotees surged at the Dera to join in the celebrations and intently listen to the words of spiritual wisdom delivered by Saint Gurmeet Ram Rahim Singh Ji Insan. On the occasion, Guruji felicitated the volunteers who had dedicated themselves to public welfare besides awarding trophies to students of Shah Satnam Ji Educational institutes.
The foundation day ceremonies saw the Holy Largesse or the Royal Treasure being distributed amongst devotees who broke into ecstasy as Guruji switched on a device that showered a pink riot of color. Under the Jeevan Asha (Hope for Life) campaign, 12 tribal couples from Rajasthan along with 20 others were wedded during the function.
As many as 21610 people learnt the meditation pledging to stay away from vices like eating flesh, drinking liquor or other drugs. "The day the Dera came into being was a pious day and since then lakhs of people have found a pure way of living, discovered peace, health and happiness. Everyone should join in and do their bit to spread the message of love for others, concern for their welfare, do good for others, for which the Dera was set up,"said Guruji. Guruji said that a true devotee of Dera Sacha Sauda will stay true to the belief of Dera and choose the path of truth and honesty.
" A true devotee will be firm of his word, will meditate and be in earnest to help others and this will lead him to path of happiness. The external influences of vices are more in today's age yet the will to do good for others too has grown.
Those who leave their own work to help some one out of addiction or misfortune, will find their worries taken care of,"said Guruji. "The Foundation Day is celebrated because it was this day when Sai Beparwah Shah Mastan JI Maharaj set up Dera Sacha Sauda. At that time this place was a barren land with nothing but wild growth. He made a small hut using straw and raw bricks. Devotees told him that the place is infested with snakes.
It was then that he gave a message – do not hurt these creatures and they will not hurt you,"said Guruji. On the occasion, Guruji increased the strength of state level supervisors of Dera Sacha Sauda from 25 to 45 members. The Political Wing too saw its strength bolstered from 7 to 9 members. Guruji also launched the website of 'Sachi Shiksha', the Dera's magazine in Hindi and Punjabi.
Guruji's Pious Message His Holiness said that the utterances of the True Master are priceless. It is of utmost importance to have them patiently, but an even greater virtue is to follow the teachings imparted in this Satsang, in a jiffy, the evil Karma of endless births shall be destroyed.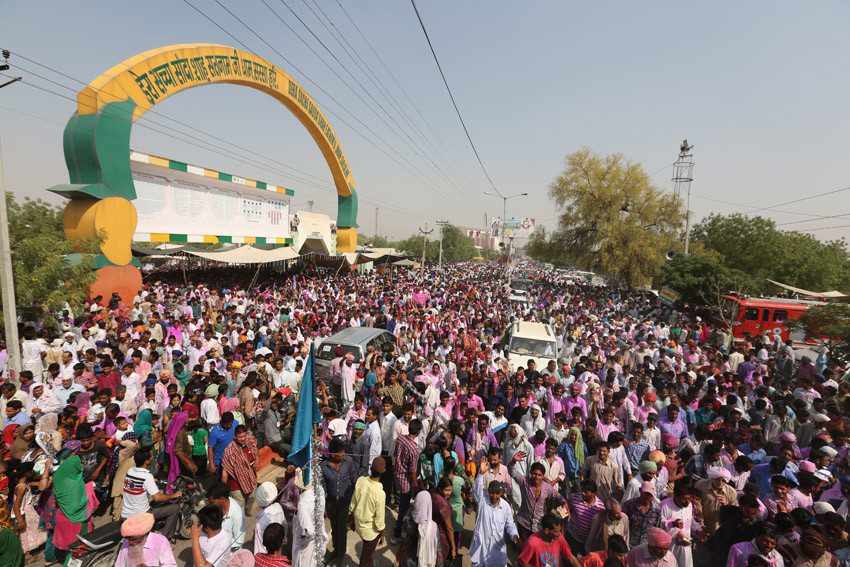 Guruji cited the example of the bitter drug Quinine that was used to treat febrile malaria.
It was extremely bitter, but had to be partaken since it was a cure for a particular disease. Similarly, the pious utterances of th True Guru liberate from the bondage of the cycle of the endless births. Guruji emphasized that humanitarian service and spiritual meditation were imperative. Staying true to the cardinal vows was of utmost importance. Seek God alone from God. Look after the family well. Do not perform an evil deed when God is watching. Which implies that never do any of bad karma since God is always watching.
Basically, don't do an evil deed, because God is always watching every iota, every particle, said Guruji. His Holiness said that in spirituality, one thing is paramount, and that is listening to utterances of the True Master and following them.
And secondly, when the True Master puts His divine gaze, then one must acknowledge that with respect. The utterances of the True Master originate from God. The True Master speaks just as God ordains and desires.
Opened a wealth of joys for selfless volunteers Guruji outlined the deeds that the followers must perform, in order to reinvigorate the sea of devout on the occasion of the foundation day. Those who are ensnared in the deadly vices of alcohol and drugs, they must be helped learn the meditation , so that they could be empowered to quit.
As per the pious utterances of the founder, Maharaj Mastanaji, construction activity shall always be in full swing at Dera Sacha Sauda, the same is True, even today. Facilities for the devotees like guest dormitories and the meditation hall were in process. Therefore, contribute to humanitarian service through volunteering.
Thirdly, the 101 activities of humanitarian service are in progress, one must participate and motivate others to do the same for the furtherance of these noble causes. It is paramount that volunteers and the supervisors must stay true to the cardinal rules. There was no scope of making any mistake.
If one follows the cardinal rules, the joys multiply for times upwards, or else, they are totally gone. And hence, the exhortation, said Guruji.
Follow us on Facebook, Twitter, Google+, LinkedIn and Instagram, YouTube to get more updates related to sachi shiksha Spiritual Magazine, articles.