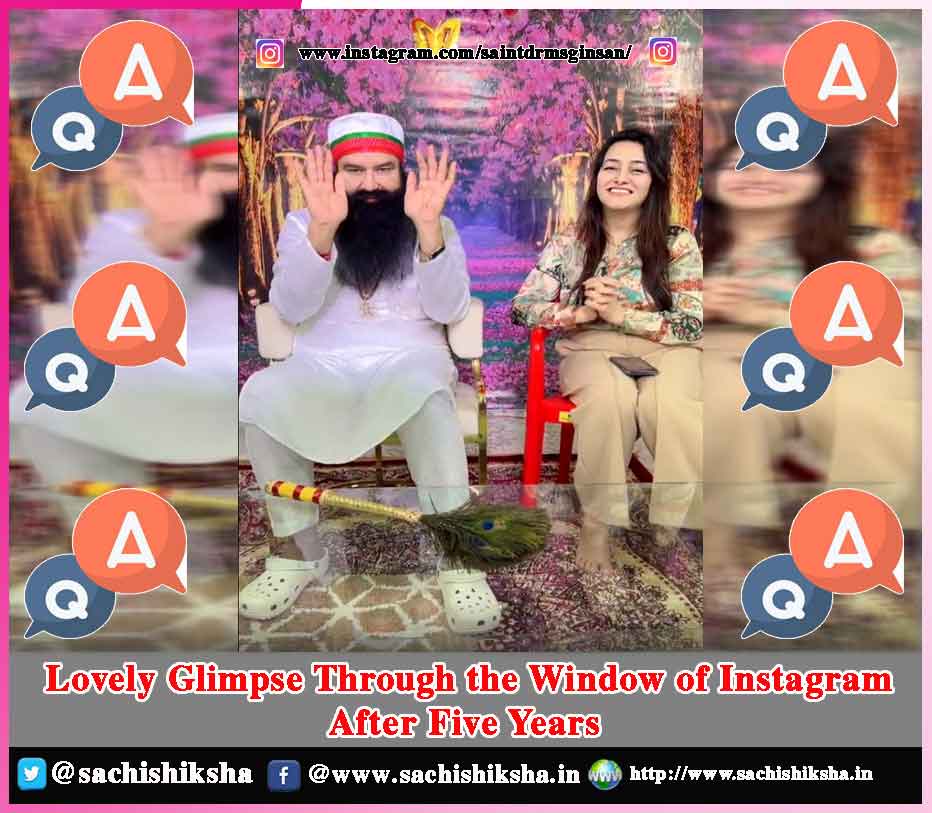 Lovely Glimpse Through the Window of Instagram After Five Years
The Father-Daughter Duo (FDD Father-Daughter Jodi), who have always been making headlines on social media, once again got a Live Spiritual Face to Face Programme after 5 years. Revered Spiritual Guide Saint Dr. Gurmeet Ram Rahim Singh Ji Insan joined live with spiritual followers on His Instagram account with respected Royal Daughter &  Spiritual Sister Honeypreet Insan late evening of 16th July, 2022.
The Revered Guru Ji stated: " Dear spiritual followers! Ever since We have come, you people were asking when will the FDD (Father Daughter Jodi) come? Your wish was that you want to ask questions, you want to talk a lot, so today We have come in front of you. Our daughter is also with Us."  The Revered Guru Ji has honored Royal Daughter Honeypreet Insan with the title of His Spiritual Daughter. During the live session,the Revered Guru Ji also sent Motichoor laddus (a sweetmeat ball made of tiny fried gram flour balls) for the spiritual followers.
Spiritual Sister Honeypreet Insan read out the questions sent by the spiritual followers and the Revered Guru Ji answered their questions thereby quenching their  curiosity. During this live session, the Revered Guru Ji answered many questions in His own spiritual way. Simple and intuitive style filled this question-and-answer round with enthusiasm. The Revered Guru Ji listened to each question very carefully and then with a sweet smile, filled the questioners and listeners with peace through an appropriate reply. Every spectator and listener sitting open the window of his Instagram account, after 5 years, seeing this Blessed Father-Daughter Duo, they got emotionally surcharged.
Question: During recitation of the God`s words, I had started attaining concentration, what to do so that thoughts do not go here and there?
The Revered Guru Ji:  When you start achieving concentration during recitation of the God`s Words, it is necessary that you do  repeat the God`s Words while  walking. Be a practitioner. For example, if someone wants to do exercise,  it is believed that if he practices continuously for 22 days, then he becomes sure of exercise. Similarly, take out some time for the God`s Words and you will also become firm while on the move.
 Question: The Revered Father, why do we feel that we are alone?
The Revered Guru Ji:  Because you have let down your self-confidence. Raise your soul power. You will never feel yourself alone. Have trust in your Spiritual Master.
Question: The Revered Guru J,i You  take rest for three to four hours only, yet You look so energetic, fresh, how is this possible?
The Revered Guru Ji:  It is possible by the virtue of the great grace of Revered Shah Satnam, Shah Mastan Ji;  it is the  grace of  Om, Hari, Allah, Waheguru Ram that all this would have been possible. Otherwise it is difficult, because We remain busy all day. Sometimes doing this work, sometimes meeting you, sometimes meeting him, because We keep conducting spiritual congregation, it is His grace only. There is nothing like this in Us, everything is by His grace. So, that's what We say that it is the grace of God. Its name is the grace of God.
Question: Is this the original color of Your eyes or have You got any contact lenses installed?
The Revered Guru Ji: No contact lenses at all. Yes, they are original eyes. Because these are the eyes of MSG, it is His extreme mercy.
Question: In history, the disciple sacrificed his life for the guru and we spent five years, maybe we will not forgiven for this. Please guide us.
 The Revered Guru Ji:  There is no such thing. You keep reciting the God`s Words, We will pray to the Supreme Master to bestow His grace & benevolence.
 Question:  The Revered Father, Your Majesty has done so many humanitarian works, which a man cannot do, seeing so much wrong with a good person, I don`t not feel like doing good works.  God should do justice.
The Revered Guru Ji:  Dear Son! It happens like this.  Since the creation of this world, the saints, avatars, prophets have come. Then it is the will of that Om, Hari, Allah, Ram. The saints, fakirs do what the Supreme Master wishes them to do. The Supreme Master makes them work. The saints remain content in the will of the Supreme Master. But this does not mean that you should stop doing good works. Since when have we come here, We are continuously getting people rid of intoxication. By taking inspiration from this, awaken your will power and keep on doing good deeds continuously.
Question: How to know whether a decision is right for us or not?And will not take us away from spirituality.
The Revered Guru Ji: How do you decide that your decision is right? Whether or not it will do away with spirituality; lest you should get away from spirituality; if you are in this doubt, then you should repeat the God`s Words;  repeat the God`s words while walking, doing business; do repetition of the God`s Words  while sparing special time for this purpose & also while sleeping; while awake or sleeping you will get the feeling that which work is spiritual and which one is of the evil mind, leave the work which is of the evil mind, keep on working the spiritual one, you will surely get success.
Question: Papa Ji, we see ourselves in form of Didi, it seems that we are also with our Father.
The Revered Guru Ji: Yes, it is true. This daughter is one of you.  She is a devotee. And it should also be applied, because she is your spiritual sister, We have already said so.
Question: The Revered Father, in today's life, the phone is used a lot, please tell how to reduce its use ?
Revered Guru Ji: There should be a fixed time for the phone, if it is possible, like you guys are engaged in the game. Many remain engaged  in the game or some stories at night. Take out the whole night too. We don't get up in the morning. Because Brahma Muhurta (The God` s Prayer Time) goes there and God  thinks that my devotee is not remembering Me. So you fix a time, look at the phone at that time only, if you make a habit, then it will improve. And repeat the God`s Words for this purpose, you will get self-confidence, only then will it become a habit.
Question: The Revered Father, 2-3 year old children get cold cough early, tell me something for that?
Revered Guru Ji: If you give milk, etc to children, then definitely put Tulsi ( holy basil) in it. Because Tulsi, especially Shyam Tulsi, will increase their inner strength and they will definitely be able to escape from cold cough.
Question: The Revered Father, what type of friends a spiritual follower should have?
The Revered Guru Ji: If a spiritual follower`s friend is a spiritual follower, then nothing is better than that. Otherwise any person who shares your ideas can also be a friend.
 Question: The Revered Father, please tell about the diet and exercise routine to keep the body fit.
The Revered Guru Ji: If you want to lose weight then take salad etc. half an hour before eating and take few fruits etc. before 12 o'clock. And then you eat the food, but the food should be 40 percent and 60 percent mostly salad. And then do jogging, We have jogged for about 7-8 kms in the morning &  the same in the evening and many times even more, and  do  games, exercises, etc., whatever you can do. Losing weight by quitting food, We don't think it is the right thing. This takes away the radiance of  your face. Then you will go around doing a hundred different types of makeup. So for this, balance the diet and do the exercise, then surely the weight will be reduced.
Question: The Revered Father, how do You get to know what we are about to ask? And You give answer in advance?
Revered Guru Ji:  The reality is that you people have waves, which are called spiritual waves, waves of thinking, so when the Spiritual Saint sits in front of you, those waves naturally hit and the Supreme Father, the Supreme Master, sends those waves to the Spiritual Saint in the form of voice inside, directing to respond to this wave in this way.  Your thinking is going on right now, so the Spiritual Saint speaks in front of you. Therefore, this is the grace of God, it is the grace of the Spiritual Master.                                                        
Question: The Revered Father, whatever we eat- breakfast, lunch, dinner- how should we eat. Hot, cold or normal?
The Revered Guru Ji: This is a different habit, many people eat cold. Many eat too much hot. But in general, one should  eat neither too hot nor too cold, as both are harmful. So, if the meal is eaten according to the temperature of the body, then it is the best.
Question: The Revered Father, I sleep too much, what to do?
The Revered Guru Ji:  If you are getting more sleep at night, then reduce your dinner. Because when you eat less food, that is, if you remain 50% hungry, then you will not sleep. And still, if you are getting more sleep then get a checkup done by the doctor. Because maybe there is no problem in the mind. Tension works in two ways either by causing sleeplessness or by causing excessive sleepiness. Do meditation, it will awaken self-confidence and tension will go away.
Question: The Revered Father, what should a disciple do  that the Guru and the disciple Keep in touch all the time.
 The Revered Guru Ji:  For that, Recitation of the God`s Words  & Humanitarian Service is the biggest remedy. Because it is not the Guru, it is  God who appears, He is formless, but if you call with a sincere heart, then the Supreme Master, God comes in the form of the Spiritual Saint and if you do more Recitation, the Supreme Master manifests His radiant form. And for that,  Service to Humanity and Recitation of the God`s Words are the best solutions.
Question: The Revered Father, I am a student of agriculture, I keep on talking to the farmers, tell me some such tips, which I can give to the farmers.
The Revered Guru Ji: The best and the most important tips in today's time is the organic farming; to have higher yield even after applying minimum water. It is very important; Re-use water system is used in Dera Sacha Sauda. It can also be put to good use, if you tell. It is the demand of today's time that such a crop should be taken which gives more yield in less water.
Question: What to do to get profit in business?
The Revered Guru Ji: It  is a matter of business, if you do one business continuously after taking its experience, it may be that after the ups and downs, it may climb immediately i.e. you go ahead in business. It is very important to have some restraint if you have experience. And choosing the right place is also important. If you open a business in such a place where there are no customers, how will the business run? So before starting the business, you should study that what is needed in which area, if you do business according to that then surely you will be successful.
Question: The Revered Father, how to add people living in Homes for the Blind, Old Age and the Retarded People with the name of Ram, because their family members do not allow them to go out?
The Revered Guru Ji: Son, you should ask them to chant the holy  slogan of 'Dhan Dhan Satguru Tera Hi Asra' so that they may call upon the name of the Lord. Om, Hari, Ram, God, Khuda etc. are His names. In this way,they can keep on chanting  His holy name and  get divine ecstasy.
Question: The Revered Father, we have been initiated in to the God`s Words by You, but husband and mother-in-law  have not been initiated so far. What should be done to connect them with the name of Ram?
The Revered Guru Ji: Dear Son! Prepare food, etc by chanting the name of God, . Prepare food by praying to the Spiritual Master, Allah, Waheguru, Ram, because it is written in the religions that 'as you eat the food, so be your mind.' Therefore, changes will definitely occur & they too will be associated with the name of Ram.
Question: The Revered  Father, the exercise done in the morning would have more effect or in the evening time?
The Revered Guru Ji: Exercise of both the times i.e. morning and evening has different effect. So exercise should be done in the morning as well as in the evening.
Question: The Revered Father, what should be the routine of today's young generation so that the younger generation does not lead astray?
The Revered Guru Ji: What about the younger generation who sleep till two and a half o'clock? But sleeping at the right time and waking up at the right time; then defecating and so on; it is imperative to meditate and exercise. And in the meantime, if you are studying in high class, it is very important that you wake up in the morning and study and after that you must do exercise, go for a walk, then study, and  the mind will be fresh and whatever you learn won't forget.
Question: The Revered Father, Your Divine Majesty is an inspirational and role model of youth. Some people are living in the past and some in the future. Few people think in the present. How do Your Divine Majesty performs so well in every field? Tell us something  so that we can do well in the present.
The Revered Guru Ji: There is nothing to be gained by remembering what has passed. And you cannot do anything about what is to come. The past cannot be brought back and you cannot catch the one that has to come. So it is simple, go according to what is yours. That is, learn to live in today; that the day of life is the best day. Rather wake up in the morning and thank that Lord! Today I am alive, it is Your grace and then do good deeds, get involved in good deeds, because your good deeds will improve both the time to come and the time that has passed.
Question: The Revered Father, give tips for preparation of examinations.
The Revered Guru Ji: Go through the exam after good preparation and in the paper, which is the biggest question i.e. the highest marks, they should be attempted first and those which are small, do them later and the most important thing, what you know the most , solve those questions first. Along with this, do not take tension at all, because many times people forget whatever they remember because of tension.
Question: Revered Papa Ji, how to change the accumulated karmas?
The Revered Guru Ji: There is no way but the name of the Lord to change the accumulated karmas. Only the name of the Lord can change the accumulated karmas and  extend humanitarian service & love the whole creation selflessly.
Question: The Revered Father, Your Divine Majesty told that 700 hymns have been written, has Your Divine Majesty written the script of some new movie?
The Revered Guru Ji:  We have written hymns only, the movie did not get attention.
Question: The Revered Father, many times it happens that the people around us get upset. What should we do to solve their problems?
The Revered Guru Ji: Dear Son! If possible, remove their sorrows, as far as possible, through selfless service & Recitation of the God`s Words. If you are financially strong and the financial help given by you can bring them even a little happiness, you must do so.
Question: How to set the children in the new environment?
The Revered Guru Ji: Set the environment of the children well in advance and  do not set the children in the new environment; train the children according to the place where you want to live. It has been seen in many countries that if small children are put in swimming, then by the age of 10-15 years they win the gold medal in the Olympics. Therefore, putting it in the common environment is not a difficult task. So when this can be done, you should take a little care through meditation and fulfill only those stubbornness of the child which is justified. If the illegitimate stubbornness is not fulfilled from the beginning, the child can adapt to every environment.
Question: The Revered Guru Ji, why do bad people stay ahead of good people? And good people can't do anything and bad people keep troubling them. Answer: Hey brother, why can't good people do something? We awake for 21 hours even though We are good. And  staying good, We are making people get rid of intoxicants. Now show Us a single person who is getting  people rid of drugs. Don't think  from monetary point of view that people have gone ahead. Humanitarian feeling is also a thing, son.
People have become billionaires due to money, whom no one knows, but Saint Kabir, Guru Sahiban, Prophet are remembered with respect even today. By virtue the good deeds, their memories are still afresh in the hearts of people. And those who were very rich,We feel there is hardly a heart, in which they must have settled; whereas spiritual saints, prophets & great men have found place in the hearts of most of the people.
Therefore, goodness always progresses, but if you talk only about Maya, it is  said that  a sinner's house has Maya ( money) and if he does not get happiness, what is the use? A man who is a daily wage earner, and sleeps on a huge lump of land, sleeps very well and one has billions of rupees, still cannot sleep, takes injections, tablets, If so, which of these do you consider happy? He who has all the means, he is not able to sleep all night, keeps changing his side and on the other hand a poor man who earns his livelihood through honest means, who recites the name of the Lord, Ram and  enjoys sound sleeps.
If he has slept, then we think he is more happy, he is better, he is more ahead in every aspect of life, instead of the one who keeps on changing his side day and night and remains in tension.
Question: The Revered Guru Ji, I am very much trapped in materialism, the Revered Spiritual Guide, please bless me.
The Revered Guru Ji:  Dear Son! You do recitation. Join spirituality. Attain spiritual knowledge through recitation of the God`s Words. In this way, you will be able to come out of materialism a little & progress in the field of goodness.
Question: The Revered Guru Ji, our children have trapped in intoxication. Please come and  take them out of this destructive path.
The Revered Guru Ji: Dear Son! We are trying Our level best to keep every child from drugs & intoxicants. The rest will be as per the will of the Supreme Master, Ram. He is omnipotent.
Question: How to strengthen the decision making ability? Like how to take take right decision right away?
The Revered Guru Ji:  Many times it happens that a person becomes double minded that this is the decision and if this is the one, then it is necessary for him to make a base. You first gain self-confidence, through recitation of the God`s Words, that is the only way, say Method of Meditation, Gurumantra, Naam Shabd or Kalma, practice it, then your body will develop a base of the soul; you will know that it this one is right and this one is wrong. It has to be experienced and what they learn to do, they are able to take a decision through it.
Question: The Revered Guru Ji, children do not listen to us, but listen to Your Divine Majesty. We have had a lot of trouble in the past.
The Revered Guru Ji: It is a good thing that they are listening to their Spiritual Guide. So children, whoever is listening to Us, then listen to whatever is justified by your parents and if you think that it is an illegitimate thing. So shut up, don't argue any further, after all they are your parents. You have been nurtured & brought up by them. It is Our culture that teaches to respect one`s elders.
Question: The Revered Father, I am very sensitive. I get stressed due to small things, I get a headache, have mercy.
The Revered Guru Ji: Being sensitive sometimes becomes very difficult. Therefore,  son, do not react immediately after hearing anything. The matter of fact is that  there is a lot of lack of self-confidence in you. So the only solution is the recitation of the God`s Words, rendering of the humanitarian service, serve the poor and downtrodden and don't stay too much in your thoughts; try to mix a little in the society & surely these things will go away.
Question: Under the 142nd Humanitarian Work, the spiritual followers have installed the tricolor in their homes.
The Revered Guru Ji: It is a matter of great happiness, those who have installed the tricolor in their homes. Because it is very important to have the spirit of patriotism and many blessings to all those who have raised the tricolor on a high place so that it can be saluted. Our grand salute to all the children and to the tricolor.
Question: The love of God grants divine ecstasy, but we don`t wish to come out of it. What to do to stay connected with the love of God forever?
The Revered Guru Ji: The love of the name of Ram, the love of Om, Hari, Allah, Waheguru, those who partake it, well said, they do not want to come out of it. But you are living in society, are married & have family, if you remain absorbed in the love of God, then your attention will be diverted from family & material works. But you will remain associated with it. For this, you keep on doing recitation and keep doing the day's work simultaneously. And when you get time in the morning and evening, do meditation, then again you will ride the horse of  the God`s love. So you will remain connected and happiness will also continue to come and you will be able to succeed in worldly work as well.
Question: The Revered Father, why are the charges leveled against saints? This has happened before in history, but what Your Divine Majesty has done for the world, we extend billions of salutes to Your Divine Majesty.
The Revered Guru Ji: Yes. Evil and good are two forces that have always existed since the creation of the world. Those who do good are stopped and those who do evil are ahead, it is not always like this. It is necessary to do good, because good always prospers and evil does not have a long life. So saints  do good. Like We had just answered that the name of saints and great men is still shining in the hearts of crores of people, as a mar of utmost regard, it is still embed in their hearts and minds, while the evil that happened to them at that time was remembered  during that period only. Except for any exceptional case, the name of other evil is not remembered. Today Ravana is known as a symbol of evil and Ram Ji as a symbol of good.
Question: The Revered Father, many changes come in life after marriage. At once one has to bear the responsibility of the whole family. It is afraid that by getting trapped in matrimonial relation, I may get away from humanitarian service & recitation of the God`s Words.
The Revered Guru Ji: No, it is not so. If you do recitation while cooking, you do recitation on the go, you do recitation while doing business, then one can get adjusted in the family. It is right that a new life begins. If the birth took place and the girl child goes somewhere else, then you are telling the truth that it is very difficult to adjust. But if you keep praying and try to stay there with a calm mind and restraint, you will be able to read their nature and try to walk a little according to that. Yes, do not do evil, but with goodness their hearts can be won.
Question: By looking at my face, I have been insulted a lot since childhood, what should I do?
The Revered Guru Ji: Dear Son! Appearance has nothing to do with insult. But don't you think, don't be narrow minded. You think that my face is beautiful. The shape given by Ram Ji is very good, keep confidence in yourself, don't fill yourself with inferiority complex. Then of course, even if someone insults you, you will not feel it. Do not apply it to yourself, even if someone says something like that, you  ignore such things and keep on reciting the God`s Words.The one who does this will be worried about himself.
Question: Some people take advantage of being nice? How to identify such people?
The Revered Guru Ji: Good and evil can be recognized only when you will have self-confidence, self-knowledge and this is possible only when you render humanitarian service and recite the God`s Words. There is also a saying that everything that shines is not gold. So according to what they appear, sometimes they are not so. And what is not visible sometimes turns out to be good. Barking dogs seldom bite.
So to say that if you want to identify someone,  treat them in such a way that you do not lose and you can also read them. One has to believe while in society, but don't believe anybody 100 percent all of a sudden, except Ram, Om, Hari P Allah Waheguru, or His Spiritual Saint otherwise you can be cheated.
 Question: Revered Papa Ji, I get angry, then I can't even live without speaking with them and these people take advantage, what should I do?
The Revered Guru Ji:  Dear Son! In that case, don`t get angry, but who has asked you to be angry. Control yourself. You can`t live without speaking , it is a humanitarian feeling. Those  who get angry and accept it quickly, have more humanitarian feeling or emotional. So, you should not be angry. If you have to speak sooner, what is the use of getting angry? Therefore, stay calm & do recitation of the God`s Words.
Question: The Revered Father, if a soul goes without being initiated into the God`s Words, what to do?
 The Revered Guru Ji: Do recitation of the God`s Words; pray to the Supreme Master to bless that soul.
Question: The Revered Father, does Your Spiritual Majesty like junk food or what does Your Divine Majesty like to eat?
 The Revered Guru Ji: Son, We are indigenous people. Those who used to eat chutney with butter etc. Ghee, butter or mathi, dumplings or onion pakodas, etc. would be made in homes. And the best day used to be when there used to to be prepared  pudding, that the  would be amazing, or We would enjoy eating sweet dishes like kheer or seviya. It used to happen many times that when  We were tired of doing work, We ate jaggery, drank milk and got freshness at once. So We used to eat more of these things. Therefore, We still like those same things . We rarely eat junk food.
Question: The Revered Father, intoxication has increased a lot in the country, Your Spiritual Majesty, please come soon &  save the country from this evil and also run cleanliness campaign.
The Revered Guru Ji: Yes, when We have been going live, the same thing has been heard from everywhere that intoxication is increasing a lot or in many places people are thinking of changing religion. So We feel that these things are not going to be of any use. There can be benefit by following religion, thinking should be changed, not the religion. All religions are good. Good things have been taught in every religion.
But if you follow it,  it will be beneficial. Every religion teaches selfless love; every religion teaches to connect human beings with human beings; every religion teaches the lesson of non-violence & violence has no place anywhere. If you follow every religion, you will get happiness. It is Our endeavor to get rid of intoxication as much as possible and people can live life with good intentions, they can live life in peace.
Question: The Revered Father, I am the principal in a school and how to connect today's generation with spirituality?
The Revered Guru Ji: If you are a principal, then start with small children, because the foundation is of utmost importance; whatever We put in it, it will definitely show its effect  in the building. It means to say that if you inculcate good values in your children in their childhood, they will grow up to be a very noble person. You are the principal,if so, it is very good for them, you are that teacher, who gets the biggest award when their children are successful, and We think that every principal must also take that tag of God,
when the children taught by you  not only become good officers but also raise the flag of humanity. So We think there can be no greater pride for you than that. For him, start with prayer every day, keep narrating the things of humanity, keep telling such stories, it should be interesting & children will definitely come that way. Software engineers develop mobile games that enhance both brain & body power.
Question: Punjab is the land of gurus, in which intoxication has increased at an alarming stage today. And the evil has spread too much. Please organize spiritual congregations in Punjab.
The Revered Guru Ji: Yes, when We connected live in Punjab, the panchayats and people of Punjab said that an intoxicant called Chitta has spread a lot here. Punjab is especially the holy land of Guru Sahibans.There should be showers of holy Gurbani here. The holy name of Ram should be discussed there. Children, especially the people of Punjab, who are consuming this intoxication, son, you may feel bad about Us, but the kind of intoxicant you people are consuming, the horse of Shri Guru Gobind Singh Ji Maharaj also refused to pass through the area where there was intoxication;
Guru Ji said that this is the dirtiest intoxication, because the horse did not even enter there. He had such a dirty smell. Or rather say that Guru Ji had to explain to the world through this medium. So you are taking the same intoxicant and on the holy holy land of those same Guru Sahibans, you are requested to try to quit it, by medicine or by awakening your self-confidence, by chanting the holy name of Allah, Waheguru Ram.Then surely you will be able to quit the intoxication yourself. You are young, don't think that you are defeated by drugs; be so brave that if you defeat the drug, then it is worth celebration.
Question: It was great to see Your Divine Majesty playing badminton. I am a badminton player, what should I do to focus on the game?
The Revered Guru Ji: For badminton you should do zigzag running, wrist movement, because wrist is used a lot and practise big and small steps; you focus on them and We think it is also necessary to take training from professional coach. He'll tell you when to take a small step, when to take a big step, and when to use the wrist, when to jump. Along with this, speed is also very important. Fitness is very important in every game and it is very important in it as well. So you do all this.
Question: The wives do not take out their father-mother-in-law from the house. Give such a message.
The Revered Guru Ji: All those daughters who have become daughters-in-law in one or the other house, are requested with folded hands and also with blessings: Son, someone must have asked such a question after being sad. You should not take your father-mother-in-law out of the house, but let them stay at home and  let them play with your future children.
Question: I am taking coaching for IAS, how to study?
The Revered Guru Ji: Just keep focus and pay more attention to reading. Whenever the mind gets tired of reading, then look at nature for some time, or do some recitation of the God`s Words. Means to say, suddenly shift the attention from there and put it on the other side, so that the mind gets fresh.Thereafter you read it, you will learn & remember it better.
Question: Why do those who follow the truth face protest? Why does it take so long to prove the truth?
The Revered Guru Ji: Truth is such a power, which has been in existence since the creation of the world and it has never ended; what is a lie, it is born for a short time and ends in a short time. That is why, the life of truth is very long, it never staggers. Yes, it seems that troubles have come, it seems that it is staggering, but the truth never stops. And the truth can never be wrong, it is always right. And lies are short lived and later they end. The name of our saints, prophets, who are associated with truth, is still on high and no one likes to name the evil that was in those times. If we talk about the holy Ramayana, nobody desires to name herself as Manthara or Kaikeyi while Kaushalya, Sumitra are the common names to be heard. And what to say about Ram? The word Ram is found behind the name of most of the people and many names are kept after the name of Ram.
Question: My hairs have fallen fall, what to do?
The Revered Guru Ji: Many times it happens that such things come from the family itself, because of that it happens, or something like this happens due to food and drink. Or something like this happens due to your handling, because today's children keep their hair a little dry so that they can stand. Many used to tell a story in Our time, its name was Jhintaria. A poem used to be in Hindi, so nowadays you make your hair stand by applying gel, then at that time We used to call Jhintaria. Jhintaria means one whose hair is standing. So they say, I will go to maternal grandfather's house, I will eat curd cream, when I started crying there, they asked what had happened. So he would say that I will eat red chili. We remembered the same old thing and narrated it to you. So you will put so much on your hair, if you apply chemicals, you will be bald. Yes, keep giving it some nourishment, like if it is happening too much, then apply onion juice in it, keep it for an hour and a half, then wash it, then it will be of great benefit.
Question: The Revered Guru Ji, I catch snakes alive and leave them away. But some people are jealous of me, what should I do?
The Revered Guru Ji: : Why do people get jealous, brother, rather they should be happy that you saved them from snakes. When the ashram was established, cobras came out here, then they keep coming out, so many children here catch snakes, put them in bottles; because of the Revered Sai Ji's holy words  that no living being is killed here, rather people are prevented from doing so. Catch snakes, put them in an empty 20 liter water bottle and release them into the forest. So everyone is very happy that it is working great. Therefore don`t worry, you do your work well, but take some care, because snakes are also dangerous.
Question: The Revered Guru Ji, Your Divine Majesty has  asked Your crores of followers to hoist the tricolor, thank You very much for instilling such patriotic spirit.
The Revered Guru Ji: We always work day and night for the interest of the country and for the benefit of the society. We are very happy that the flag of Our country should remain high and We are also striving hard to make this country clean.
Question: Your Divine Majesty has started the humanitarian work of feeding chapati to the cow. The cow has to be fed only one time or chapati should be fed all three times?
The Revered Guru Ji: If you feed chapati as many times as you eat it, it is even better. Well, even one time is enough. If the cow is not available, then crush the roti and put it near the bill of the ants.
Question: The Revered Father, sports and studies cannot be done together. Please tell the solution of this problem?
The Revered Guru Ji: Your thinking is wrong. Sports and studies are two different subjects. Both are wonderful for each other. Suppose you study, the focus is distracted, you start playing. You will do physical hard work, you will get good sleep; when you wake up, your mind will be fresh; when you start reading, your mind grasp in a perfect manner. Therefore, it is your illusion that sports is a hindrance, there is nothing like that. Many sportsmen have also been engineers; there were also very good experts who also topped the games. So this is your illusion, if your thinking has become like this then it is difficult, otherwise there is nothing like this.
Question: Some people have written that why is Spiritual Daughter Honeypreet Insan sitting with Your divine Majesty?
The Revered Guru Ji:  She is Our Spiritual Daughter.  She is Spiritual Sister of all Our spiritual followers. We have stated that she is the Spiritual Sister. So, We don't think you should mind. What is the problem if a daughter sits with the father? The entire spiritual followers desire so, crores of people wanted to see the FDD. If the daughter is sitting together, I do not understand why  people have  any objection. The Father is there, made His Daughter sit here, sons are sitting there, all are sitting. We do not think that the Father & the daughter is sitting, then someone should have any objection.
Question: I am a civil engineer. Please guide, the Revered Father?
The Revered Guru Ji:  Construct good building applying good quality construction material; take care that it does not fall, it is okay. Greatest blessings! Save the society from scam.
Question: The Revered Father, Your Divine Majesty came live and removed the gears of the people that were stuck ( removed the doubts of the people), thank You very much.
The Revered Guru Ji: No, We used to remove the gear of the tractor as well. In the old times, to tell you the truth, We started driving a small tractor when We were 09 years old, so it happened that it was called a jitter tractor, it was a small one, blue in color, and if We used to call it a small Hindustan, then its gear was stuck. So one day its gear got stuck in his field and no tools & keys  were available there.
However – even at that age, We had learned how to open it and remove it. So what did We do, face backwards and take the steering hand from behind – from the farm through the whole village and bring it home. Everyone was surprised that the tractor's face is on the other side, it is going behind and no one is visible above, because We were small. How old is a 9 year old child? So when We came home, We took out the gear with the help of tools & keys. It's good that your gear got removed. Now you will be fine & smooth, the one who has become neutral, now put on the top gear of the worship of the God`s Words and get the happiness .Blessings!