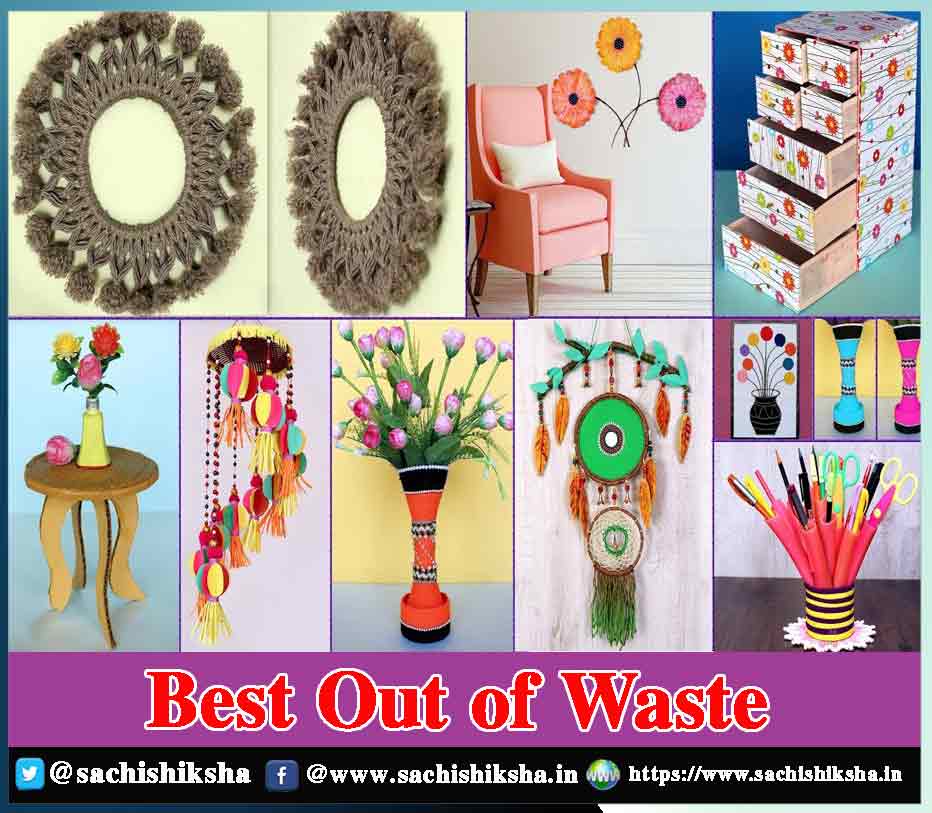 Useless use: When the kitchen items become old, then make useful and decoration items with these tricks:
The pandemic has enhanced everyone's artistic side, we have grown towards recycling, DIYs and recreating from the easily available waste material. There are a lot of ideas all around when we put the art factor in our surroundings, rather than spending money on expensive decorative items in the market. It is good to recreate from the ones that are easily available at our home.
All you need is just a dash of creativity with a sparkle of imagination. The habit of reusing, reducing and recycling is a useful practice that we can adopt and also pass on to our future generations for a sustainable and eco-friendly environment. We might not pay much attention to the kitchen waste and often throw them away, there are majorly three kinds of waste that are found in our households: organic waste, toxic waste and recyclable waste. So, here are a few ideas that you might want to apply and recreate when the next time you see any kitchen waste.
Snowman from Sesame Seeds and a Sock
Things you will need
1 leftover white sock
1 colourful sock
Some sesame seeds
Few map pins
Ribbons/ Cloth
Scissors
Glue
Buttons
Rubber bands
Steps to make cute snowmen
Take the leftover white sock and cut into two equal halves.
Flip the half sock inside out and fill the cavity with sesame seeds.
After the cavity is filled up with seeds, make a fat round base and secure the top's base with a rubber band.
Now, tie the second rubber band 3/4th way above to make a cute little head of a snowman.
Take couple of buttons and glue them on snowman's belly.
With the help of map pins create the eyes and nose.
Use the ribbon/cloth to make muffler for the snowman.
You may now use the top part of colourful sock to make the hat.
And now you are all set to decorate your home with these cute little snowmen.
An Airplane with the Ice-cream Sticks
Things you will need
4-5 ice-cream sticks (used or new ones)
An eraser
1-2 wooden clothes peg
Acrylic paints
Glue
Scissors
Steps to make an airplane
Make sure to wash the used ice-cream sticks properly.
Dry the sticks and paint them along with the wooden peg as per your choice.
Cut three equal pieces from one stick, join both the end pieces with the help of glue to form a straight line and form a propeller.
Now, cut a tiny portion of the eraser, paint and let it dry,
Stick two ice-cream sticks to the clothes, peg with the help of glue that is equidistant and forms a perpendicular angle.
Now you will have to flip plane model and repeat the same process using two other sticks overlapping one another.
With the help of glue stick the painted portion of eraser to your propeller.
To complete the airplane, stick the propeller on the mouth of cloth peg.
There you go! Your fighter plane is all set to take off.
Vase from a Recycled-bottle
Things you will need
Glass or plastic waste bottles
Masking Tape
Paint and paint brush
Fairy lights and artificial flowers for decoration
Steps to make a vase
Wash the bottles properly and make sure all the dirt and labels are removed.
With the help of masking tape make any design of your choice.
Now, paint your design with the colours you like and let it dry for a while.
Pint another coat on the designs and make the bottles opaque.
Spray paint can also be used.
You may now stick fairy lights and artificial flowers to the vase.
Bird House from the Carton box
Things you will need
Old juice boxes or milk cartons
Paint
Glue
Soft book cover
Cutter
Wool
Plastic spoons
Coloured paper
Scissors
Steps to make a bird house
Choose the combination of colours you like and paint the cartons accordingly, let them dry and set.
You will have to water down the glue and spread it evenly on the soft book cover and painted cartons.
With the help of coloured papers cut out random designs and put the carton beautifully to create an abstract pattern, overlapping the designs would also help.
Take scissors and make two holes in the carton, one at the top and second hole on the side, these will be doors for bird house.
Cut a small X under the door with the help of a cutter and insert the plastic spoon with bird seeds in it.
You may now invert the book covers and place it on top of the carton to make a roof.
In the end, make two slits in the roof and insert wool threads into them to hand the bird house wherever you want.
Hope you will find these ideas useful and try them in your leisure time with your friends and family! Always remember there is an artist in each one of us, it just needs a break to come through and swing with our imaginations.