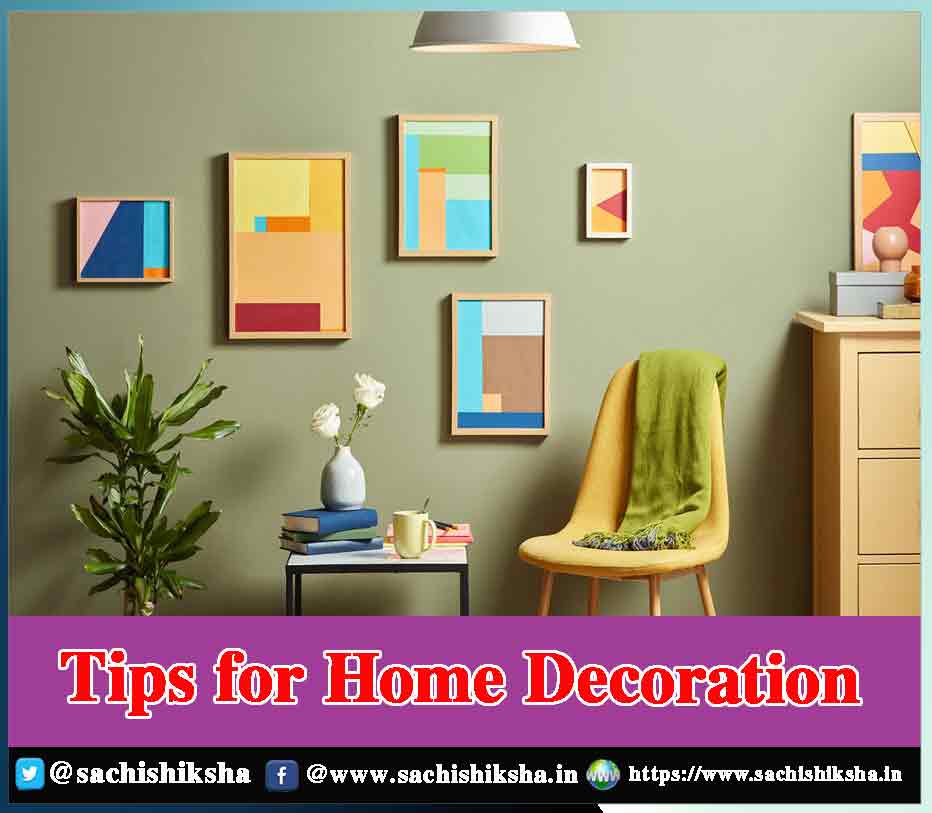 Home Decoration Ideas DIY: Decorating home is very important because it creates an aura of love and happiness. More so, it also makes a good impression on the outsiders, visitors and the guests. But in this, we are also going discuss home decoration with waste material, DIY tips.
The members of every home have different reasons for decorating their homes. Some want to flaunt their achievements, some want their homes to look functional and some want to increase its value. While some other people adorn their homes because they want their kids to grow up in a beautiful environment.
Adorning a home by the help of waste substances is a cool and classy method to practice nowadays. It is eco-friendly as well. So, waste materials in the house must never be thrown away and should be reused by designing a useful thing for decorating the house. It would also save plenty of money one spends on home decorative items along with the promotion of the concept of recycling.
Home Decoration Tips From Waste Material
Here are some tips for decorating home by the help of waste materials. A wall painting can easily be created for hanging. Materials required for this are white sheet, cardboard, water colors, paint brush and used bottle caps. It is extremely simple & even a five year child can make it with help of its guardian. The steps for the same include dipping the used bottle caps into the paint and carving imprints on a white sheet. Then by the help of a paint brush draw a border at the corners of the white sheet. Paste the white sheet on the piece of cardboard using fevicol. Then it can be hung on the wall.
Decorative Helicoptor
For a show piece for show case, a small toy helicopter can be crafted by the help of ice-cream sticks and a long hanging clip. The steps include coloring the ice-cream sticks with water colors to make them look appealing and attractive. Then by the help of fevicol, three ice cream sticks should be pasted on the top of hanging clip. Paste one ice cream stick below the hanging clip. Then break a stick into two pieces and paste one over each other so that they form a cross and look like the head of the helicopter. Paste the head infront of the hanging clip and the decorative helicopter would be ready.
A Hanging Tree
A hanging tree can be designed for the room of the kids. This would require a chart paper, brown paint, paint brush and shavings of colored pencils. Firstly bottom of tree, its roots and branches must be painted on a chart paper with the help of brown paint. Then different pencil colors should be sharpened with the help of a sharpener and its shavings must be pasted at the branches of the tree. They must be pasted until the entire chart paper gets filled and seems like a full fledge tree. Then the tree can be hung on the wall of the kids.
A String Ornament
A string ornament star can be designed using yarn, black sketch pen, a pair of scissors, a paper plate, fevicol and 5 pieces of toothpick. A thermocol plate must be turned upside down and a star should be drawn using a black sketch pen.
Then place five toothpicks at the five corners of the stars. In a bowl, water and glue must be mixed properly. Then yarn must be dipped in that mixture and stirred properly. Then spinthe yarn around the toothpicks to create the star. Three to four spin turns should be made. It should be left for sometime to get dried. When it dries, toothpicks should be smoothly removed. Then star must be removed and it can be used to hang on the almirah and can work as almirah hanging.
A Decorative Thali
A decorative thali can be designed in order to serve snacks to the guests. It would require a steel plate, fluorescent sheet, lost or waste small earrings or beads and lace. The thalishould be completely covered with colored fluorescent sheet.Decorate its border with the colored lace. Pastesmall beads over the lace small beads. Now a beautiful thali is ready to serve snacks to guests.
Beautiful Photo Frame
A beautiful photo frame can be created with the help of ice-cream sticks, glue and water colors. Ice cream sticks must be taken and colored with different paints. Join four ice-cream sticks in such a manner that they form a square. Then above it join two ice-cream sticks diagonally that they form a triangle, and as a whole it looks like a hut. Now put photos in it and hang on almirah or wall as an appealing photo frame.
Use of waste material in the home decoration needs some creativity. But if you follow this article, we hope you can do it easily.
Decorating the home with waste things can be fun. It increases the productivity of time, enhances the creativity of the individual person, makes the house look more beautiful and would encourage the concept of recycling and reusing among the neighborhood as well.
Follow us on Facebook, Twitter, Instagram, and YouTube to get more updates related to Sachi Shiksha – The Famous Spiritual Magazine in India. Also Read Our Hindi and Punjabi Editions.