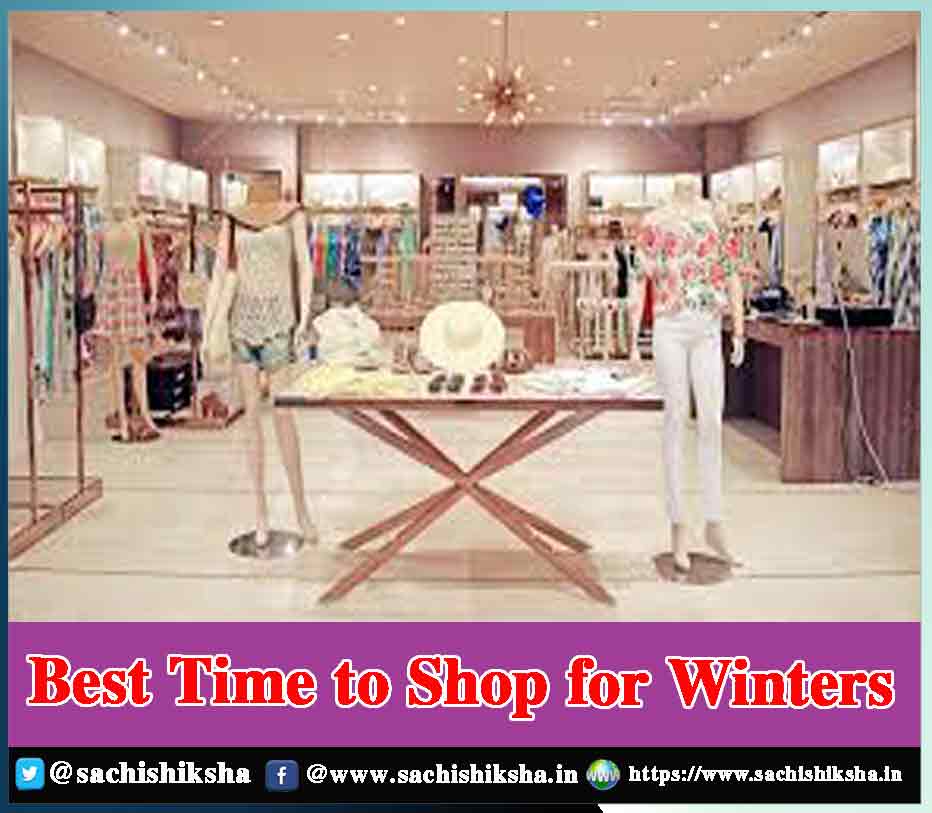 As the nights are getting chillier the approaching winter makes you think of sitting in cozy sweaters sipping hot tea probably reading a book huddled inside a warm blanket by the bonfire. But let me stop your imagination right there as before all this you would have to stock up on some winter essentials and what better time than now to buy those winter goodies. Starting with clothes which help us in keeping warm such as cardigans, coats, sweaters, hoodies, blazers, heftier shoes which help in saving our toes from cold as well as some other winter accessories which are used in daily basis.
Not only clothing and accessories but we need to change our haircare and skincare items as well. This is because the products that we use in summers are not suitable for winters. Winter items are expensive as compared to summer or spring ones. Purchasing winter essentials is a tricky task as we need to select the best by saving money. Some months are the most suitable for winter shopping and luck is with us right now because these few months after monsoon and before Diwali are apt for winter shopping. Some tips which can be handy for you are detailed as below.
Always go through the last year winter essentials and choose products that are still good and are wearable in this winter as well. This will save your big bucks which you were planning to spend while shopping. Most of the winter outfits are costly, so do make sure you always choose good quality products so that you will be able to save during winters. Whenever you go shopping do make a list of items or you will end up shopping non essentials as well.
Preparing a list will help you in staying within your budget range. Once your shopping is complete you will be amazed to see how much money you have saved. Before winters come the online shopping bonanza where popular e-commerce sites offer a good amount of discount. What you need to do is manage your time by browsing those million ecommerce sites to get the best offer.However shopping something on clearance sale is not easy. This is because sometimes it becomes very tough to find clothes as per our preferences. But you need to be patient in such times. There may be some days on which you won't buy anything your worth, but that is okay.
You can visit another day, after all the entire point of this exercise is to save maximum money. You should keep in mind that you have a fix budget which you should adhere to all the times. As has been mentioned the good quality winter garments are not available in affordable price ranges. Winter clothes are generally thick as compared to regular clothes and hence expensive. But bargaining never gets old and you can even save few bucks if you are good at it. However if you choose best insolation you would have to pay higher as they will keep your body warm. On the other hand if you are buying winter essentials for regular use go for sale then.
It is highly recommended to buy premium clothes from factory outlets. The main reason behind this logic is that you would get genuine quality products at comparatively low prices. In the current times factory outlets also offer close to 50 percent off for winter wears. Try stocking up in off seasons, either at the end of season or quite before the onset of the season. This is so because during the season marketers charge hefty prices. The retail stores are ever changing so shopkeepers keep on rotating stuff as per market preferences, fashion and trends. So they get shifted to off season sales at comparatively affordable prices. And being a street smart shopper you should grab this golden opportunity.
Buying your favourite leather jacket that you have been eyeing on since the last fall could be less expensive if bought on Thursday or a Friday. This is so as the store owners clearly know that interested shoppers usually prefer shopping on the weekend and Sunday. And therefore they may start preparing the sale section from Thursday onwards. The shopkeepers cannot keep old items hanging on the racks. So by shopping on a day before a holiday you can choose the best item at the best prices.
Fashion trends begin to crop just before the onset of winters and to keep your fashion game up you have ample time to browse through it all during this festive season. But just keep one thing in mind , avoid purchasing skin care and hair care products in sale. The marketers generally sell such products which are close to their expiry. Sometimes they may even change the expiry label. And the last thing you want is to risk your hair or skin due to an impending sale. It is not recommended to compromise at least with your skin and hair.
So go out and shop(preferably virtually this time) to satisfy all your winter shopping cravings but do keep in mind these tips which may come in handy.
Happy Shopping!!
Follow us on Facebook, Twitter, Instagram, and YouTube to get more updates related to Sachi Shiksha – The Famous Spiritual Magazine in India. Also Read Our Hindi and Punjabi Editions.