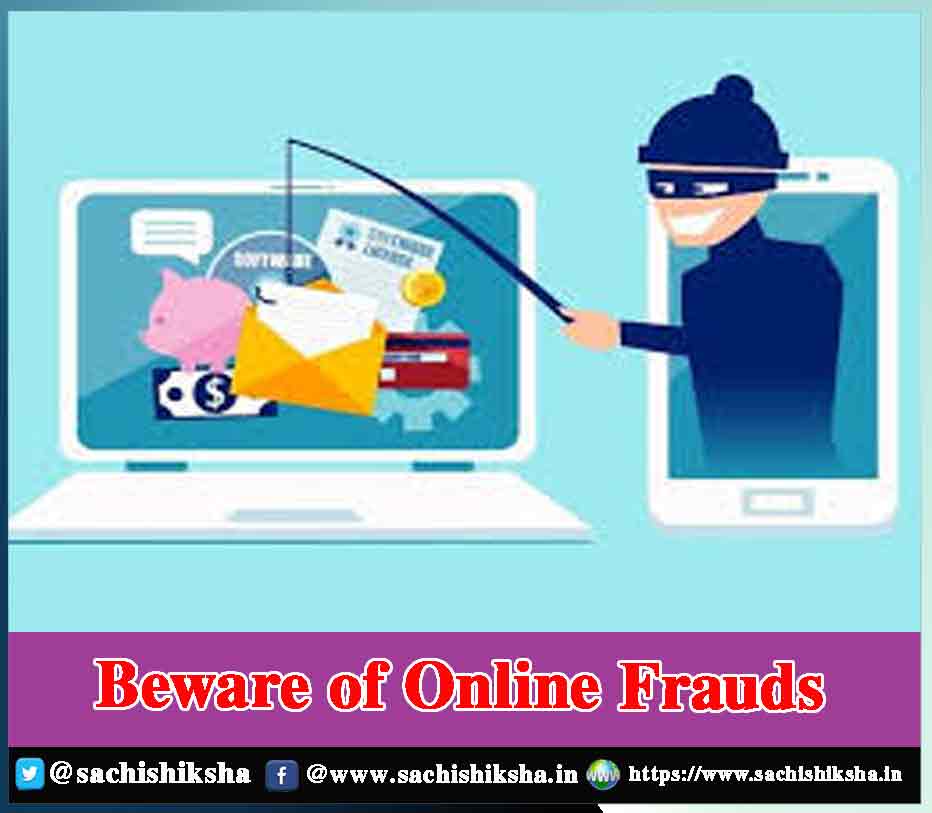 Fraud done via internet is said to be online fraud. Online fraud also termed as a cyber-crime includes giving wrong information with an objective of tricking target out of money and property.
It is of various kinds. It can aim to steal personal information of an individual or wiring money from various sources. People who perform online frauds are present everywhere with creative tricks to steal money from bank accounts of people.
A major type of online fraud is email scam. Fraudsters use this method for retrieving information of an individual. The target receives an e-mail which seems to be from a genuine firm. The only motive of this e-mail is to steal the details of bank of the target.
The mails contain a link and when the person clicks on the link, he is taken to a duplicate or fake website. The duplicate website demands secretive information like credit card details, Paytm password etc. Such links can also lead to virus attacks on PC. Common type e-mail scam is phishing.
For instance, a patische e-mail apparently from the college mycollege.org is sent to all the staff members of the college and it claims that password of the user is going to be expired soon. It would contain instructions for going to mycollege.org/renewal to renew password within a day. Such frauds can be prevented by vigilance.
A fraud e-mail consists of spelling mistakes which reveals its fakeness. The 2FA (Two Factor Authentication) is another method to avoid email scams, since it includes one more layer for logging into apps. It avoids usage of compromised credentials. In an organization employees must change their passwords at regular intervals and should not be given to use similar password for different application.
Another main type of internet scams is online shopping frauds. It is highly prevalent in world from last few years. In this kind of fraud crooks create fake shopping websites and links with an aim of crooking naive people and fraud their money.
Fraudsters display appealing products at a very reasonable rates but after the target pays the amount, his product is not delivered or some fake object is sent to his given address. Such websites do not offer any refund or return scheme and there exist no customer service or complaint-solution desk or taking any sort of action.
For instance, a native of Chandigarh was duped Rs 1.47 Lakh by fraudsters, who gave him a fake chance to win an Iphone X. These can be prevented by checking the security of website by examining the URL of page, whether it is HTTP or HTTPS.
If website is using HTTPS your information may go into wrong hands. Checking the reliability of website is very necessary hence reviews and feedback of other shoppers must be taken in to account. Check if the offers provided by website are over beneficial, suppose if a product worth Rs 50,000/- is available at Rs 2000/-, then surely it is a fraud.
A very common online fraud happening around the world is work from home scam. Ordinary people who seek work from home jobs are fooled by crooks, they give them false guarantee that they will earn good amount of money only by devoting a few hours daily to their work.
They demand a certain amount as a registration fee before providing them work and make  a fake promise to return it with their weekly salary but when the money is sent, employees cannot be tracked.
For instance, many a time scammers send a cheque to their target and when the target deposits the cheque after three four days they will make a demand to them to send money to someone (their partner in fraud) and after sending money, the target will get to know that the cheque has been bounced. This can be avoided by being aware.
No work from home seeker should pay money to any firm in advance for any kind of reason. No genuine job provider demands for money from workers. Make sure that company you are thinking to work for is genuine before sending any personal details to them.
Before doing job for any company make  a demand of legally-signed-contract with all the necessary terms and conditions because in many cases, companies take work like translation and transcription etc. from employees and do not end to pay them.
One other name in the list is of matrimonial fraud. In this busy era, people do not have time to visit people's house and look for their life partner, so people prefer matrimonial websites to look for their spouse.
But unfortunately many people lose a lot of money while searching their partner on such websites. Crooks create fake profiles to dupe innocent partner seekers. Most of the times, the gangs are involved in such scams. They win the trust of victims and then the naïve victims are looted.
For instance, people should be conscious regarding weird behavior of second party, everyone should ask a lot of questions and if it seems that a person in front is hiding something, one should become suspicious. Such frauds can be avoided by warning signs like inconsistent behavior, strange character traits, sudden demand of money etc.
Precisely, the world is full of such crooks and a lot can happen but a lot rather everything can be prevented too, just by mere awareness and alertness. Identify the talking and negotiating pattern of the person or resource on the other hand. In case you find it fishy, stay away.
Read and know the experiences of others in such cases. This will make you aware of new ideas and techniques used by the fraudulent and you can keep yourself safe.
Remember alertness and awareness is the only key to stay safe in this e-world.
– Avneet
Follow us on Facebook, Twitter, Instagram, and YouTube to get more updates related to Sachi Shiksha – The Famous Spiritual Magazine in India. Also Read Our Hindi and Punjabi Editions.