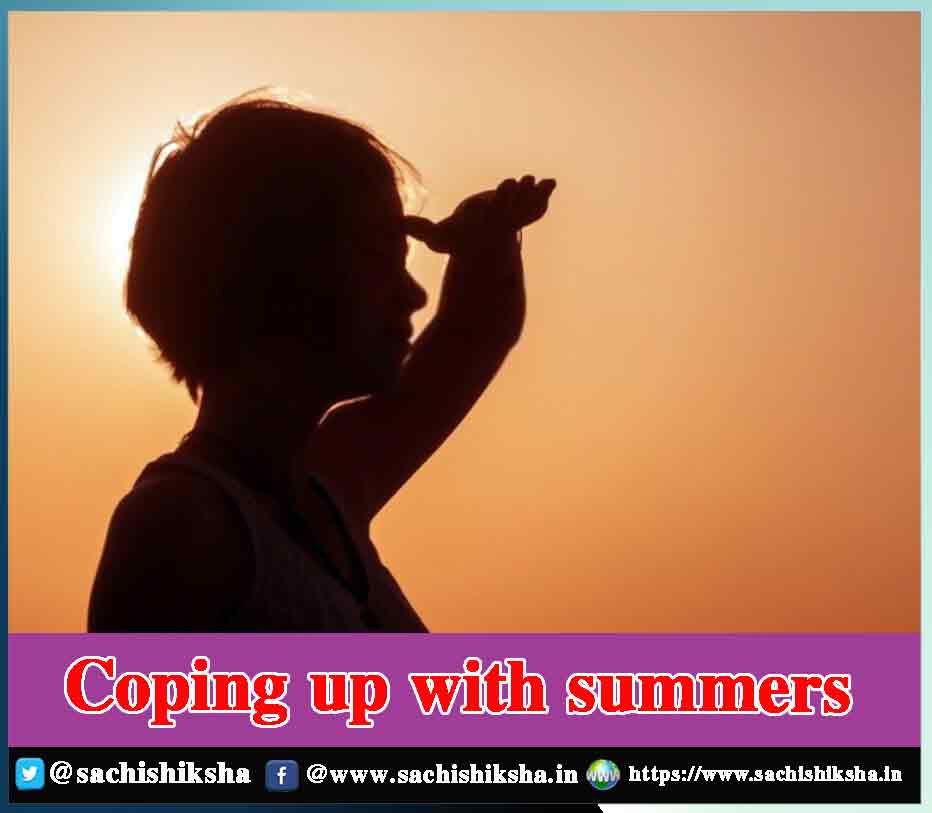 Coping up with summers
Abandoned streets, schools, and universities shut down, nasty heat waves gripping several parts of the nation, water shortage, and temperatures taking off over 40 degree celsius, that is what India looks like in the months of April, May & June.
Summer may be energizing for some as an excursion time while some hang tight for this perspiring summer season to end at the earliest.
Come summer and it's time for you to beat the heat with quirky ideas. With globalization severely impacting the climatic condition across the world, people should be prepared to brace for hotter summers every year. Following some basic tips can ensure that you stay pumped up even during this blazing heat.
Here are some tips to protect yourself from the scorching sun:
Keep yourself hydrated:
Hydrating and only hydrating is the key to dodge this extremely hot weather. Making fluids your best buddy during summers may work wonders for you. Drinking plenty of water, citrus juices, buttermilk, and other seasonal beverages will help you adapt up to the perspiring caused because of high temperatures. Lack of fluids in your body may lead to heatstroke, dizziness, or a sudden rise in body temperature. Thus keeping yourself hydrated will lower these risks.
Stay away from direct sun: 
Being in the sun for long hours especially when it is at its peak during the afternoon should be avoided. Try to wrap up your essential works during the early hours or in the evening. Exposure to excess heat can cause severe health and skin problems.
Add seasonal veggies and fruits to your meal: 
Keep your meals light and less spicy. Avoid eating stale or fried food as it can cause stomach troubles. Eat seasonal fruits that can help your body keep cool from within. You can relish fruits like mango, watermelon, grapes, kiwi, banana, muskmelon to name a few. Coconut water is also a healthy choice.
Wear light clothes: 
Wearing cotton clothes will provide ventilation. Not only does the material matter in summers, wearing light, summer-fresh colors also help in keeping the body temperature low. Prefer wearing loose and comfortable clothing.
Grow plants in your surroundings: 
As unchecked urbanization has led to environmental degradation resulting in adverse climatic changes. Numerous buildings and fewer plantations have worsened the climatic conditions. The paved streets in the cities reflect the sun's heat making land like a furnace. The only step that can save us from this is planting more and more trees in our surroundings.
Cold–water shower: 
When the mercury is on the upswing, the easiest way to drop down your body temperature is taking a quick cold-water shower. It will be effective in lowering your surface body temperature helping you to get rid of the sweat and foul body odour accompanied with it.         
Air conditioners and coolers: 
 Access to air conditioners can be useful for dealing with the sweltering heat. Just make sure that you do not enter an air-conditioned room right after coming home from the sun. However, people looking for a sustainable option can go with air coolers and fans.
Protect your home from heat: 
As we are in the middle of a pandemic, and lockdown has been imposed at many places aiming to tackle the second wave of corona-virus in India. Thus people have been forced to stay indoors which makes it necessary for the homes to be protected from heat. Pull down the blinds and shade cloths over the windows and balconies during the afternoon. This will restrict heat from entering your home. In India, people also use 'khus curtains' for maintaining a cool ambiance at home.
Avoid drinking refrigerated water: 
Yes, water is your best buddy in summers but gulping down refrigerated water right after getting back from outside is a big NO. Once you are indoors take a few minutes to cool your body temperature first and then drink reasonably chilled water to stay away from stomach agony and acid reflux.
Mild workout: 
Taking out time to workout is definitely a good move in summers. But no one wants to sweat extensively with a heavy workout regime and end up with dehydration, nausea, or dizziness. One must understand the need of the body while doing workout and should know when to stop. Maintaining fluid levels during workout sessions is a must.
Sunscreen:  
Skincare is an important part of coping up with summers. Sunblock or sunscreen has been recommended by experts to shield your skin from sunburns, tanning and many other skin issues. Use a waterproof sunblock with SPF 30-50 to protect yourself from the harmful UV rays of the sun.
Following these tips on summers might help you sail through the scorching sun and the ongoing pandemic. Beat the sun with the new mantra "Stay Indoors, Stay Safe".