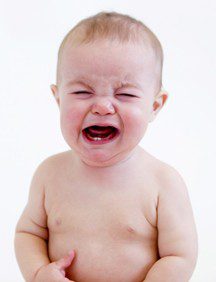 A baby that constantly cries and does not stop can be worrisome and frustrating for the parents.
And many times parents are literally brought to tears because of the incessant crying and they are left with the question 'When will this baby stop crying?".
A crying baby is trying to communicate with his parents or caregivers that everything is not fine. The baby must be feeling hungry, could be in pain, is over stimulated or sleepy, feeling hot or cold, has a dirty diaper etc.
There are many ways to pacify a crying baby by trying to find out what exactly is the matter with him/her.
If the baby's diaper is wet or soiled it makes sense to change it so that the baby feels clean and dry. Baby will stop crying and drift off to sleep once it is comfortable.
When the baby is crying you can check to see if the feeding time is close. Babies grow fast and their feeding schedule can change overnight. Try giving a bottle and see if it is hungry. If the baby starts feeding it is clear that it was crying because of hunger.
A tired baby can also cry to tell you that it needs to sleep. Check if it is not feeding time and if it is not check if it is nap time and then put your baby down for a nap.
If the baby does not stop crying even after you have tried to put it down for a nap, tried feeding him or changing his diaper then try burping the baby. Trapped gas is very painful for the baby. You can lay the baby across your lap and gently rub its back or hold it on your shoulder and pat the back to release the trapped gas and see if the baby stops crying.
Many babies like to be rocked or be in motion when they are held. You can gently rock the baby or take it for a ride in the car.
You can also put a baby in a bouncy seat or a vibrating chair to see whether it calms down.
Sometimes talking or singing to the baby also calms it down.
You can give it a nice warm bath or gently massage the baby to pacify it from crying.
Touching and stroking the baby can also calm the baby.
Many a times even after doing all the above things the baby keeps crying inconsolably and it can become very unnerving for the Parents.
Linda David has formulated LTA therapy which has cure for a crying baby. LTA therapy is of the view that all negative emotions or psychological problems which cause the baby to cry constantly have their origin in the subconscious mind.
Linda David in a psychic way can perceive the inner self of the baby and find out what is the matter.
A crying baby could be unwell or has some negative emotion like fear, loneliness, and insecurity. These negative emotions and any other physical symptoms are caused because of separate patterns in the mind.
Linda David from afar can see these patterns and remove them from the subconscious mind. This will also remove all the symptoms that were caused by the patterns such as the baby crying and cure it forever by removing the troubles.