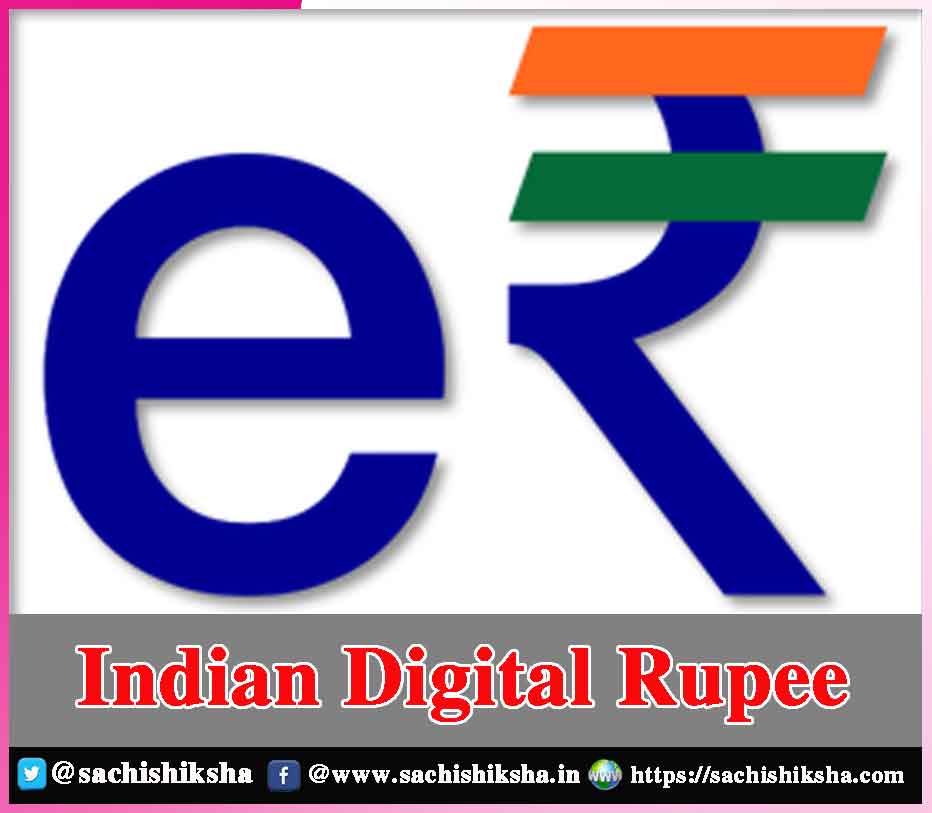 Indian Digital Rupee
(Logo of the Indian Digital Rupee)
Introduction: India has embraced digitalization in the most innovative ways possible, from making biometric information available in Aadhaar to UPI payments and now it has ventured into digital currency.
The Indian Digital Rupee was launched on the 1st of December 2022. Cryptocurrency and Blockchain are two of the most heard words in the world and the e-rupee is India's adaption of them. To begin with, Indian Digital Rupee, Central Bank Digital Currency (CBDC), eINR or e-rupee, is the digital form of currency notes issued by the Reserve Bank of India. It is the digital token form of our sovereign currency and can be used to address all the works that are performed by the physical currency.
Also Read :-
Acquisition and Usage of e₹: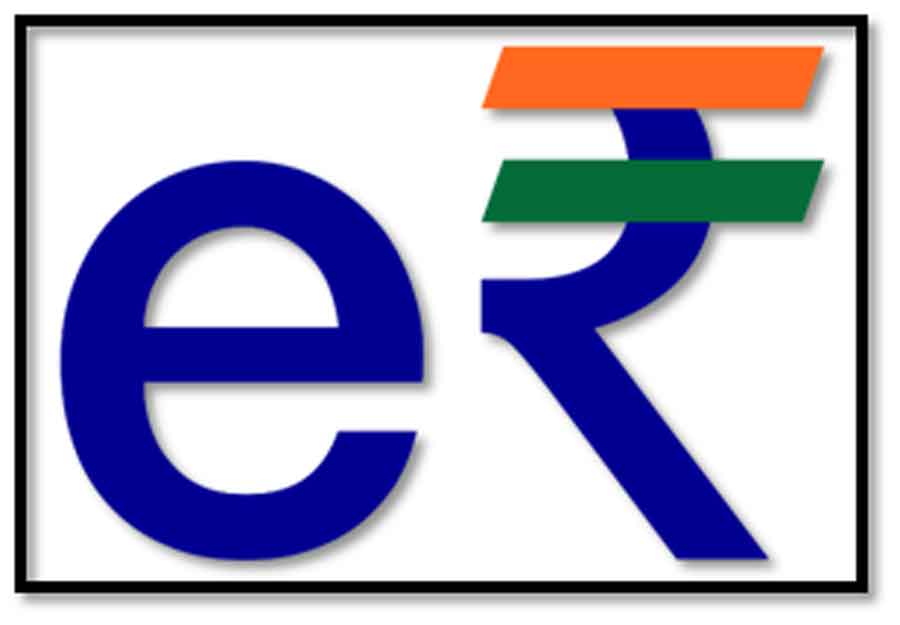 Just like we carry physical cash in our wallets, eINR requires an e-wallet to enable its usage. This e-wallet is issued by the appointed banks and can be linked to our bank accounts.  This e-wallet can be accessed via phone or other devices for conducting online transactions.
Currently, the residents of cities of Mumbai, Bengaluru, New Delhi, and Bhubaneswar can use digital wallets provided by the participating banks to transact using e₹. The participating banks that are allowed to issue e-wallets are State Bank of India, ICICI Bank, Yes Bank, and IDFC First Bank. In the second phase of the implementation, Union Bank of India, HDFC Bank, Bank of Baroda and Kotak Mahindra Bank will also join as the participating banks.
The RBI proposes to launch CBDC-R and CBDC-W, which are two different types of e₹. The CBDC-R (Retail) is for the public and the CBDC-W (Wholesale) is for financial institutions to conduct interbank transfers. The RBI will issue electronic tokens of e₹ in the existing denominations of our currency. RBI uses Token Service Providers to issue these e₹ to the banks that will in turn provide these to the common public.
As the program is in its pilot stage and only in select cities, Closed User Group (CSG) has been launched by the RBI which comprises of customers and merchants who can use e₹. The customer can request the participating bank to obtain an e-wallet and he will be intimated when their e-wallet application is approved, and he is admitted into the Closed User Group (CSG). Once this is done, the customer can go ahead and use an e-wallet.
Similar to withdrawing cash from ATM for our expenses, we can convert our bank balance into e₹ using the United Payments Interface (UPI). Using UPI we can load the e-wallets with e₹. If one does not require e₹ tokens in their e-wallet the same can be unloaded back to their bank accounts, which means, the amount is credited back to your bank account.
An interesting point to note here is, each e₹ token will have a unique token number to prevent counterfeiting tokens and additionally, the central bank is proposing to use measures like cryptography and quantum computing resistance systems for advanced security. QR codes have become a household name and the same technology is employed for the usage for e₹. We can transfer the e₹ simply by scanning the recipient's QR code or even send it to their mobile number.
e₹ Compared with UPI: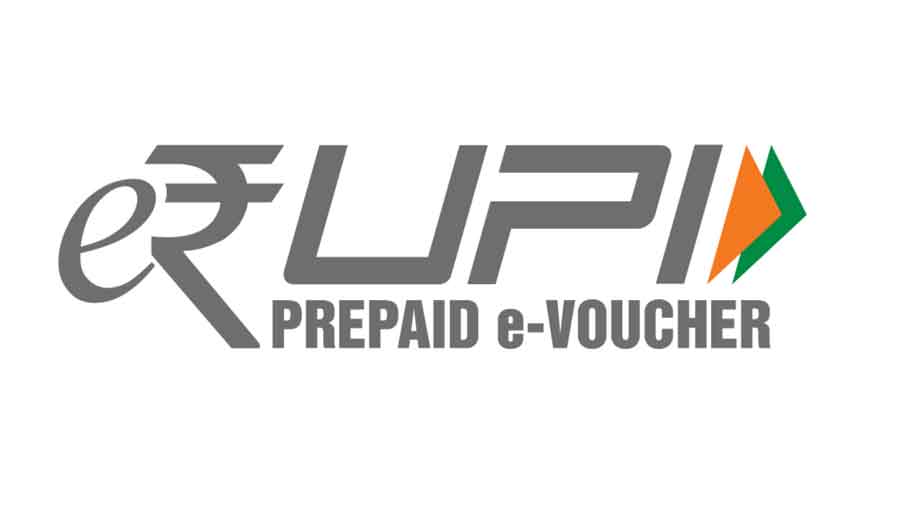 While both UPI and e₹ might sound similar in their speed and usage, they are two different means of transacting. The prominent difference is that e₹ in itself is a currency whereas UPI is a platform that enables transactions to happen. Banks act as intermediaries in UPI transactions and have a complete record of the same, but in e₹, once the e₹ token is available in the e-wallet, they can directly be transferred into recipient's e-wallet, without the interference of intermediary banks. This again highlights its similarity to physical cash and the anonymity it provides. In simple words, we instruct our bank to make a payment to the recipient via the UPI platform, and in e₹, it's like us withdrawing cash and making payments to merchants.
e₹ Versus Cryptocurrency:
Cryptocurrencies are diversified and unregulated on the other hand e₹ is centralized and governed by the RBI. e₹ is recognized as legal tender in our country whereas cryptocurrencies are not. Additionally, cryptocurrencies value fluctuates because of demand and supply, whereas e₹ has a fixed denomination and value, just like physical cash.
Advantages of e₹:
One of the major advantages of e₹ is that it can be programmed. In other words, e₹ can be created and circulated for specific purposes and it can be monitored if they are being utilized for the designated cause. This is especially useful in implementing Government schemes and greatly reduces the chances of embezzlement.
As far as the RBI is concerned, its operational costs for minting, storing, transporting cash will be reduced while the security from fraud and scam is increased. RBI aims to conduct a real time assessment during the pilot phase of the implementation with the help of participating banks and CSG to assess the usage, safety, distribution, threats, and stability of the new rupee.
For a common man, the task of handling physical cash and the fear of losing them or theft are no longer an issue. e₹ is digital, making it immune to tears and burns and highly secure due to the inbuilt security features. UPI has already reduced transaction costs a lot and e₹ is likely to make it even more efficient, even for international remittances. With the 24×7 functionality and lesser downtime, e₹ is available for transactions anytime and anywhere.
Conclusion:
e₹ which is backed by the RBI will encourage people to move ahead, trust and use the digital currency. In the future years, as we move towards a cashless economy with the help of UPI and e₹, there will be greater financial inclusion and lesser cash related frauds and scams. To sum up, Credit Cards, Debit Cards, UPI have all been additional means of transacting along with cash and e₹ is the latest inclusion to it. Both the RBI and the public must be aware of its technology and usage to safely move towards a developed cashless economy.