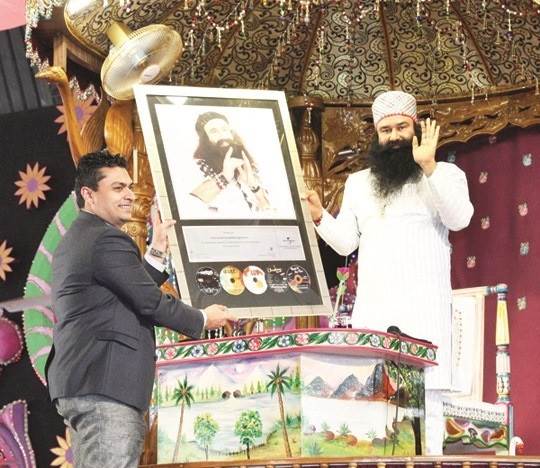 Global Plaque Award to Guru Ji
The selfless spiritual Saint Gurmeet Ram Rahimji Insan sang at an annual event on 25th January, 2014 at Dera Sacha Sauda in Sirsa!
The consequence? A couple of hundred kilometers of choked roads with traffic moving at a snail's pace.
632 acres of jam-packed grounds; each acre squeezing 18-20,000 people on a cold January night. The milling crowds on the roads and plodding traffic packed an equal number.
3000 audio speakers blared, exploding the mind-blowing music with a message, to the audience watching 500 large sized displays, mesmerized by the rendition.You dont believe this, Do you? But Only seeing is believing. Be there, next time!!
Guruji's annual music sale was 65 lac units of CD's sold in a year. That was the reason why Universal Music India's CEO and MD, Devraj Sanyal presented Guruji with a Global Plaque last year.
Guruji has performed in over 80 live concerts in less than two years, each concert lasting a whopping 8 hours. The attendance at each concert goes upto a quarter of a million. An additional hundreds of engagements of Spiritual meditation and humanitarian drives have happened in the same time span. But well, let's get back to Music!!
So, what about Music? It is not the same hackneyed couple of dozen 'popular' songs that are performed by other groups. It is not music from a typecast genre. The entire variety ranges from Indian folk to Hiphop, from soulful Indy melodies to wafting strains of Arabic and Persian, from fusion rock to Bhangra beats and one hears novel musical inventions here, regularly.
And this voice has the greatest vocal range amongst all performing artistes as Guruji has sung even in the voice of a child, He also regularly produces various forms of percussion sounds, unknown to the electronic drums.
Every concert sees 7 new compositions, and many of these concerts successively follow the previous one, week after week.
There is no limit to creativity as newer compositions, backed by power packed vocals are seen in every concert. People associate spirituality and meditation only with silence, but with the emancipation that Guruji's meditation brings, it is the celebration of joy that has been uncorked within. The dancing audience churns up swirling clouds of dust with their feet. It is more like an army of horses galloping over an earthen landscape.
And the ovations that Guruji receives from crazed audiences are like millions of souls making an astral journey to their maker, or an ocean with its waves dancing in moods of joy.
Well, Be there! Because the proof really lies in the pudding. Unless one sees personally, it is difficult to believe even this enormously inadequate description.
Music has never seen a greater celebration. Music has never been a greater celebration either, of true spirituality.
The vocalist, Guruji, is unassisted by any backup vocals. He creates all the compositions, directs the music and writes the lyrics for this Tsunami of a musical event called the Masto Mast Ruhani Rubaru Nite, which roughly translates into "the Ecstacy of Spiritual Visitation". But, it is time to ponder and think.
Is it defacto possible for one individual to do all this, almost week after week? Guruji seems to tap His original masterpieces from a boundless reservoir of creativity. But How?
The themes spring out from spirituality which is simple in its content and yet profound in its impact. There is music with a message to defeat social evils.
There are songs to counter drugs and corruption, there are songs of divine mysticism that are worded with simple but touching lyrics, there are compositions that never cease to amaze.
But is it only Music that Guruji creates. No, every week He designs astounding new sets and themes. Everything from His remarkable stage, to the dresses He Himself designs and wears, leave viewers spell bound. Orient meets the Occident . Everything from the footwear to the furniture is entirely designed by Guruji.
Every breathtaking entry is planned by Guruji.
Saint Gurmeet Ram Rahim Singh Ji Insan has taught meditation to about 5.5 million people, absolutely free of cost. The self confidence triggered by this meditation can be directly seen in the Guru. This is the music of hope and positivism. Dera Sacha Sauda has become the fountainhead of 101 humanitarian programs worldwide.
Programs, whose equivalent is hardly seen in the history of mankind, propelled by this awesome soul stirring music of hope.
Explore the music of the soul and explode with joy !
The World of Music agrees…
Why would the World's largest record company honour Saint Gurmeet Ram Rahim Singh Ji Insan on the lines of Justin Bieber and Lady Gaga.
The answer is simple. In Asia no top billing artist has sold more music records than Him.
In fact, recently Universal Music MD Devraj Sanyal came down twice to Sirsa, also bringing the celebrated Music director Shamir Tandon. What did he have to say?
Revered Guruji, and dear devotees, who have came from all over the world.
Today is a very important day for me and my company Universal Music and EMI. In my three years, it was my first opportunity to handover the global plaque, which is an official recognition of Guruji, I had the good fortune of presenting it to guruji.
The plaque states the number that you can't see , the volume of sales that has never before been seen in South Asia.
In one year, just in a year, Guruji's four albums have sold 65 lakh plus CD's worldwide.
In Universal Music and EMI Music , we showcase the world's best known performers, real greats. But I have no reservations in sharing, that of we combine the cumulative sales of all these greats, of you add them all up-all of them, they are not even 20% of the sales enjoyed by Guruji's Music.
His Holiness is like my father and also my spiritual leader, but I believe that He is the most talented performer in the world. Indeed Humongous !
I have came to Sirsa after about 6-7 months. I throw an open challenge that, you are millions sitting here; you cannot present even one seasoned artist who performs such mega concerts, attended by millions, every week, and sings continuously for 6-7 hours.
In different languages, in different genres and styles, whether it is Haryanvi, English or Punjabi anything- He is always brilliant.
Guruji, you may or may not be knowing this but 3-4 weeks ago, your representatives had interacted with our top global officials, the head of global music. Your representative had spent some time with them and they were all amazed to see, the scale of global and national activities that we are embarking upon.
It is a matter of great honour and everyone responded by just saying, "Fantastic". Our global journey has merely started and with the blessings of Revered Holiness Guruji, the whole world will get to hear this beautiful message of Dera Sacha Sauda, through our efforts, this is my promise.
Another little surprise for you all, I have already stated that this is the first occasion in the last three years that I have had the opportunity of handing this Global plaque to anyone. But my global Head, Adrian Cheesley, who heads some 50 countries, I look after only 6, a very senior person in the hierarchy of universal worldwide.
This is the first6 true that our global Head has sent a special video message, especially for Guruji; this has never happened in my lifetime.
It is a matter of honour for me personally, that such a senior personality has lauded Guruji's efforts, this is awesome. We are grateful for this opportunity Guruji's and I promise you that in the next couple of years, your message shall reach whole world.
" We have performed concerts all over the world, but today the joy that we're experiencing with such a massive crowd, truely I am chocked-its awesome!
We had heard a plenty in Bombay, Newyork, LosAngeles about Guruji- but after seeing with our own eyes- it is a direct personal experience.
And I have directed music for so many films and worked with so many playback singers but it never really clicks because all of them sing with their vocal cords; Guruji sings from His heart and therefore it pierces our hearts…"
Shamir Tandon (Noted Music Director)
Follow us on Facebook, Twitter, Google+, LinkedIn and Instagram, YouTube to get more updates related to sachi shiksha Spiritual Magazine, articles.