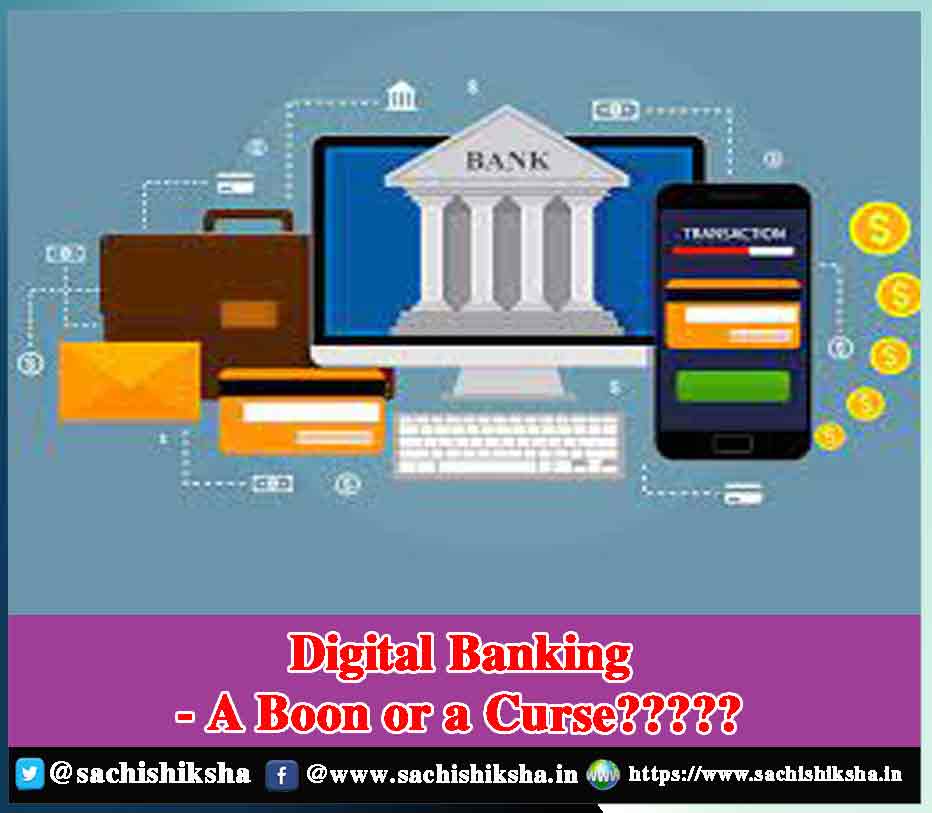 Digital Banking- A Boon or a Curse?????
Did you ever think that your vegetable vendor will one day accept payment for vegetables purchased through a QR code? Or a roadside cobbler accepting money through digital wallet without any fuss?
Yes, till a few years ago, this thought would have not hit anyone's mind but certainly now has turned a reality. All thanks to the digital revolution! Today we are in a digital heaven.
Also Read :- Beware of Online Frauds
With technological transformation moving faster than ever before, various new innovations and futuristic thought processes have come to the rescue to ease customer's lives. As more and more number of people are now gaining access to the internet and smartphones, businesses have been rigorously trying to transform themselves digitally to cash in the reach of smartphones and internet. And much like the other sectors going digital, this technological advancement has transformed traditional banking system to emerging world of digital banking.
What is Digital Banking?
Banking used to be a time consuming process earlier. Remember, standing in queue to deposit cash or a cheque and waiting for hours. But thankfully traditional banking is a passé with the introduction of digital banking. Digital banking can be defined as the digitization of all the traditional services that were exclusively available to customers when they visited a bank branch.
In other words, it's a platform which helps customers to carry out various financial activities like use of debit/credit cards, internet banking, mobile wallets, digital payment apps, Unified Payment Interface (UPI) services, fund transfers, mobile banking, etc. Digital banking gives you the luxury of accessing all the banking services round the clock. The transactions which were not possible without visiting bank branches are now just a click away. A person can receive and transfer money hassle free anywhere in the world in fraction of seconds.
Offering numerous benefits, digital banking is considered to be a boon in many ways.
Benefits of Digital Banking
24×7 Availability: Accessing banking services is much easier, quicker and safer. It has round the clock availability by virtue of digital banking.
Customer Service: With internet and smartphones accessible to a large number of people now, customers do not have to wait in long queues, or travel all the way to the bank to carry out transactions. Digital banking enables customers to perform banking activities from the comfort of their homes.
Paperless: Overusing papers has been a huge setback of traditional banking system. The introduction of digital banking as a service has helped banking go paperless. One can easily log on to their accounts digitally and perform banking transactions without any use of paper.
Privacy: In digital banking, customer details and accounts are password protected thereby providing security and privacy to a customer. People can also report and block debit or credit cards lost at the click of a button.
Offers: Using digital banking can be exciting for many, reason being the rewards and offers given by the digital banking companies to the users. For example, your travelling cost can be curtailed down to a great extent when you choose to pay digitally. You can pay your bills online and also it aids you for online shopping.
Moreover from a bank's point of view, it has become easier for banks to endorse their products and services in an efficient manner. It helps to increase the customer base for bank as well.
Drawbacks of Digital Banking
Unlike the brighter side, if we see the flip side of the coin, the facility of digital banking also comes with lots of disadvantages and risks. Here are a few drawbacks listed below:
Difficult for Beginners: For new learners, getting their hands on digital banking can be complex. Many customers especially the elderly people are afraid to lose their money on some app or website. Thus, they hesitate in using digital banking. They feel comfortable with traditional banking.  
Technology Issues: Using technology, you are bound to face technical glitches like interrupted. It's quite common to have a transaction stuck in the middle of a payment. This becomes a panic situation for the user as there is no information about his money transaction.
Security Issues: From a customer's point of view, there is a lot of risk involved when it comes to digital banking. Cases of cyber crime for duping people for lacs of rupees are on constant rise. Many fraudsters tricks people and transfer the money into other accounts using vital credentials like Aadhar Card number, bank account details, ATM pin, CVV, OTP etc.
Shortcomings in Handling Complex Transactions: Digital banking is always an easier alternative when it comes to paying bills, transferring funds etc. However, for complex transactions wherein large sum of money is involved, people tend to opt for branch banking owing to the uncertainties involved in digital banking.  
Other Constraints: When we say many have the access to the internet and smartphones, it is also a fact that in a country like India, there are many who do not have these facilities at their disposal.
 Summing it up, after demonetisation , the recent economic shifts in India  have accelerated transformation of digital banking with projects like Make in India and Digital India. Though it is a huge benefit for many, using digital banking with utmost caution and awareness is essential. Just like a coin has two sides, technology is man-made and has its pros and cons too.