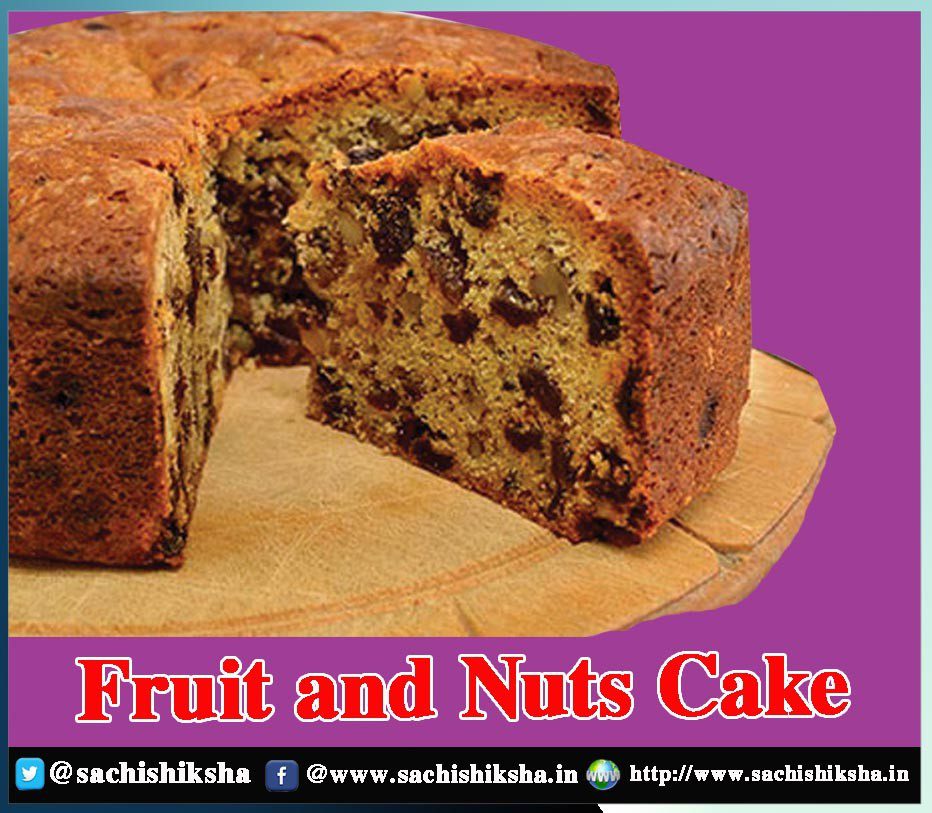 Fruit and Nuts Cake Ingredients
Maida – 1.5 cups, powder sugar-3/4 cups, Butter-3/4 cups, milk-3/4 cups, cashew-half cups, walnuts-half cups, raisins-half cups, almonds-half cups, baking soda- 1/2 teaspoon, baking powder -1 teaspoon, broken frutti-half cup, condensed milk-half cup.
Recipe
Cut the walnuts, almonds and cashews aside and break the raisins stalks and clean them with cloth. Mix the baking powder and baking soda in the flour, and clean it with flour sieve, so that they can mix well. Now melt the butter in a pan and heat it at normal temperature and add condensed milk and sugar to it and make it well.
Keep blinking until it blossoms. Now add half a milk in the mixture and mix it with the fries and half maida mix. Now add the remaining milk and flour and mix well. Add chopped dry fruits, raisins and broken frows into prepared mixture and mix it.
A mixture of cake is ready. Preheat the Oven to 180 degree. To make a cake in a vessel, smooth its edges with butter and cut the round butter paper equal to the bottom of the vessel and keep it smooth and put in the bottom. Keep the smooth part of the paper above. Put the mixture in a prepared vessel and make it equal. Now it is 180d. Cent But keep it in heat oven for 25 minutes.
Check the cake after a certain time.
If the cake is not brown, then bake it for 10 minutes, but if brown, then put a knife and check it. If the mixture is not sticking to the knife, the cake is ready, but if the mixture is sticking, then keep the cake for 10 minutes and bake. Similarly, bake the cake while checking.
Your cake will be ready in 40-50 minutes easily. After cooling the cake, knock around the knife and split the pot. Now, placing the plate on this vessel, reverse the cake and remove the cake. Cut the cake into pieces of your choice and close it in air-tight container and keep on eating for 1 month.
Follow us on Facebook, Twitter, LinkedIn and Instagram, YouTube to get more updates related to Sachi Shiksha – The Famous Spiritual Magazine in India.