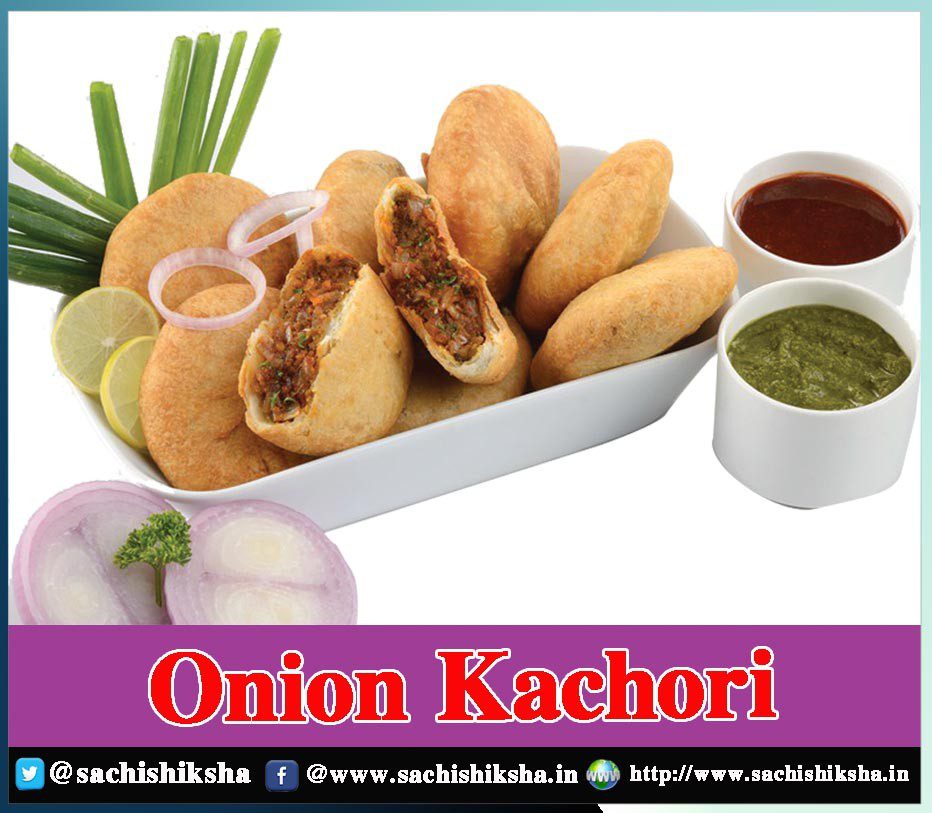 Onion Kachori Ingredients
2 cups of 'Maida'
Salt 1/2 tsp
Ghee For Filling
Finely chopped onions 2 cup
Gram flour 2 tablespoons
Coriander powder 2 tsp
Fennel 2 teaspoons
Bay leaves 2
Finely chopped coriander 3 tablespoons
Finely chopped green chillies 1/2 tsp
Red chilli powder 2 tablespoon
Garam masala 1 tsp
Oil 2 tablespoon
Salt as per flavor & refined oil (for frying)
Recipe
First, add salt and melted ghee in the maida and knead the soft dough.

Now divide the kneaded maida into 12 parts and make the balls and cover them with wet cloth.

Now to prepare the filler, heat a little oil in a pan and fry it with turmeric, fennel, green chili and onion until it becomes brown.

After frying, add gram flour, coriander powder, red chili, garam masala and salt and cook for 2-3 minutes.

Add finely chopped coriander in it. Remove the sharp leaves from this mixture and let the mixture cool down.

Now to make the cookie, take each ball of the flour in a 2-inch circle and fill the mixture in it and close it with the thumb. Keep in mind that the mixture does not come out from the kachori.

It is like preparing all the cakes. Put oil in a pan and heat well and fry the kachori on a low flame. These kachories take a lot of time to cook.

Now serve hot kachori with red and green chutney.
Follow us on Facebook, Twitter, LinkedIn and Instagram, YouTube to get more updates related to Sachi Shiksha – The Famous Spiritual Magazine in India.