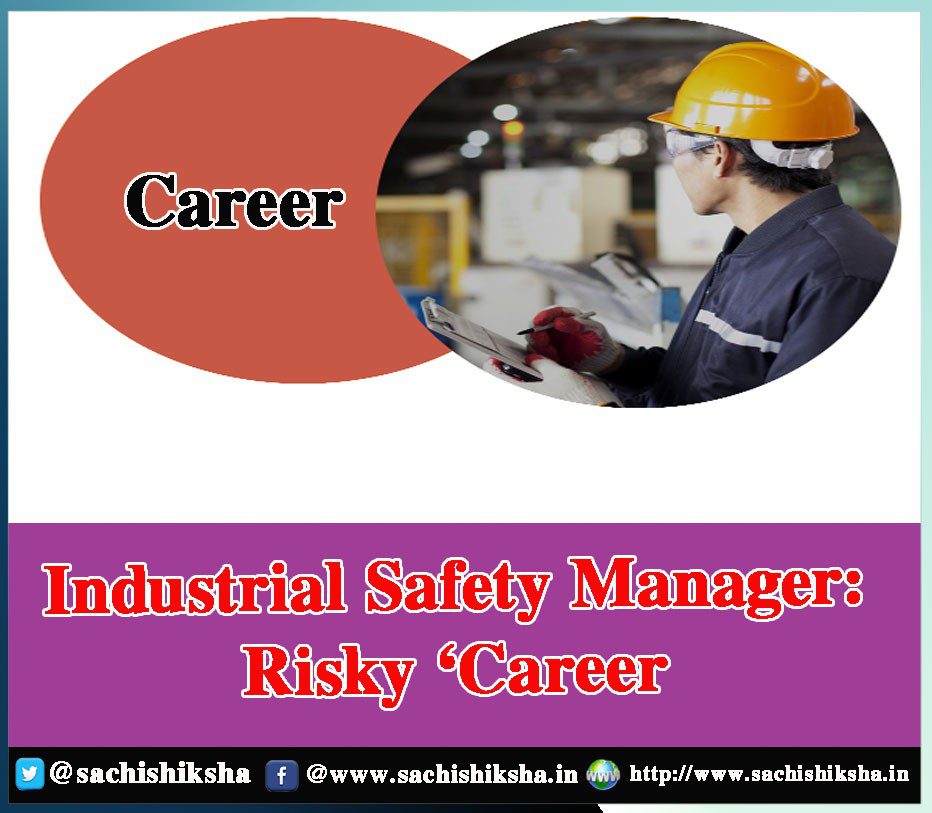 Industrial Safety Manager – A Risky Career? Nowadays, as the scope of the industry is increasing, the concerns are also increasing due to their safety and there by Industrial Safety Jobs. The laws have become stricter in today's industrial security, but there is also genuinely required safety. Is Industrial Safety Manager a Risky Career? Let us explore.
The purpose of industrial security management is to minimize the risks, accidents and injuries resulting from it, and for this, all the principles and techniques of security management have to be implemented. Industrial safety managers help in securing and protecting the safety and security of the employees.
Maintaining the distance between risk and property is not an easy task, but not too difficult as well. If the rules, principles and standards of industrial safety are followed properly, there is no reason why the accident will occur.
Today there is neither lack of industries nor of risks, therefore Industrial Safety Management has made space in the form of a compulsory mode.
Course
Courses are available in the Industrial Safety Management Certificate, Diploma, PG Diploma and Degree. However, engineering students get priority, but 12th passed students can also do courses like certificate and diploma in some institutes.
Following these courses, appointment may be made in terms of Fire Protection Engineer, System Safety Engineer, Construction Safety Engineer, Risk Management, Consultant, Transportation, Safety Supervisor, Industrial Hygiene Manager and Environment Safety Manager.
Opportunities in Industrial Safety
According to experts, there are more than 2 lac government employment opportunities in this field in the coming years. Today, the appointment of Industrial Safety Manager is mandatory in every government and non-government office.
Everywhere there is a special need of Architectural, Insurance Assessment, Project Management, Refinery, Gas Factory, Plastics and Chemical Plants, Multipurpose Buildings and Airport with Fire Department.
Essential Qualification
Keeping in mind the latest developments in the field of industrial security, the ability to make quick and correct decisions are required, the ability to detect and prevent the deficiencies in the security arrangements, as well as being mentally and physically fit and friendly with a sense of cooperation is also important.
Salary for Industrial Safety Manager
In what order are you in the hierarchy of Industrial Security Management, it is decided that what the pay scale will be. In this area, salary can be increased from 1 thousand rupees to 1 lakh rupees. As the term becomes longer, the salary of the employee continues to increase. After acquiring experience in this field, there are many opportunities to move forward. So get more experience.
How to Get Entry
Those who want to join Industrial Safety Management , they have to do a related course. The Industrial Security Management course has areas of study like control of emergency in sensitive areas. Some of them are like engineering control and application, nuclear power plant, petroleum industry, monitoring of industrial equipment, medical vigilance, prevention of injury and damage to deadly cases, list of poor equipment etc. Have to understand. To succeed in this area it is important that you have courage and patience also.
Institute
Indira Gandhi Open University, Maidan Garhi, New Delhi www.ignou.ac.in Delhi Institute of Fire Engineering, New Delhi www.dife.in Ganga Institute of Technology and Management, Jhajjar, Haryana www.gangainstitute.com International Institute of Security and Safety Management, Pune www.iism.com – Narendra Devangan
Follow us on Facebook, Twitter, LinkedIn and Instagram, YouTube to get more updates related to Sachi Shiksha – The Famous Spiritual Magazine in India.