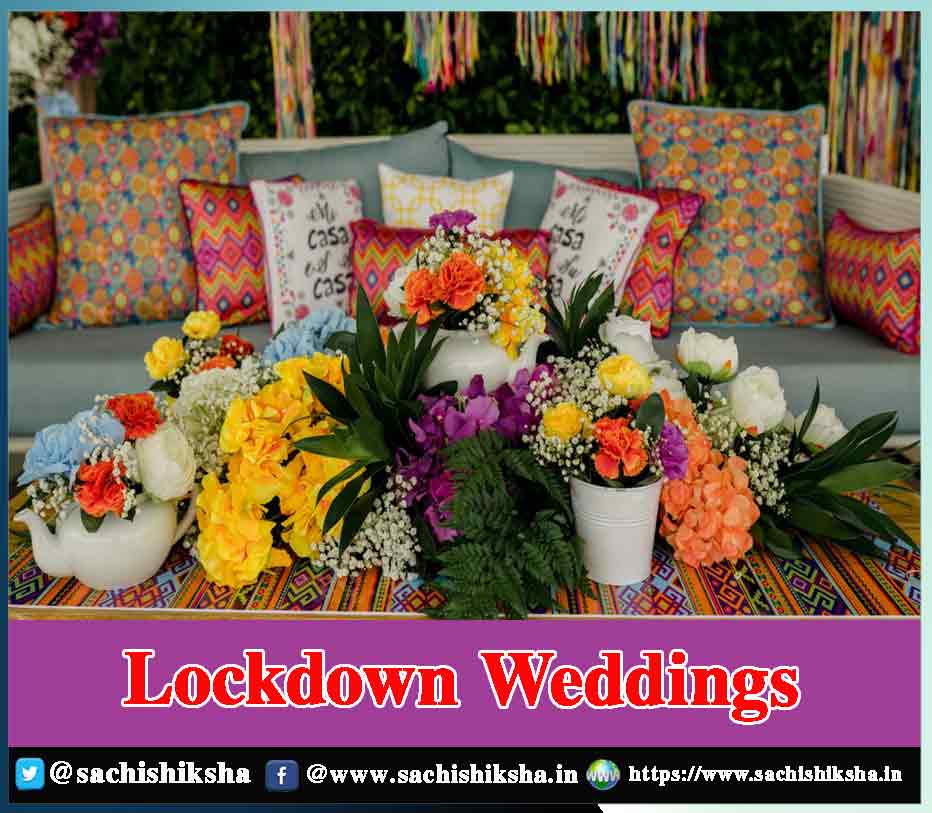 Lockdown Weddings Thousands of relatives and guests, late-night sangeet events, extravagant mehendi and haldi functions, cocktail parties,
cinematic and candid photoshoots, a never-ending list of mouth-watering delicacies, and other ceremonial rituals are no more a part of the weddings in India, courtesy-Covid-19 protocols.
'The much talked about 'Big fat Indian Weddings' have been forced to curtail down to mare a thin Indian wedding. With no band baja and baarat, the Indian weddings no longer look like the gala event every girl has dreamt of.
Related Article: Do's and Don'ts for Matrimonial Sites .
As the Covid-19 pandemic has affected everything across the world, it struck hard at the Indian wedding industry as well.
In the initial days of the pandemic, people were somehow trying to settle with the new normal-Work from home, however, desperate times call for desperate measures, and people adjusted to marriage from home as the newly arrived trend.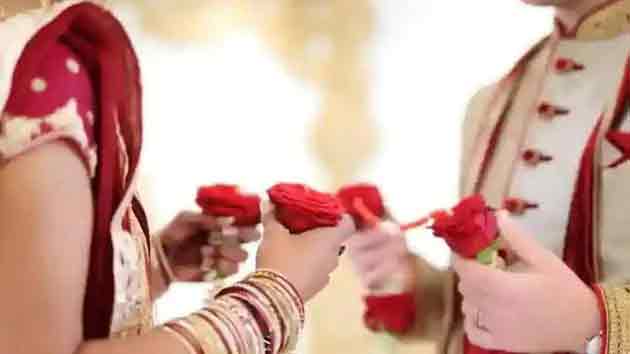 Marriages were being held on Zoom or Google Meet as people were bound to stay indoors owing to the lockdown. Numerous marriages that were scheduled in the first half of the year 2020 were postponed. Though later on when we all understood the uncertainty of the future, all the dreams of being showy in weddings took a backseat and the big fat Indian weddings turned minimalistic as never before. Many couples choose to tie the knot thinking of being together in these tough times.
As the phased unlock started in India on July 1, 2020, people awaited the instructions for weddings. Only a total of 50 persons were allowed in the weddings from both the bride and the groom's side. The lengthy guest lists had to be turned down to the dustbins as the guest list shrank to a handful of close family members only.
Not only was the guest list affected but even the lavish wedding venues had to be dumped and instead many weddings took place in the proximity of homes. Lockdown wedding started trending on social media platforms and to much surprise, it was the new in-thing to tie the knot during the lockdown.
As the virus scare slowed down towards the end of the year 2020, wedding venues were allowed to host weddings following the Covid protocols. Hotels, marriage gardens, halls, and all other event venues started offering low budget wedding packages starting from as low as 50k including catering, venue, music, decoration, rooms, Covid safety norms, and much more.
And as the shubh mahurat (auspicious moment) began for weddings in November and December, there were thousands of weddings held in India on a low-key note.
Wondering how you can plan a socially distanced wedding, here's how you can do that easily:
Say No to Invitation Cards:Sending out e-invites is the safest and easiest alternative available during the pandemic. Designing custom-made e-invites for weddings can add flavour to your lockdown wedding.
Inform about Covid Protocols: Though with more than a year in the pandemic, all are aware of the safety norms for Covid. But, it is a must to brief your guests to follow the precautions strictly. You can add a note in the e-invite to 'wear a mask' at the wedding venue. Keeping sanitizers and extra masks at the venue will be helpful.
Split up the Guest List: Even if the government has permitted more than 50 people in the weddings, it is better not to crowd the venue during an ongoing pandemic. Thus, splitting up the guest for different functions can be done. In this way, people will be able to attend at least one function.
Pandemic Inspired Wedding Attire: As India is not a mask-free country yet, so choosing a pandemic inspired attire for your wedding can be fun. A mask is mandatory even during the wedding thus a mask coordinated with your outfit can complete your look for a lockdown wedding. As stores were shut, many rehashed the wedding attires of their parents for lockdown weddings.
Keep it Simple: Instead of going for a huge wedding venue, you can utilize your space at home for organizing your wedding functions. You can create different zones to avoid crowding in one place. Adding light decorations with flowers and lights will do the trick for you.
However, we should be thankful to the pandemic that showed us that weddings are possible even at home instead of an exotic wedding destination, loud music, late-night parties, and the maximum number of guests, lavish entertainment, designer wedding outfits, and lots of show-off.
One needs to understand that even if it isn't a gala affair like you have always thought of, an intimate wedding with your dearest ones can be as exciting as you have thought of. The essence of marriage is in being together with your partner and close ones rather than inviting thousands of guests whom you might have never seen before.