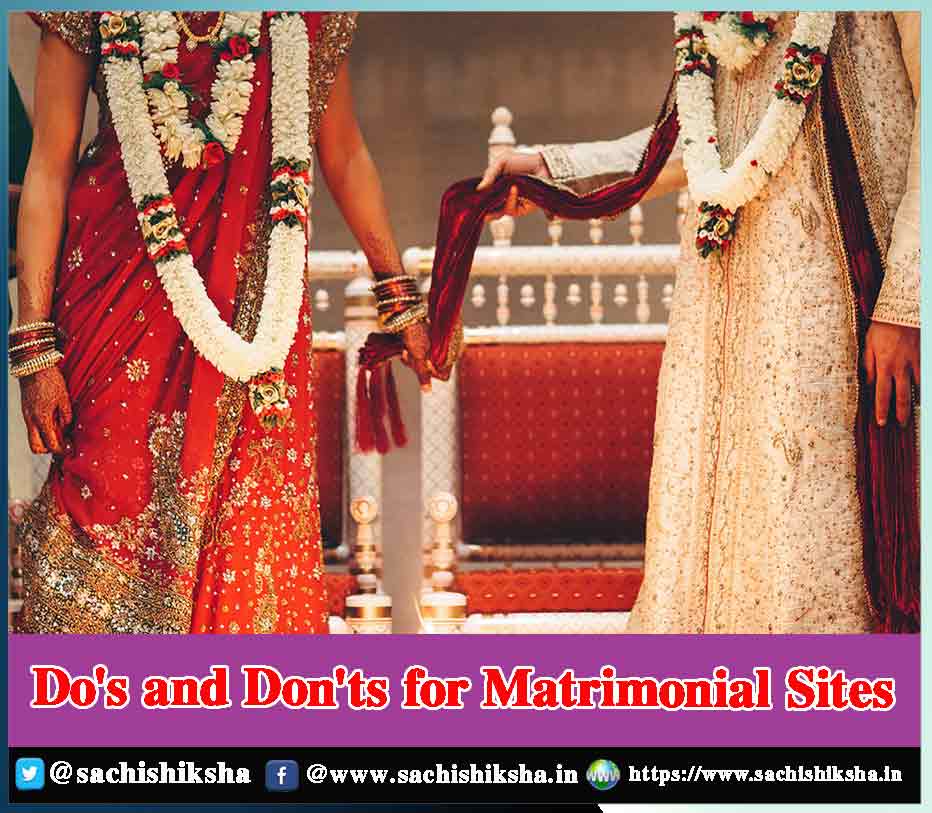 Do's and Don'ts for Matrimonial Sites
In Indian culture, the moment a girl turns 22 or a boy reaches the age of 25, close family friends and relatives usually ask the same question every time they meet, "When are you getting married?".
Following this immense pressure from near and dear ones, parents start searching for life partners for their children and aim to get a perfect match at the earliest.
In a country where marriages are celebrated like a festival and grand wedding is an ancient trend & finding an ideal match is very challenging. It may take years for many to find a suitable match.
From spreading the word amongst the relatives and giving kundalis to pundits for suggesting ideal matches, it is a tough rope-walk that one has to make.
Cashing on this challenge, a number of matrimonial websites started to offer a plethora of choices that aren't available around you. However, it is not a cakewalk to find a prospective match even online.
In fact, one has to be extra cautious when surfing the internet looking for a bride or groom. Many individuals have had terrible experiences while looking for partners on these matrimonial sites. An endless list of cases of fraudulent men/women duping people on these sites has raised an alarm ever since these web portals entered the holy sacramental sphere of our lives.
Hence, knowing your do's and don't while looking for your better half on matrimonial websites is mandatory.
Here are a few for your kind consideration:
Do's 
Double-check Details: You might end up liking a fancy profile specifying a good salary package, attractive display picture, and other decent qualities on a matrimonial website. But cross-checking the details mentioned on the profile and verifying it thoroughly is a must.
Social Networking: Social networking profiles can reflect an individual's personality. Thus peeping into social media handles of the prospective match can help you know some hidden facts or interests about him/her that you must be aware of before marriage. If there is no record of his/her social existence, it's an alarming
Be Bold to Make the First Move: If you are fully convinced with the genuineness of the profile you liked, you can initiate the first move and send a connection request showing your intent. After this, you can wait and check about the former's response and know the person further.
Talk Wisely: Talking to the prospective partner met through a website can be tricky. You have to talk sensibly without giving out details about your family's wealth or other details that shouldn't be revealed to a stranger. Speak to the person over a phone call instead of chatting and trying to fix a meeting for maybe a coffee. This step will let you know if the person you see in the display picture looks the same or not. Filters and other editing apps can trick you.
Take Your Time: Whether your parents forced you to create a profile online or you created your profile as per your wish, you need to go slow when it comes to choosing a partner online. Six months is believed to be enough to get to know the basic behavioural traits of an individual.
Don'ts
Do not Get too Personal: It is important that you do not get too close to the person and share personal details about yourself. Do not exchange any intimate photographs or chats as it can get you in a big trouble. Talking too much can also portray you as nagging.
Never Give Away Money: In any case, do not lend money to the person you have met online through any of the matrimonial portals. Several cases have been reported wherein women and men have been duped of lacs of rupees on the pretext of marriage.
Don't Meet at an Isolated Place: Meeting at a public place is always better and safe rather than choosing an isolated place. You never know what is in store for you. Keeping your family and friends informed about the meeting and the place is also a must.
Do not Log in to Untrustworthy Websites: Always register with a trusted service provider. Do not click on unsafe links that can pose threat to your security. Keep changing your passwords regularly to be safe online.
Do not Share Phone Numbers too Early: Once you have liked a profile do not jump on to sharing your contact details to initiate chats. Instead, you can create an email id separately for this purpose. You can talk via email for the initial conversation.