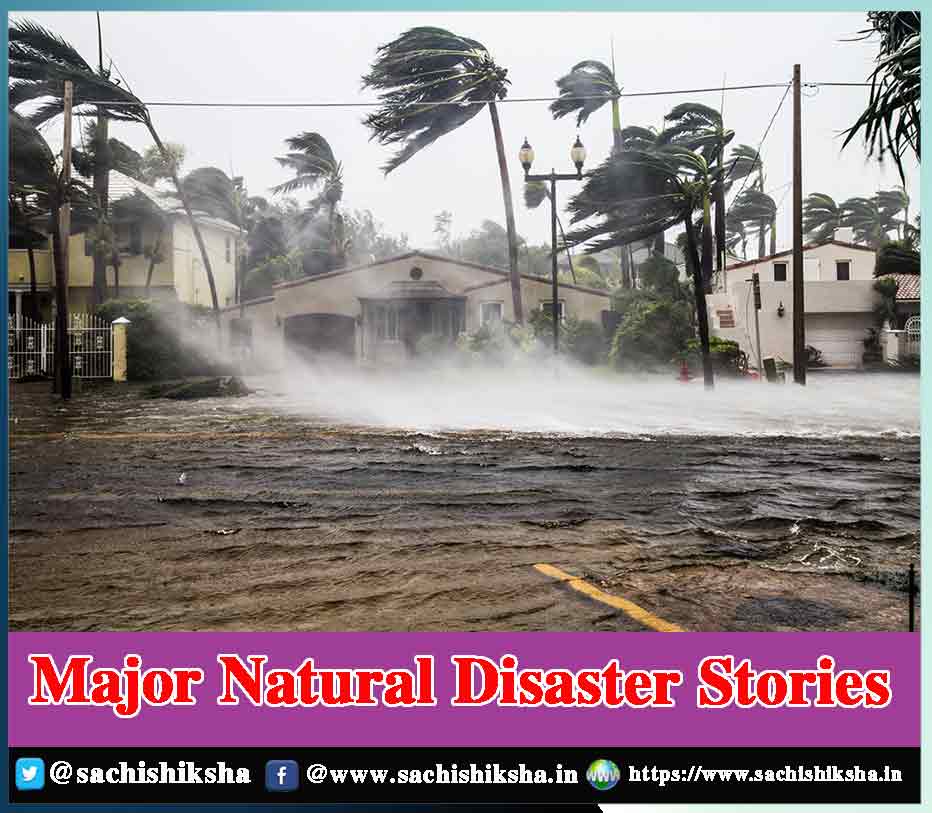 Major Natural Disaster Stories
The geophysical and hydro-meteorological phenomena are the forces that cannot be controlled & cause natural hazards having a great influence on our environment.
Droughts and floods affect the life forms while volcanic eruptions, earthquakes and tsunamis have the capability to change the structures on the earth's surface.
Most of the time these hazards alter into disasters causing loss of lives and economy and it is a fact that the extent of these losses is continuously increasing.
Moreover the human intervention like landuse practices aggravate the impacts of these disasters. There are persuasive revelation that some sorts of natural phenomena have increased in frequency and intensity due to various fundamental alterations in climatic conditions. The major natural disasters that result into large scale loss are floods, earthquakes and tropical storms.
Floods occur when a dry land is submerged under the overflowing water. The main causes for floods include extreme rainfall resulting in flash floods, melting of snow leading to rise in water level result in river floods, storm due to tropical cyclone or a tsunami in coastal areas and create a large destruction of life, property as well as public health.
The Uttarakhand flood of 2013 was a flash flood caused by heavy rainfall since 16th June 2013. The benchmark was approximately 375% more than the usual monsoon which resulted due to the Chorabari Glacier (3800m) melting and Mandakini River eruption. This steered heavy floods affecting 12 districts out of 13 districts of Uttarakhand, Gobindghat, Kedarnath Dome, Rudraprayag, Uttarkashi, Chamoli and Pithoragarh districts, Himachal Pradesh and western Nepal.
The landslides mutilated a significant number of houses and buildings and the people trapped inside were killed. GauriKundthe entire village and settlements as well as Rambada were completely damaged. More than seventy thousand people were jammed at different pilgrim centers of the Chardham namely Gangotri, Yamunotri, Kedarnath and Badrinath due to blocked or damaged roads.
As per Government of Uttarakhand on 16th July 2013 the death toll was expected to be more than 5700 including around 930 local residents. About three lac tourists and pilgrims trapped in the valleys because of the damage to bridges and roads. Around 110 thousand people from the flood affected areas were evacuated by the Indian Army, the Indian Air-force and the paramilitary troops.
Since the commencement of the twenty first century about 40 hazardous earthquakes had occurred with deaths totaling up to as many as 1.7 million which contributes half of the victims of all natural disasters. About 80% of the major earthquakes have their origin in the subduction zones and of higher magnitudes capable of causing Tsunamis.
The earthquakes that occur on continental floors have their occurrence around the plate boundaries and are less frequent.The Tohoku earthquake ofMarch 2011 hada magnitude of 9 to 9.1Mw that originated under the ocean off the Pacific coast of Japan was the 4th powerful in the world since 1900 and the most disastrous earthquake recorded in Japan.
A powerful tsunami was triggered by the earthquake that reached as high as 133 feet (40.5m) in Miyako, Tohoku with a speed of 700Km per hour and reached around 10 km on the lands. The residents got only 8-10 minutes warning.
More than 10,000 people were swept away by tsunami and got killed not only by drowning but also because of trauma. Approximately 15,900 deaths were confirmed while around 2,530 were missing and 6160 got injured.
Till 2015 it was reported that as many as 228,863 people were living in either temporary houses or relocated themselves permanently away from their homes. Severe and extensive damage to structures happened in north-eastern Japan that include the roads, railways and a collapsing of a dam along with fire in many regions because of which about 1.5 million households were not having water and 4.4 million were without electricity.
Nuclear accidents were also caused by the tsunami,basically level 7 meltdowns at three reactors in Fukushima Daiichi Nuclear Power Plant complex and hence hundreds of thousands of residents were evacuated.
The Haiti earthquake of January 2010 had a magnitude of 7.0 Mw occurred on 12th of January and till 24th of January there were about 52 aftershocks of intensity 4.5 and more. Approximately 250 thousand residences and 30 thousand commercial structures collapsed and around 200 thousand deaths were recorded by the Haitian Government.
The noteworthy buildings that were damaged significantly include the Presidential Palace, the National Assembly, the main jail and the Port-au-Prince Cathedral.The capital of the country, Port-au-Prince saw severe destruction, along with Jacmel and some other parts of the country.
Another one of the major earthquakes is the Indian Ocean Earthquake & Tsunami of December 2004 and also known as Sumatra-Andaman Earthquake.  This earthquake was of magnitude 9.1 – 9.3 Mw which was caused by a rupture in the fault zone between the Indian and the Burma Plate.
As a consequence of the under ocean offshore seismic activity a series of tsunami massive waves raised up as high as 100 feet (30m) while heading towards the land area. It was the third most destructive natural disaster.It was estimated that approximately 228,000 people were killed in fourteen countries because of the tsunami.
Its epicenter was between Sumatra & Simeulue. It made the earth vibrate 10 mm and it triggered earthquakes in the faraway location of Alaska.
The impact and severity of a natural disaster on human beings is mostly calculated through the mortality rates whereas the trauma, homelessness, injuries, and relocation create a higher degree of influence on the society and populations.
Follow us on Facebook, Twitter, LinkedIn Instagram, and YouTube to get more updates related to Sachi Shiksha – The Famous Spiritual Magazine in India. Also Read Our Hindi and Punjabi Editions.