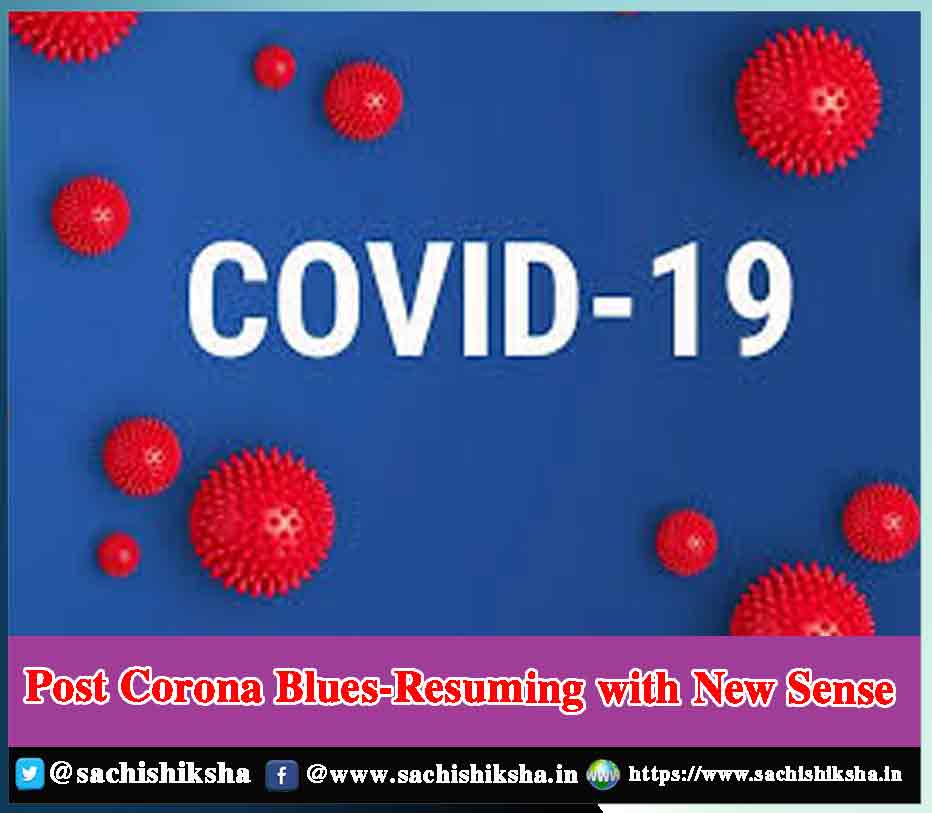 About all the continents have been impacted by the corona virus leaving thousands of people to be severely ill or dead. The routine life is disrupted everywhere.
The schools, offices, industries, restaurants, malls all have been shut down for an unknown time span. With the number of patients raising daily hospitals are struggling for beds, equipments and PPE kits. A lot of people are losing their mode of income and employment. There is a state of confusion all over the world. The sudden lockdown following the outbreak of COVID-19 pandemic was a shock for everyone.
This nationwide lockdown of more than two months that pacified a feeling of safety and security for the populations was to put a halt to fast spreading of the corona virus. But with this lockdown the economy of the country suffered a big setback, so the lockdown was lifted partially and many offices and business places resumed their work under restricted conditions. Going back to work, commuting in public transport brought about series of apprehensions and anxiety.
The main concerns after the government reopened the lockdown amidst the rise in the number of patients of Covid-19 infections are that whether it is safe to go out in public places, what should be done for self protection and for the protection of family as well, what if anyone gets infected by the virus and pass it on to the members of the family…..and so on. It will take much more time to recover completely form the present situation.
Initially when the lockdown was announced everyone was in the state of denial, with passing time and increasing cases of infected patients all over the world and especially in their city or periphery it got altered into fear. Then as some more time passed people began to accept it with an understanding and some were enraged.
And lastly after the announcement for ending up of the lockdown they were confused as to whether they should be worried about their health or the financial crisis that they are facing because of the lockdown. Psychologically for any individual or an employee to step out of the house after the lockdown of more than 2 months this has become a world that is strange and filled with anxiety.
Not only the members of the family that are stepping out of the home, but also the members that remain inside, are under a great stress regarding their concern for those that are stepping out.
Human beings are social animal and they like to socialize; may it be meeting with friends, attending a function or community gatherings but now they should restrict themselves from leaving the house if it is not compulsory. The biggest challenge before everyone is being by himself and being locked inside the house.
While leaving the house the most primary change that one has to bring in lifestyle is the wearing of mask, and carrying a hand sanitizer. The mask is mandatory not only for our safety but also for the consideration towards the safety of our fellow citizens.
A good quality mask for better protection and adequate protocols for wearing and removing of mask and also the disposal or reusing of the mask should be followed. Like when a disposable mask is used it should be disposed off after every single use and in no case should be reused. The mask should cover nose and mouth properly and should be of minimum three layers of thickness.
When in a public place one must maintain a sufficient distance, to be precise, one meter distance must be followed from others. We all are very much habitual of shaking hands while greeting someone or patting the back of friends or putting hands on their shoulders etc but these habits should be set aside if we want to be safe.
As everybody is aware that the Corona Virus can exist on any non-porous surface made of steel and plastic for 72 hours and on surfaces like cardboard it lives up to 24 hours. So along with maintaining the distance from other human beings one should not touch these surfaces. The examples of such surfaces are the buttons and the walls in a lift, the railings of stairs, handles of the doors etc. and after any physical handling of money too one must wash the hands properly. The relieving part is that effect of this virus can be destroyed by use of any soap or sanitizer.
One must apply a sanitizer after touching any surface or thing of doubt, or if possible must frequently wash hands thoroughly.
One other habit that we all have in common is that we touch our face, eyes and nose every now and then but this should be restricted now. One must avoid touching nose, eyes and oral areas mainly in the public places. After returning home from an office, bank or a shop all the clothes that were worn should be washed thoroughly in warm water and the person should bath in hot water.
All other articles that the person carries like a vehicle key, mobile, specs, goggles, wallet and purse etc must be sanitized before taking them inside the home. Before performing these measures, one must not interact with other members present at home.
On the organizational level, all the offices and industries where the workers have to be present for proper working it is mandatory to have the work place sanitized properly along with the allocation of work in a manner that everyone maintains the norms of physical distancing and a healthy work environment. The morale of the employees should be maintained by verbal communication and discussions.
Emotionally speaking Indians are more strong and flexible and hence are prepared for the worst. While returning back to work during the current phase of economic crisis people are obligated by the fact that they still retained their jobs and this makes them keep going.
Following the changes as per scenario, people are adapting themselves to the situation; wearing a stylish mask matching to dress and designer head caps. People have become more health conscious; what to eat, what to avoid, including healthy food and supplements in the diet that build up a stronger immunity and regular exercise to maintain fitness.
Developing hobbies and staying more with family members have boosted their confidence and developed more intimacy in the relations. Although the overall setting after the lockdown seems a bit strange but with some precautions and a change in the lifestyle everyone can get through these tough times.
Ashwini
Follow us on Facebook, Twitter, LinkedIn Instagram, and YouTube to get more updates related to Sachi Shiksha – The Famous Spiritual Magazine in India. Also Read Our Hindi and Punjabi Editions.