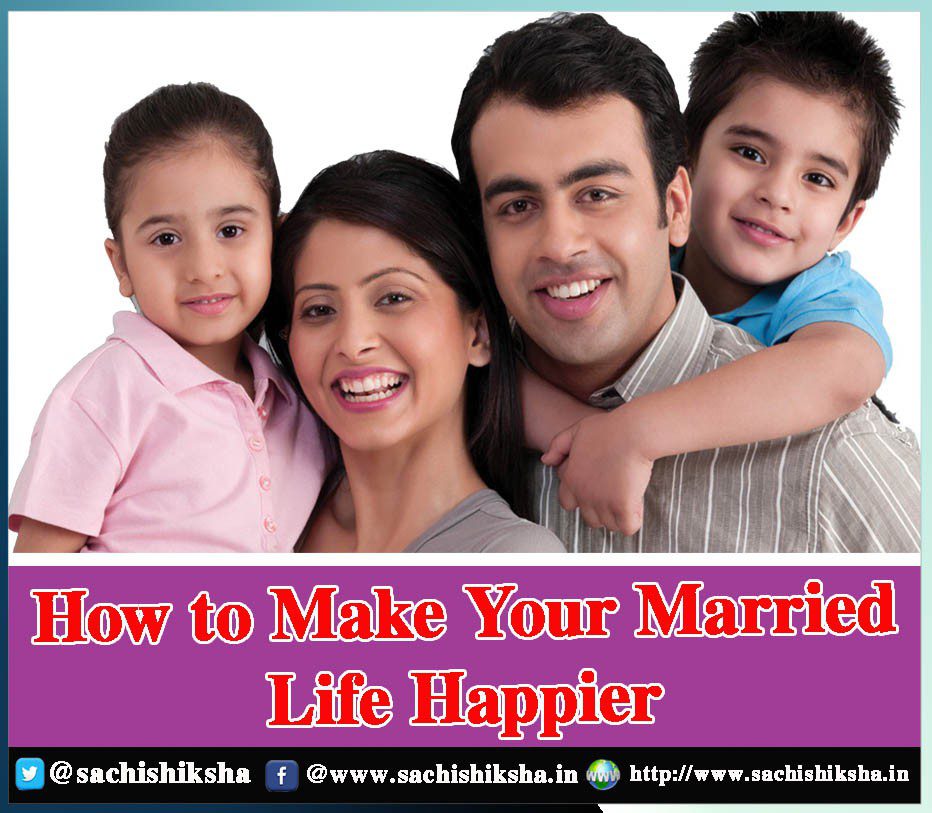 How to Make Your Married Life Happier It is commonly seen that husband is cautious in paying attention to his wife's activities, interests and hobbies. The wife also has the determination to do something, but she is not able to succeed in this work due to her husband's stupid behavior. How to Make Your Married Life Happier
In her heart, this fear always persists whether she does not know when her husband should hang up in the middle or scold her with his harsh attitude. In the absence of her husband's appreciation, sympathy and encouragement, her hobbies seem to be lifeless and absurd. In such a situation, even if a wife wishes to concentrate on these tasks, she does not get success. In such extreme circumstances, every wife hesitates to share anything with her husband. Then it is natural to have an influence in their married life.
What will you feel at that time?
Have you ever thought about your role in establishing this kind of stressful environment? In such a way, can you expect a loving love from your wife? What does your wife expect from you? Just a little love, encouragement, two sweet words of praise and the amount of money to be spent on her hobbies and interests, and the result will be positive and your married life will also be happy.
If you care about your spouse and want to have a healthy and productive relationship, you should avoid getting hung up on past mistakes you both made or keep reminding your spouse of his/her failures; instead, work on reinforcing positive behavior, enjoying your present time together, and thinking of all you have to look forward to.
If you really care about your spouse, you will be considerate of his/her feelings and won't call the past just to spoil your both your present & future. My neighborhood, Mrs. Leena has an interest in creating an artistic picture. She does this work with genuine passion and diligence. Her husband is a cashier in the bank.
There are only two members in her family, means to say the family is very happy and prosperous. Leena keeps a few details of colors and brushes in front of her husband. On this, her husband says, why are you spending a lot of money on the sacking of your hobbies and interests, and why she spends her time in this unprofessional task.I am not going to spend money on such things.
If there is a desire to eat something then say. Leena's mind is filled with sadness due to the harsh behavior of her husband. She says, every person eats and drinks. Apart from this, even some of her hobbies are there which she wants to fulfill. There are other couples who always take care of each other.
By giving admiration and encouragement, each other's pride continues to grow. Both have their own interests and hobbies. Nobody grips with anyone. And, thus , their life is passing happily & peacefully.
There is no place for tension & bitterness, and no such thing will ever come. How will there be a ripple in the married life? Now think about Leena. Always gloomy and her eyebrows towards her husband.
Now, Leena is skeptical in her talking of her husband. Sometimes she gets annoyed and says, 'Life became hell, having a husband.' If you are a victim of this, change your behavior as soon as possible.
Suppose, you do not have special interest in more than the daily work but don`t expect it from your wife too. May be she has some hobbies and you are a tough opponent. Extend your humble and acclaimed accent, which your wife is interested in.
Spend money as per your savings & earnings on your spouse`s hobbies & interests. Never hesitate in this regard. Always try hard to deal with the problem quickly. Show interest in your wife's work to increase the morale of your wife.
If you look at her actions negligently, she will too frown at you with frustration & turmoil. In such a situation, can you expect a lot of love and affection? Probably,not. In the absence of love, your life can become hell.
If you want to change this hell into heaven, you just need to apply your wisdom and understanding.
– Rajender Kumar Singh
Follow us on Facebook, Twitter, LinkedIn and Instagram, YouTube to get more updates related to Sachi Shiksha – The Famous Spiritual Magazine in India.