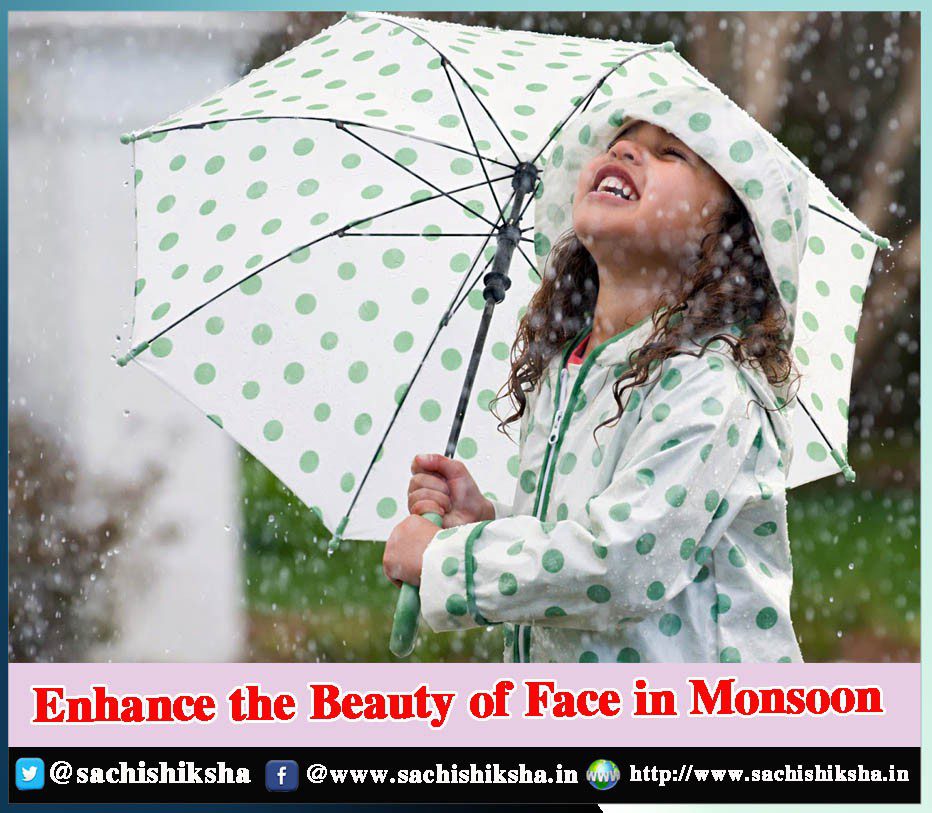 There is always a craze for beauty in women. Therefore, women from time to time use different types of beauty care for their face and skin.
In the rainy season, there is always a need to take special care of the face. In monsoon, sweat, moisture, dirt & dust prevail in the environment. Therefore, to avoid this problem, some good Indian masks/face packs are required.Enhance the Beauty of Face in Monsoon
Multani Mitti Face Pack
With the use of multani mitti, dust and dirt can be cleansed from the skin and moisture in the skin is also maintained. Take 5-6 spoons of multani 'mitti' and add rose water to it. Put this mask on face and neck and let it dry for some time. People whose skin is dry should not use this pack.
Fruit Face Mask
Mix 1-2 pieces of banana, 1-2 pieces of watermelon, 1-2 pieces of apple and one strawberry in one bowl. Now grind them together and make a thick paste. Add two spoon gram flour and one spoon of curd. Mix all the things well and apply it on the face nicely. Massage for a while and wait till it dries. This face pack is useful for people with all types of skin.
Banana Mask
Banana mask keeps the moisture in the skin and makes your skin shine. Take a half banana and mix a little honey and lemon in it. Mix them together and apply this mask on the face. Massage for some time and then wash with lukewarm water after fifteen minutes. This homemade mask is useful for all types of skin.
Almond foam mask
The face mask of almonds is especially beneficial for normal, aromatic and rustic skin in rainy days. It also removes the symptoms of ageing skin. Take some almond and soak them in milk. Grind these almonds and make a paste. Mix honey in it and apply it on the face. Allow it to last for about twenty minutes. Then wash it with cold water and feel the effect of this mask.
Oatmeal face pack
To the three tablespoons of oatmeal, add one tablespoon of honey and two table spoons of fresh curd. Mix all the above ingredients together and keep it in the refrigerator to make it chill. Give a wash to your face and apply the pack over the face. Leave it for 10 to 15 minutes and rinse off with clean water.
Cucumber facial pack
Cucumber has great benefits for skin as it revitalizes and tightens the skin. There is a mild bleaching property in it that reverses skin tanning, and helps to soothe sun burn and hydrates the skin as it contain 95% water. Mix cucumber juice with rose water and refrigerate it to make a natural toner.
Wipe it on your skin with cotton pad to get refreshed. Its regular use improves the complexion and reduces the wrinkles, blemishes and other signs of ageing as it contains vitamin E and potassium.
Vitamin E will also add softness and nutrition to your skin. The cucumber helps in keeping your skin moisturized in the monsoon and bleaching of the skin will add extra glow to your facial skin.
– Anjali Verma.
Follow us on Facebook, Twitter, LinkedIn and Instagram, YouTube to get more updates related to Sachi Shiksha – The Famous Spiritual Magazine in India.