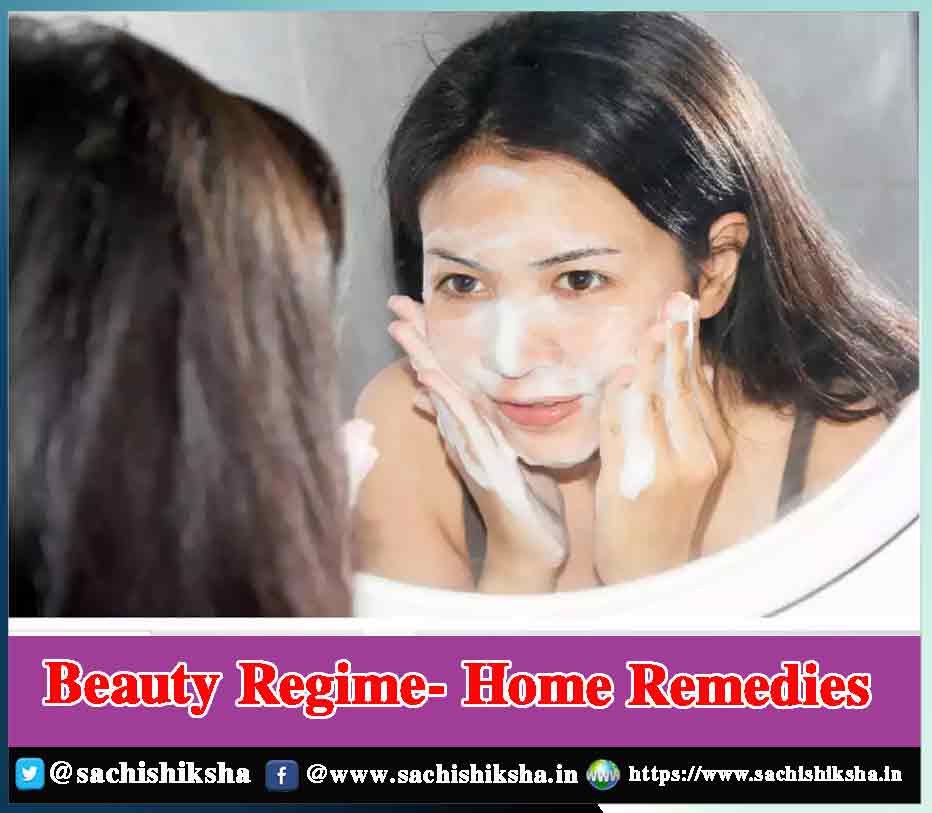 Human body is the aspect that is visible and those around us are able to distinguish your identity and personality clearly. So either the other person intends to or not he can see the outer appearance. People are now preferring natural home remedies than using artificial cosmetics. So, here is the DIY Daily Skin Care Routine Home Remedies.
Glowing Skin
It is impossible that all the human beings that exist are beautiful as far as the appearance is concerned. Someone is fair the other is dark, someone has beautiful big eyes the other has small eyes, someone is tall while the other person is short and so on. No one has the actual capability to alter the specifications he is born with but the fact that remains is that everyone has the wish to look attractive and beautiful especially when it comes to girls and women. Being beautiful and attractive makes one confident and positive.
The use of chemical cosmetics to look beautiful is the worst that can happen to a person if the products use poor quality ingredients and may lead to various side effects like skin discoloration, acne, premature aging, allergies and many more. Numerous beauty and makeup products are available in market and so are the ever rising number of beauty parlours. Nowadays especially after the pandemic of COVID-19, the females prefer the natural home remedies. Beauty does not only imply the color and texture of the face rather the skin should be healthy and clean.
Daily Skin Care Routine: Step By Step Guide
Cleansing
The first step towards a daily beauty regime (Daily Skin Care Routine Home Remedies) is the cleansing which is the most important step as during this step the makeup, dirt and dust particles are removed thoroughly. To prepare a cleanser at home just two ingredients are required that are rice floor and curd. Just make a paste mixing these two and rub it on face and neck in outward circular motion for about five minutes an then wash the face.
Scrubbing
The second step to be done on cleansed face is scrubbing which helps the pores of the skin to open and aids in removal of dead skin cells. The most effective way to scrub at home is to massage the face lightly with a piece of tomato. It helps to wipe out the remaining impurities from the skin and helps in getting rid of blackheads. Tomato juice can also be mixed with some drops of lemon juice and applied on the face. Let it dry and then wash with lukewarm water.
Applying A Mask
Next step to be followed is applying a mask. The three basic ingredients present in any Indian kitchen are turmeric, honey and yogurt which can be used to make an instant face mask for the skin to look fresh, healthy and glowing. Turmeric is known for its antioxidant and antibiotic nature that can aid in treating scars and pimples, boost the texture of skin and in minimizing irritation.
Make the texture of the skin smooth
Curd is a rich source of lactic acid that can aid in scrubbing out the dead skin cells thus making the texture of the skin smooth. The essential proteins, fats, vitamins and minerals nourish the skin making it look healthier. The fats present in curd moisturize the skin for longer duration through hydration. The mixture of curd and honey soothes the skin thus reliving pimples, inflammation and makes the skin healthier. This mask can be used for any skin type may it be oily, normal or dry skin. To make this mask take two tablespoons of curd, one tablespoon of honey and two pinches of turmeric. Mix them well and apply it on the face and neck for 15-20 minutes. Wash the face with normal water later.
For Soft, Bright & Glowing Skin
For a glowing, soft and bright skin the mixture of one teaspoon each of milk and rose water with 3 to 4 drops of lemon juice can be applied twice a week. Let it dry and wash the face with water.
Get Rid of Oily Skin
For getting rid of oily skin make powder of peppermint and add one teaspoon rose water and one table spoon lemon juice to it and let it rest for one hour. After that apply it and let it dry for approximately 15 minutes and wash it. It helps to remove the excess oil from the face. With this type of skin staying outside in the sun for long time during the day leads to tanning. To help recover from tanning a paste of sugar with one teaspoon of coffee and coconut oil is very helpful. By applying this paste daily to the tanned area and massaging it gently and washing it with water can make the tanning disappear.
Remedy for Dry Skin
For dry skin it is very important to retain the moisture of the skin as the skin becomes chapped due to lack of moisturizer. To heal it a thick paste of coconut oil, orange juice and honey is very effective. Apply it on the damaged skin and wash it with lukewarm water after it dries. Later after wiping the face apply some coconut oil or some moisturizer.
Get Rid of Wrinkles
The ageing of skin is through the wrinkles, so in order to get rid of wrinkles one teaspoon of honey added with some lemon juice drops is a very effective remedy. Instead of lemon juice the best quality Vitamin C serum with hyaluronic acid can be used if available. Lemon juice improves the collagen production in skin and aids in removing wrinkles from face thus moisturizing it. If almond oil is mixed with honey and applied by rubbing gently it helps to get rid of dark circles under the eyes as well as the wrinkles.
Improve the Skin Tightening
Applying only honey to face and neck, massaging it gently, letting it dry and washing with lukewarm water can improve the skin tightening. While applying tomato juice with cotton on the stains removes blemishes, rubbing the peel of potato on face cures acne. A mask of the paste of honey with cinnamon aids in minimizing active acne. Aloe Vera pulp is the perfect moisturizer for dry skin with acne.
Toning
The last step in the daily beauty regime is the toning. For this purpose rose water or rose essential oil is most suited for any skin type. Spraying it on thoroughly cleansed face twice a day soothes, repairs elasticity and maintains pH level of the skin.
By implementing these simple Daily Skin Care Routine Home Remedies, the skin can be protected from getting lifeless and pale and be rejuvenated naturally without getting entangled with the harmful side effects of the beauty products with chemicals. However, beauty is much more than that can be seen, it is not only how is one`s outer appearance rather how is that person from inside. So be beautiful in every way.
"Your outer beauty captures the eyes but the inner beauty captures the heart" – Steven Aitchison.
– Ashwini Bhat
Follow us on Facebook, Twitter, Instagram, and YouTube to get more updates related to Sachi Shiksha – The Famous Spiritual Magazine in India. Also Read Our Hindi and Punjabi Editions.