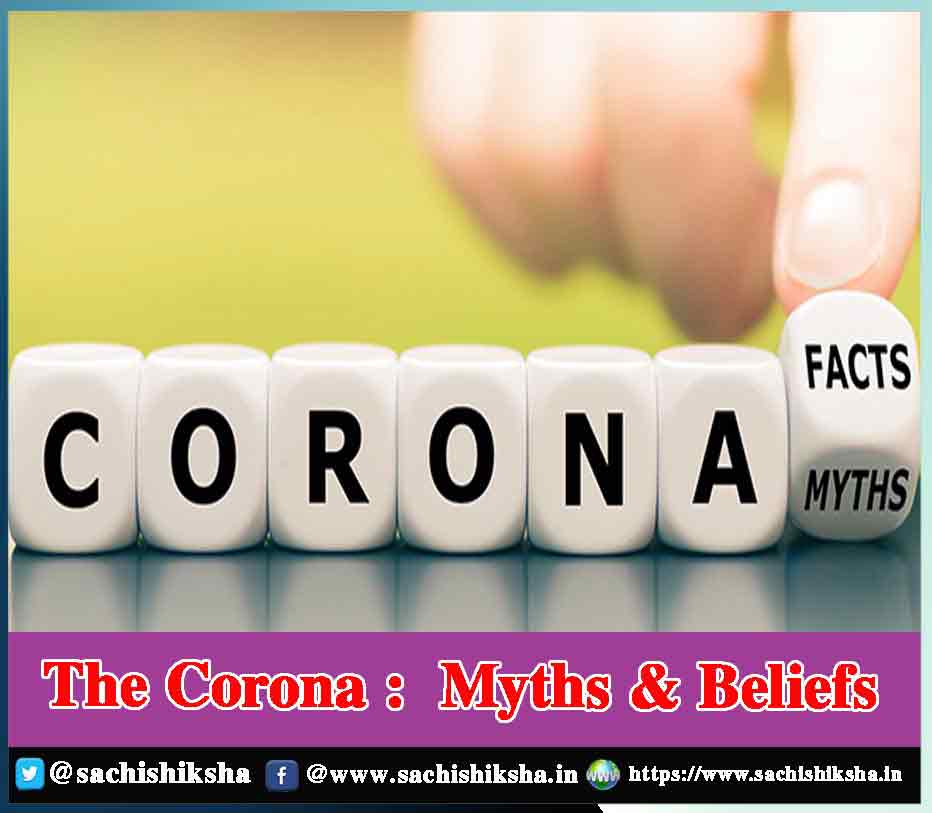 As Covid-19 continues to make news, some insane beliefs and myths have emerged and with each passing day these have become weirder. Amidst all the chaos, confusion and widespread fear, a type of panic has seeped in the society and the citizens have started relying on fake news being spread by social media accounts or news. So here we are taking a look at some of misconceptions that are getting circulated and it's time for them to get busted once and for all.
Covid-19 is caused by virus (SARS -Cov-2) and not bacteria and hence cannot be killed by antibiotics.
Only elderly people are more prone to Covid-19 is a baseless myth. Covid can infect people of any age including children and young adults. As there is a special power suit for young people through which the virus cannot penetrate. Though jokes apart older adults with pre-existing health complications such as diabetes, blood pressure or asthma, commonly referred to as comorbidities are likely to get severely ill.
Another scary myth of Covid-19 is that everyone infected with the virus dies. This statement is utterly untrue. This new virus is only fatal for a small fraction of people. In India the mortality rate is below 2 %. Though less mortality rate doesn't mean we can be lax in our precautions. We should be vigilant enough at all times.
One of the most humorous myths being circulated is that if you can hold your breath for ten seconds without discomfort then probably you don't have C I'm sure till now you would have even given it a try. More than a laugh it is nothing. It is quite absurd that one can go through the test about Corona by just holding their breaths. Young adults and athletes especially swimmers are trained to hold their breaths for more than ten seconds, while elderly even without the infection cannot hold their breaths for ten seconds.
Spraying Alcohol or consuming alcohol is likely to kill the virus is another one doing the rounds. Even using chlorine for your body is a baseless rumour. Moreover consuming alcohol will not destroy the virus and its consumption will increase the health risks if a person gets infected. Alcohol works good as a disinfectant on the skin but it does not have the same effect when ingested.
Don't we all get scared when something made in China gets delivered on our doorsteps. But we shouldn't be as according to the scientists the virus cannot survive on letters or packages for an extended period of time. Because of poor survivability of these corona viruses on surfaces there is very low risk of spread from products which are shipped over a period of days or weeks.
The onset of hot weather means a decline of the virus is also not true. Though previous viruses survived better in cold weather, there is no proven research that the same holds good for Covid-19. Research until now suggests that Covid-19 spreads in all areas including places with humid and hot weather.
No home remedies can cure Covid-19 including vitamin C, essential oils, garlic and even sipping water every 15 minutes. Now you would be rushing to your mother to make her read this line but mind you those 'kadas' which you drank stubbornly were to improve and boost your immunity, hence important.
One tech freak probably got carried away and hence this myth emerged of 5G helping the virus spread. A recent theory suggesting that 5G is responsible for the swift spread of the virus across the globe is being widely debated wherever this new technology sets afoot. Wuhan was the first city to trial 5G in China and hence the origin of this theory. However other Chinese cities rolled out 5G in similar time Covid-19 even significantly impacted countries where 5G is not available such as Iran. Even India is seeing a widespread transmission but 5G is not available here.
Unfortunately there is no drug currently licensed for the treatment or prevention of Covid-19. While several drug trials are ongoing there is no proof that any drug has been registered within India claiming to cure Coronavirus. The WHO is still in that process of coordinating efforts to develop and evaluate medicines to treat Covid-19. Please be extra cautious of fraudsters claiming to cure covid-19.
This was all about the myths or beliefs which you need to know.
It will help you stay clear of any misconceptions and even from spreading them any further.
Related Articles:
In the meantime simple measures are recommended to reduce the spread of Covid-19 are mentioned below.
Avoiding close contact with people who are sick.
Keeping indoors if sick.
Washing hands regularly with soap or using a hand rub or sanitizer.
Trying not to touch eye, mouth or nose.
Practicing social distancing.
Using standard disinfectants to disinfect frequently touched things and objects.
Wearing masks or covering face with a cloth when outside your home.
Do yoga & exercise regularly.
Do Meditation with Pranayam for at least 15 minutes in the morning & in the evening.
Also Read: Corona Startups – Innovative Ideas to Thrive.
Hoping this article finds you in the pink of health and you are safe in your homes. Take care!
Follow us on Facebook, Twitter, Instagram, and YouTube to get more updates related to Sachi Shiksha – The Famous Spiritual Magazine in India. Also Read Our Hindi and Punjabi Editions.