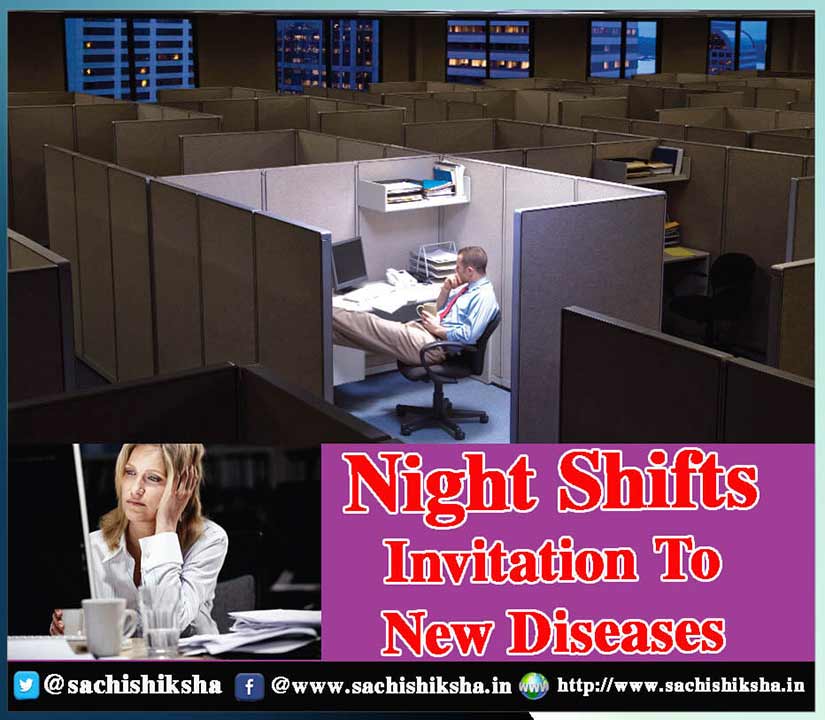 Night Shifts Invitation To New Diseases 24X7 work culture has fastly attracted the youngsters to the maximum to work in night shifts. More so, this new modern life style, late night sitting and late night sleep has become a fashion.
A research has revealed that only 27% of the people take sleep of 7 to 8 hours. The people having sleep of 6 to 7 hours is also 27%. Only 5% people sleep at 11.30 and 5% people sleep after 12.30. Kids and their parents playing late night on video chat and mobiles even sleep by the coming morning.
Sleeping facts
After getting disturbed in sleep, if the sleep does not come within 41 minutes, it is the early symptoms of the disease. After lying on the bed, you must get sleep within 30 minutes at the most. If tired or in stress, you get sleep after a long period.
Close connection with tension
Your mental status has close relation with tension. Due to fear, stress and worry, brain remains active and you do not get sleep.
14-17 Years of Age: The teenagers of this age should have sleep of 8 to 11 hours.
18-25 Years of age: For this age group youngsters, 7 to 10 hours sleep is enough
26-64: Minimum 6 hours and maximum 10 hours sleep.
Ladies are facing much problems
Continuously working in nightshifts or in shift duties is proving to be very harmful.
This can cause even lung cancer, which can be the cause for death. In a research it has come to light that working in night shifts and shift duties for more than five years have heart related problems and thus death ratio is increasing amongst these people
Deaths due to lung cancer have increased in these people
When the husband is away for night duty, wives have to shoulder the duties of the husband. Sometimes the wives become extra cautious about the safety and security of the kids and thus come under depression.
Due to these extra responsibilities, ladies do not take sound and proper sleep which affects them in many ways. The family atmosphere in the evening becomes isolated and no charm is there. A sense of detachment is developed in the family which is an alarming stage for the future.
Working for long and sleeping less can be harmful especially for heart. From the new researches, it has come under observation that Fire Brigade and Emergency Health Service and Resident Physicians and working under extreme stress are employed for 24 hours duty. Due to this they get very less time for sleep.
In Bonn University, Germany, they have clearly mentioned that for the first time they are mentioning that due to 24 hours shift duty, due to less sleep, there is irregular increase in Heart Beat, Blood Pressure and the natural process of shrinking of Heart. In each group there were 19 men and one woman.
The Cardio Vascular Magnetic Arizonans was got done of every candidate having less than 3 hours sleep. The blood pressure of the candidates taking less sleep was found to be high.
Social disorders
It is the natural process that day is meant for work and night for rest. When the cycle is reversed for a long period, it affects the health. More to that the whole schedule is disturbed. Father returning after 10 in the morning will not remain active and the whole day will be in sleepy eyes, with no interest in kids, house hold responsibilities and no participation in social gatherings thus cut from the kith and kin of the family.
When children go to school, father is sleeping and when they return, father is not there and thus there is no dialogue of the children with father. No outing, because when kids demand for outing in the evening, it is the time that father has to reach office for night duty. Wife and the children, sometime go in isolation.
The person himself start losing interest in the relations and come under depression. In some cases, it is also seen that in addition to night shift, the person is put on duty for Saturdays and Sundays, weekly holidays. So after sometime person start feeling lonely and cut and without social circle cannot share his views and problems.
This has very serious aftereffects. Heart Problem, stress, tendency to suicide are the complication which the shift duty or night duty people have to suffer.
Some guidelines should be set regarding night duty and shift duty
In Government Departments there is a practice that night duty is fixed for one month. Which starts one hour after closure of the office and ends one hour before the start of the office.
Night duty of a person can be only once a year at the most
For shift duty, certain measures have to be taken regarding sleeping arrangement in the office. These arrangements should be comfortable. Responsibility should be fixed for proper maintenance and food facilities etc. It is evident that hospitals and other Emergency Departments have to be run round the clock.
We cannot ignore it. But it is essential that proper care of the employees in the night shifts or shift duty employees should be ensured. Proper health checkups should be done of these employees. If something alarming is visible, other employees from the pool may be taken to compensate these employees.
Some important steps the employees should also take care of. Proper food, water intake in abundance should be there. Yes tea or coffee in the night should strictly be avoided. Some people have the habit of taking strong tea or coffee if they have to sit late night for any work.
This not only affects your health but also the sleeping circle get disturbed with serious complications in the later age. If we take all these measures and take care of them properly we can save ourselves from the coming problems. – Dr. Murgan
Follow us on Facebook, Twitter, LinkedIn and Instagram, YouTube to get more updates related to Sachi Shiksha – the Famous Spiritual Magazine in India.