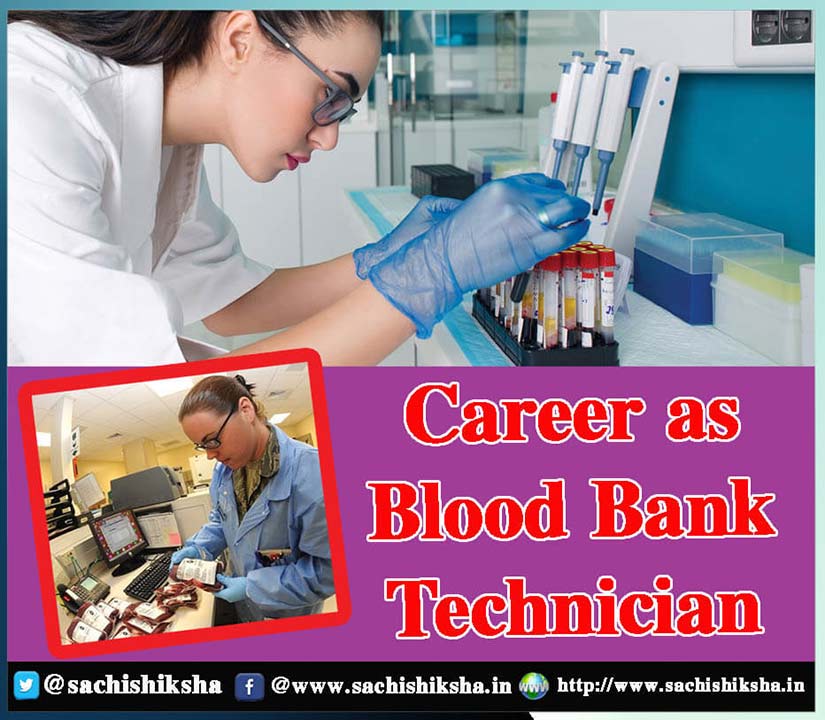 Career as Blood Bank Technician By becoming Blood Bank Technician, you can build a glorious career for yourself. The persons who want to make the career in this field have the capability to work independently. They should have the Review Skill also.
Let us know about this career.
Blood Bank Technology comes under Medical and Clinical Lab Technology in a broad way. Blood Bank Technicians are trained as Phlebotomist. They do many settings with the patients, collection of blood and their labeling. They work in Medical Laboratories and Blood Banks, where for storage they take the blood from the donor. They test the blood type, the blood collected is safe or not and testing of the healthy cells in the blood.
Nature of work
Most of duties and activities of Blood Bank Technicians are office based. They work only in blood banks and Laboratories. Taking the blood and testing it minutely, identify the blood group and especially the blood is safe or not is taken care of by him and storing the blood for the emergency is his prime duty.
In addition to this testing the blood of the patients in Hospital's Lab and collecting of related information is also the duty of the blood technician. In addition to all these duties, Blood Technician maintains records of the blood.
Opportunities
After doing the course and diploma, doors of opportunities in any Government and Non Governmental Organisations are opened. In addition to this a candidate can earn a handsome amount by working in Private Hospital or Private Labs. If we talk of present , medical labs are in abundance in the market and big companies are opening their Labs in almost every city, where Blood Bank Department is in huge demand. More to it a candidate can seek job in Government Hospitals and Blood Banks.
Salary
After doing diploma or Certificate in Blood Bank Technology, you can work as Technician in any Blood Bank. On the basis of the experience and doing research you can become Blood Bank Specialist. In the beginning one can get from 10,000 to 15,000. The salary is increased on the basis of the experience. In addition to this you can open your own Lab and also work in a private Lab on a satisfactory salary and can polish your career.
Course and qualification
For Diploma or Certificate Course in Blood Bank Technology one must have cleared Sr. Secondary Examination from any stream. During the course, much emphasis is given on training where they are trained to test blood samples and in addition knowledge is given with every aspect and element of the blood. How to tackle the emergency situation is also taught.
Main Institutions
1. Maharishi Markendey University, Ambala , Haryna
2. Shivalik Institute of Paramedical Technology, Chandigarh
3. Indian Medical Institute of Nursing, Jullandhar Punjab.
4. Delhi Paramedical & Management Institute, New Delhi – Narender Devangan
Follow us on Facebook, Twitter, LinkedIn and Instagram, YouTube to get more updates related to Sachi Shiksha – the Famous Spiritual Magazine in India.