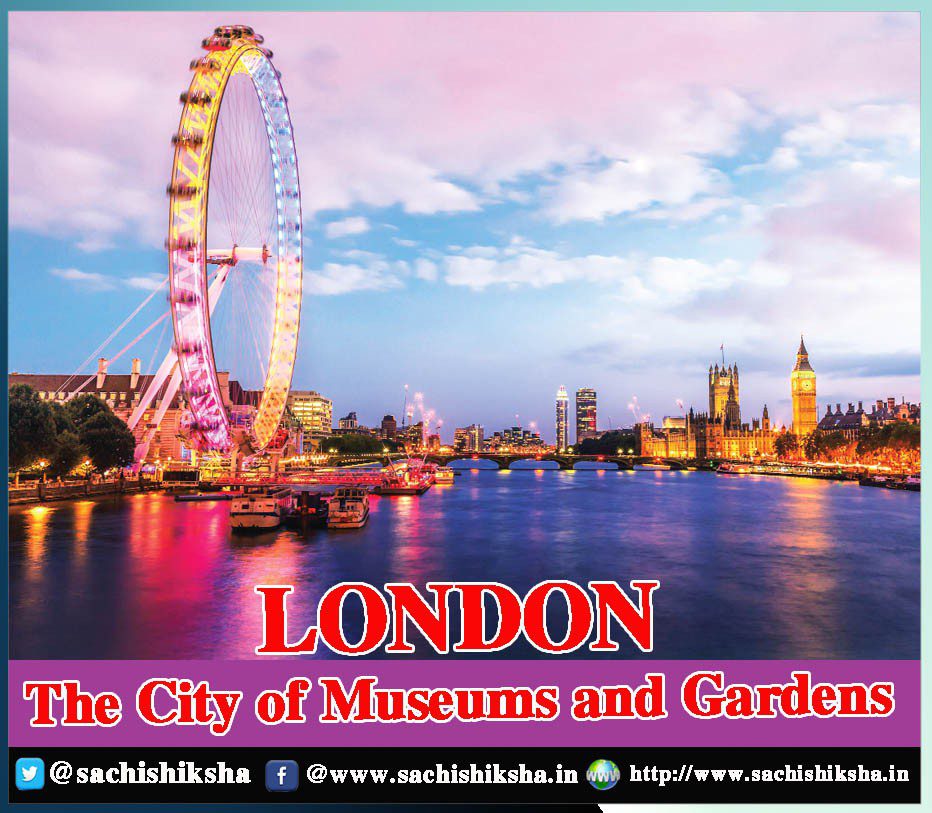 A few decades before, when the visits to abroad were limited; People used to go and know a few countries.
Abroad used to be England. The desi and local word for it was 'Vilayat'. With the passage of time the number of countries to be visited is increasing. But truly speaking England is really versatile and in England,
London – A city combination of ancient and new, and you can see here people, dressed in almost all attires and patterns of the world. Culture of whole of world can be seen in London. It is a royal city.
Traffic Arrangement
If you want to visit London, Metro is the easiest, and best option. From any nearest station or any small corner station you can get prepared your Oister Card. Decide in advance that how many zones you are going to travel. For this, best is to purchase a tube map, as soon as you get down at the airport. With help of the map, you will know that in which zones you are going to travel. This travel card or Oister Card will be useful for Train, Metro bus and fairy boat.
Where to Visit
It is better that you book on www.visitbritain.co.uk, for London Eye, Madam Tussauds, and Tower Museum. If you take one package for this, you get discount. There are lounges near Kings Cross Station. Here you can get one bed room and even dormitory. This station is also famous for the statue of Harry Potter, it is in between platform No.9 and 10. Fans of Hary Poter from all over the world come here to have a photograph with this statue.
For this, they even stand in queues. You can take Northern Line and reach Bank Station. From there you can change D.L.R. line, and travel towards the Eastern London, to Katisark Station. D.S.R. is the only automated metro line of London. There is no driver in this. After getting down on the station, there is Greenwich Maritime Museum.
This is the place, where the World Time Line Greenwich Time Meridiem crosses. The time of the clocks of the whole world is calculated and adjusted with its zero hour. Earlier we could take photographs of this line, but now from the security point of view it is banned. In the museum Astronomy, Sea Adventure Exhibition, Photos, and a lot of information regarding Telescope etc. is available. After seeing the Museum, you can go to Kartisark ship.
This is a war ship of ancient period, which has been changed to a heritage museum now. Even the smallest item of the ship has been placed systematically. In the Maritime Museum There is a small Kureu shop also. Here you can purchase any small thing for its remembrance. You can visit the near by place and hire Pear Boat and see London Eye.
In Pear Boar you can have a full view of Thames River which always overflow with water. Crystal clear water which gives you a very delightful experience. As the boat takes a turn, you can see the famous London Bridge. When people see the bridge, tourists start shouting with joy. A famous poem is generally sung by the local people "London Bridge is falling down, falling down".
Get Delta Airlines Reservations to reach this beautiful city.
From the boat London Bridge looks very attractive, as a Picture Post Card has become alive. After getting down from the boat, you can have the taste of local foods, on the stalls near the roadside and can eat the food standing there. Very tasty food and according to the budget.
At London Eye you have to show your online receipt and take ticket to sit in a very-very huge wheel. Crossing the London Bridge, you can go to Tower Museum. Here in addition to other things, Kohinoor Diamond, the pride of Indian can be seen. It is better now to go back to your hotel now.
The next morning you can visit the Tussauds Wax Museum. From Kings Cross Station you can take Bakerloo Line and get down Baker Street Station and from there you can go on foot to Tussauds Wax Museum. This place always have heavy rush. It takes two to three hours standing in a queue, but when you enter this place, you reach in a fairy land.
The wax statues from famous Hollywood and Bollywood personalities, Famous and successful personalities from Sports, Politics, Science, seems to be calling you. After that you can visit the places of the statues and Drakula; and suddenly appear the fearful faces. Outside the museum there are restaurants. Speciality of these restaurants is fish chips. From Baker Street, you can take Jubily Line and reach Green Park Station.
You can roam here on foot. You can see Lester Square and see the footsteps of English Starts, Trafalgar Square, Coehant Garden. In the evening reach on the bank of the river and see the sunset.
Must Visit
Madam Tussauds Museum
London Eye
Tower Museum
Tet Modern Art Museum
Trafalgar Square
Buckingham Palace
Shakespeare Globe Theatre
London Tower Museum
Lester Square
British Museum
Covent Garden London is a place, which one must visit if given a chance.
It is the mixture of new and old traditions. You can see the cowboys having flute and playing it in the outskirts.
How to Reach
From Delhi, Mumbai and Ahmedabad there are many direct flights to London
Where to Stay
After doing research on net, you can pick hotels based on your budget.
Avoid staying in Central London. If choosing outskirts of London, you can still make it back to Central London, within 10 minutes, by Metro.
For booking you can log on
From these sites you can have the full view and idea of London, before flying itself. You can well plan your budget according to the options.
Yes do not forget to have the contact details of the Indian High Commission at London. This lesson we all should learn that whenever you are in a foreign country, the High Commission there is your closest friend. – MADHU SIDHWANI
Follow us on Facebook, Twitter, LinkedIn and Instagram, YouTube to get more updates related to Sachi Shiksha – The Famous Spiritual Magazine in India.